@catherinemcbroom / @shyla
https://www.instagram.com/p/CM74hRXgel-/
https://www.instagram.com/p/Cehy26qLtd_/
The matriarch of YouTube's The ACE Family, Catherine McBroom, is defending her husband against allegations from his brother's ex, Shyla Walker.
Last week, Shyla called out her ex-boyfriend's brother and famous influencer, Austin McBroom, for sharing photos of her daughter on his social media with his millions of followers.
Shyla went on to post some serious allegations about Austin and his family— calling Austin a cheater, saying that the family is broke, and claiming that Austin and his wife, Catherine McBroom, had their third baby through IVF so they could ensure it was a boy. She also alleged that Austin attempted to have a security guard hurt beauty influencer Cole Carrigan in 2019 after Cole made a video claiming that Austin raped his close friend and that his father was also involved in the assault.
Now, Austin's wife has taken to Instagram stories, calling Shyla's accusations "lies".
Catherine explains that Austin invited family members to watch him train at his boxing gym, including his brother, Shyla's ex, Landon McBroom, and their daughter Souline.
"Shyla being the hawk that she is, watching every single one of our stories and our videos and trying to find an opportunity to speak on our name and continuously disrespect us and slander us […] she goes on the internet and starts to claim that my husband tried to kill somebody and that I had IVF treatment for my third pregnancy, which are all untrue things," Catherine says. "There's a couple more things that are just untrue, I don't even remember what she said."
Catherine goes on to say that Shyla "jumped on the bandwagon" of the ACE Family's success and insinuates that the 24-year-old was happy to feature Souline in content "for clout" while she was still dating Landon because it helped her career.
In addressing the allegation that Austin tried to have his security guard hurt Cole Carrigan, Catherine maintains that is untrue.
"That is so far from what Austin is and how he would ever speak and react and you literally have no idea who my husband is, you've never known us like that, and for you to just like say something so dark and evil is really scary," she says.
Catherine also defends that The ACE Family is not "broke" and that they love to help people, including her family, financially.
She then makes some serious accusations, saying that Shyla has been lying about Landon's alleged abuse and claims that she was "happy" when Landon was diagnosed with cancer in 2020.
"The truth is that Shyla, you know that you've been carrying this lie about Landon being abusive and you know that that's not true," Catherine says.
"You start, like, accepting that this is your reality and that you created it because this is all done by you and accept that you know, things didn't go how you wanted," she continues. "You were happy when Landon got cancer, you were the happiest you'd ever been. Everyone said it. There were so many witnesses and that's the reason why he didn't want to be with you."
Catherine says that Shyla's split from Landon "messed" with her money so she created this "false narrative" of abuse.
Rather than making a series of stories in response, Shyla retaliated by sharing a threatening text message that someone had sent her mother, presumably someone associated with The ACE Family.
"The threats my mother received this morning," she wrote over the screenshot. "At this point, it's safest for me to keep this on the internet. It's scary how far people will take it to keep me silent. It's been years of me being silent."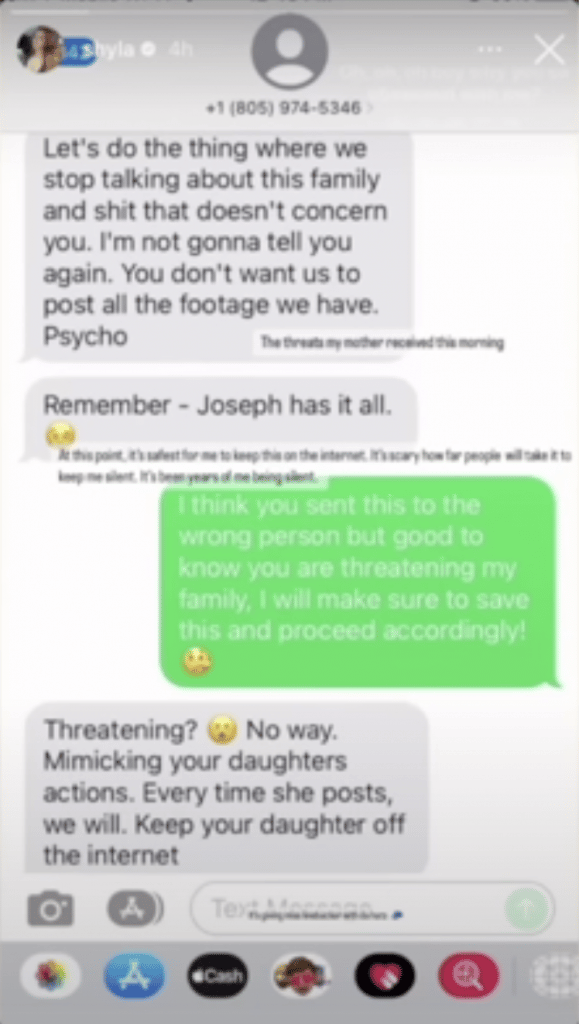 Landon has not addressed Shyla's accusations at the time of writing.