Twitter / @jeffreestar
Can't we all just be friends?!
Makeup mogul, Jeffree Star, is defending himself against claims that he's not taking social distancing seriously.
The backlash started on April 15th, when Jeffree posted a photo of himself and his social media manager, Kammi, to Twitter with the caption "Quarantine and do our makeup."
Fans immediately started slamming the beauty guru for refusing to isolate and setting a poor example for his millions of followers.
In a since-deleted tweet, Jeffree responded to the accusations, explaining that Kammi runs social media for Jeffree Star Cosmetics and has been living with him for weeks because her family is in New Jersey.
"Kammi runs all social media for #JeffreeStarCosmetics and has been living at my house for weeks temporarily. She is all alone and her family + single mom are all in New Jersey, please go judge someone else because you don't know what's happening in my house."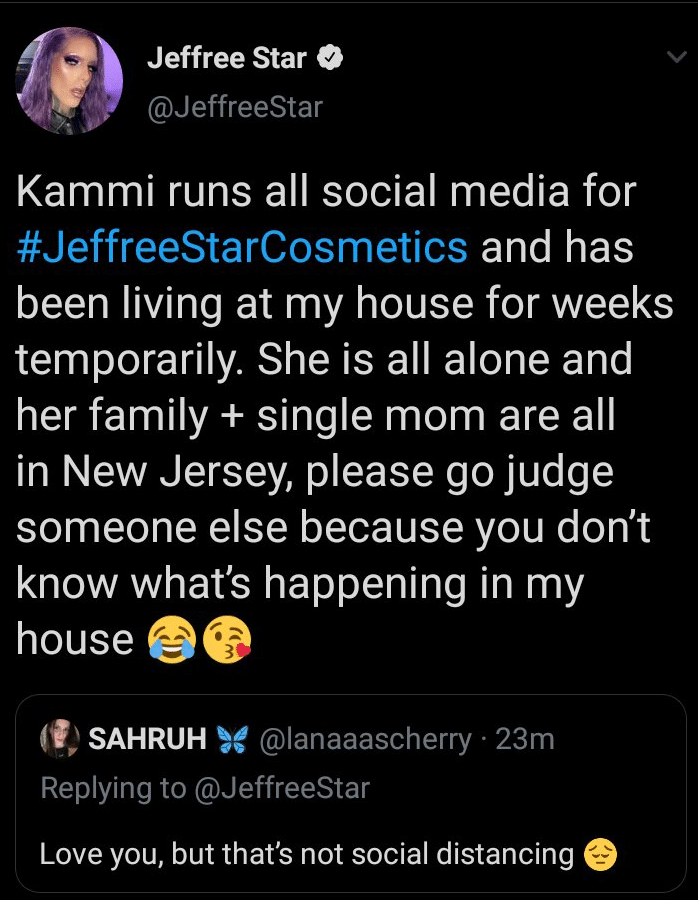 Kammi is just one of many Jeffree Star employees currently quarantining at his mega-mansion in Calabasas.
Since lockdown, Jeffree has mentioned numerous times on social media that he's isolating with a house filled with family, friends and employees, many of whom would rather stay out of the spotlight.
Now, Jeffree is defending himself again— this time against the mainstream media, who he says have villainised him for clicks.
Early this morning a fan tweeted at Jeffree, attaching a screenshot from the Daily Mail's latest headline about the viral star that reads, "Jeffree makes mockery of quarantine" with the subheader, "Star picks up luxury car then invites pals over for a make-up session."
The fan also attached a screenshot of the positive press Jeffree has received during the pandemic for sending money to fans in need, writing "i saw this on @DailyMail but not this.. lolllll they need to stop reaching.."
Jeffree responded to the tweet saying the media needs "racy, fake titles" to get clicks and views as that's how they generate revenue. He says he stopped looking at the press long ago and that he loves his fans for having his back.
Since the COVID-19 lockdown, Jeffree Star has donated thousands of dollars to fans who have reached out to him on social media in need of assistance— the biggest lump sum being $30,000 to a mother of two struggling with debt during the pandemic.
The makeup artist also says he has donated millions of dollars privately to help with coronavirus relief.
And that's that on that.