Twitter / Jeffree Star
Jeffree Star has been hospitalised after a severe car accident.
On Friday, April 16th, Jeffree Star's Twitter account posted a photo of the controversial beauty YouTuber and longtime friend Daniel Lucas in the hospital.
"A few hours ago Jeffree and Daniel were in a severe car accident and the car flipped 3 times after hitting black ice," the tweet reads. "We will update you all when the doctor gives us more info. So thankful they are both alive."
According to reports from the Wyoming highway patrol as obtained by Insider, the pair were driving northbound on Hat Six Road around 8:30AM and road conditions were "slushy".
Jeffree owns a six-bedroom, 6,000 square foot ranch in Casper, Wyoming where he's been spending lots of time as of late. The mogul is also allegedly building a distribution center in Wyoming for his businesses, including his beauty brand Jeffree Star Cosmetics.
A representative for the Wyoming Medical Center tells Insider that Jeffree "is in stable condition".
A day prior to the accident, the disgraced creator— who currently has several sexual assault accusations against him— tweeted that he would be posting a video with Daniel on his channel where he "reveals ALL".
Daniel currently suffers from stage 3 colon cancer.
Hours after the news of the car accident broke, Jeffree took to Instagram stories to share more details.
"This morning was one of the scariest moment of our entire lives," he wrote. "I'm so grateful to be here still."
Jeffree went on to say he's in "excruciating pain" as he has fractured vertebrae in his spine and part of his back is broken. He claims he is expected to make a full recovery.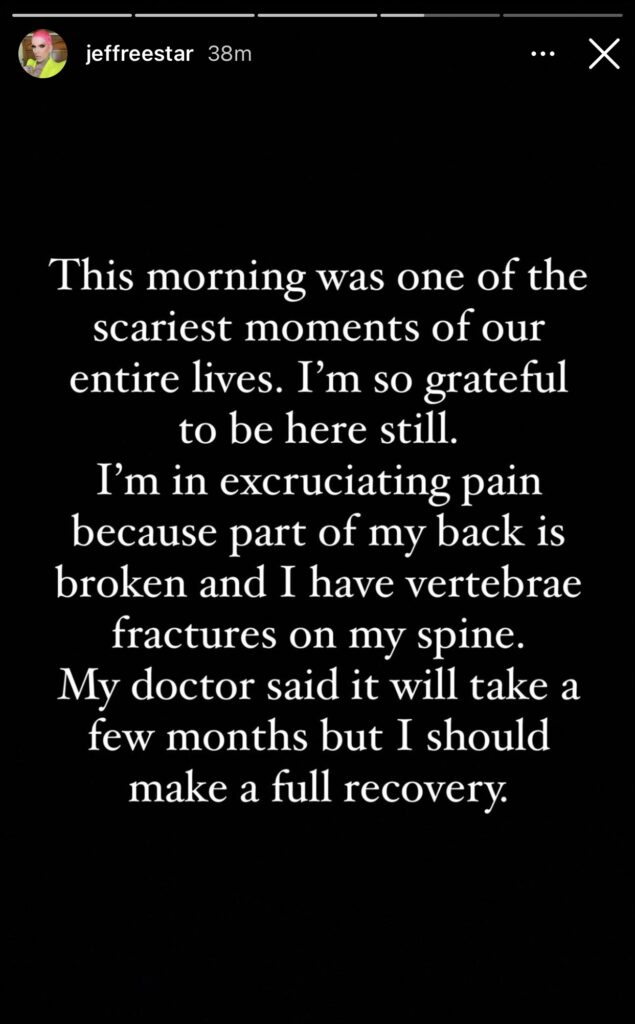 On his friend Daniel, Jeffree says he "has internal injuries" and has been having complicates with his organs as he's survived colon cancer "three times". Daniel is apparently being monitored 24/7 and they should "know more soon".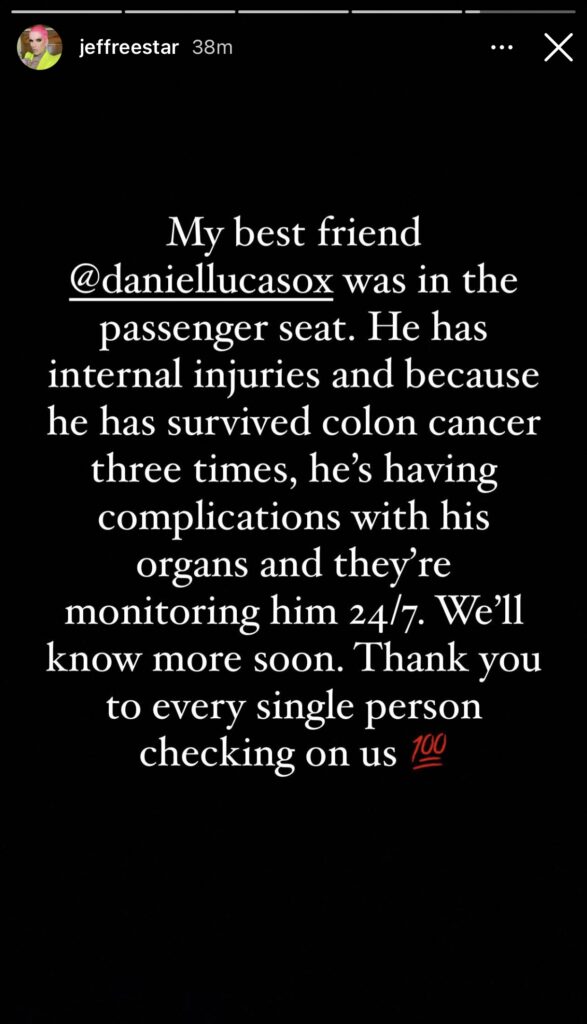 Here's to a speedy recovery for both.