People
https://www.instagram.com/p/B8SQ0Wolprm/
https://www.instagram.com/p/B8P2NUqhO4Q/
Jaclyn Hill is back with another Morphe collab!
The influencer took to Instagram this morning to announce the sequel of the wildly popular Jaclyn Hill x Morphe Palette, appropriately called the Jaclyn Hill Palette Volume 2.
The reveal comes off the back of a dramatic 24 hours, where a fan was actually sent the new Jaclyn Hill Palette Volume 2 instead of the original, which she assumed she was purchasing.
In a since-deleted tweet, user @pawzmama posted a photo of an eyeshadow palette she purchased online at Offer Up. The fan thought she was buying the original Jaclyn Hill x Morphe Palette, but to her surprise, she received a palette with completely different colours and shade names.
The palette also arrived broken.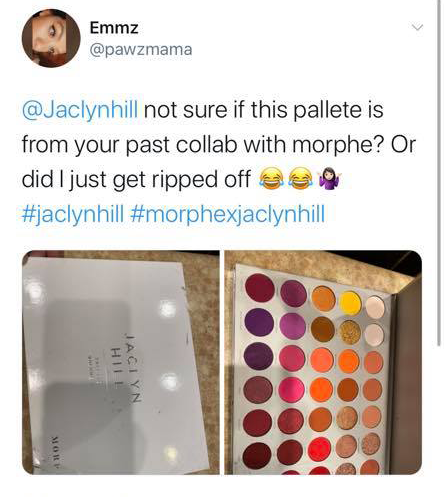 Around the same time that she tweeted out the photo assuming she'd purchased a counterfeit palette, Jaclyn posted a teaser to IG stories of the PR box for her latest collab. Fans immediately noticed that the PR box in Jaclyn's stories shares the same colour scheme as the palette received by @pawzmama.
The shade names also reportedly matched with those released by Ulta, who stock both Jaclyn Cosmetics and Morphe. This led fans to speculate that the palette was potentially posted online by an Ulta staff member who took it home because it was damaged and could not be sold in store.
It's been a tough couple of years for Jaclyn's career. After a string of collaborations that didn't go as planned, Jaclyn's reputation took a major hit with the failed launch of her own brand, Jaclyn Cosmetics, in May 2019.
In her most recent YouTube video, Jaclyn said she's been struggling with her mental and physical health since the disastrous lipstick launch, revealing she turned to alcohol to numb her anxiety and help get her through the tough time.
Now, Jaclyn says she's seeking the help she needs and is on a much healthier path.
We're happy to see Jaclyn is getting back to doing what she loves.
The Jaclyn Hill Palette Volume 2 will be available from February 13th, 2020.