Shanthi Murugan / Ruchi Page
Faces of Australia is a column highlighting BIPOC creatives to bring you their stories. Creators are asked to collaborate on a makeup look that empowers, holds meaning, or describes their experience as it relates to Australian beauty standards and the Australian beauty industry. Faces of Australia is written and produced by Ruchi Page, with a mission to show the beauty industry how accessible BIPOC talent is across this diverse nation.
Introducing Head of Campaign and Strategy for Adore Beauty, Shanthi Murugan.
Our collaborative makeup look represents the strength it takes to speak up for what is right. We are both not wearing any eye makeup with a bold red lip— depicting a clear vision and the impact of voice. We both chose MAC Cosmetics Studio Fix Fluid Foundation for the perfect colour match and finish. A brand and product that has been there for us since day one. This makeup look is a particularly meaningful reflection of Shanthi's commitment to inclusion.
I began our chat by asking Shanthi about her cultural identity. Born and raised in Melbourne, Australia to immigrant parents, she tells me that she is half Sri Lankan and half Malaysian. Working for the first Australian beauty retailer, Adore Beauty, Shanthi is a valued strategist of the online business, as well as a significant voice of influence. Her impact on the beauty industry has not stayed within the walls of Adore Beauty, and it's this influence that prompted me to speak with Shanthi.
One of Shanthi's biggest contributions to change in the beauty space is undoubtedly the Adore Beauty Global Shades movement. I asked Shanthi to shed some light on the project. "I've spent the past 5 years working on a project called Global Shades which aims to bring all globally available complexion products into our country because at the moment, there are a restricted amount of shades available to BIPOC Australians."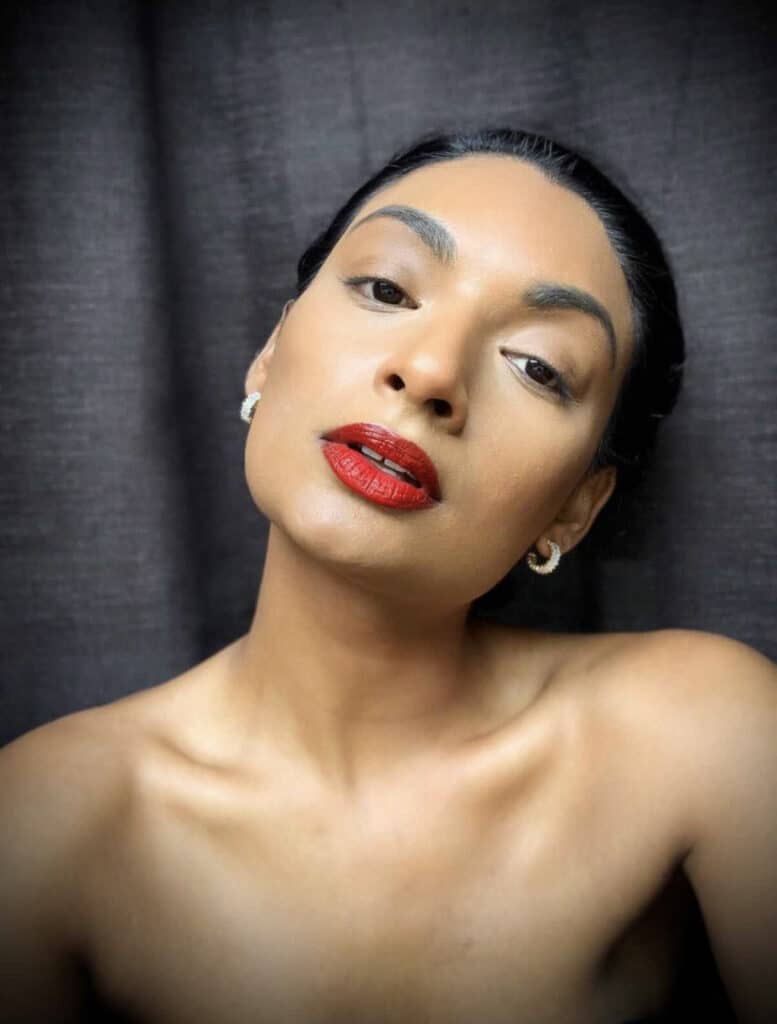 I asked what the initiative hopes to achieve. "The ultimate goal? To ensure the Australian beauty industry is an inclusive space that embraces and celebrates the diversity of our nation's people," she tells me. I was so fortunate to have been involved in this project by lending my voice to the open letter. But Shanthi's journey expanded beyond the movement, with Global Shades sparking conversation and challenging some of the nation's leading retailers and getting covered by major media outlets including Sunrise, Gritty Pretty, and the Business in Colour podcast. I asked Shanthi if there was a particular moment during the Global Shades movement that revisited the purpose. She remembers her first guest appearance on a podcast and rehashed the significance. "When I think about a specific moment that hit my heartstrings, it was recording my first ever podcast interview with Business in Colour, a series by two incredible women of colour — Div Pillay & Sadhana Smiles. Towards the end of the interview, Sadhana became quite emotional and she told me how proud she was of me for initiating this change."
As a cheerleader watching this unfold, I can relate to the gratitude for Shanthi's commitment. She continues, "it spoke to her, being a woman who has struggled to feel included in the Australian landscape and also as a mother who is raising children in a country where it can be rare to see yourself reflected in the environment around you. Her emotional response made me teary and I realised that my story was not mine alone, but the story of so many Australians struggling with inclusivity every day. It reminded me of the 'why' behind Global Shades and it created a fuel to keep going no matter how many obstacles stood in the way." I relate to Sadhana's emoțional response. What Shanthi has achieved and fought for was unimaginable for many BIPOC growing up in Australia.

As BIPOC, many of us have navigated our lives feeling different and separate from society. I was aware that Shanthi's passion for change was based on lived, racially discriminative experiences. With Shanthi's approval, she has shared one particular experience with me. I asked what it was like growing up in Australia as a brown girl. "Growing up in a predominately white country as a child is incredibly challenging," she explains. "The area my parents moved to in the early 90s was only just developing and we were the only coloured family in the suburb. I was the only brown-skinned girl in my entire school." I could relate. I often found myself to be the only brown girl in the room. I asked if there were blatant circumstances where her skin colour was a concern or point of difference. She remembered that "there are many moments growing up where I was reminded that I was different to others because of the colour of my skin. One that comes to mind was my first day at a new school. I was in grade 4, standing in between my Sri Lankan mother and the school principal as we were taken on a tour of the school grounds. We walked from one end of a hallway to the other and all of the children stopped and watched us. At first, I thought it was because I was the new girl, but the looks on their faces made me quickly realise, I looked nothing like any of them. I was brown."
Shanthi shares how it made her feel. "It made me feel like I didn't belong, like a strange species that wasn't meant to be there. It's heartbreaking when I think back to those days as it's a time when kids should be having fun and enjoying being children. Yet, there I was wishing away my pigmented skin because I just wanted to fit in." This reflection had me tearing up. Feelings of humility come to mind when thinking of my own skin colour, so hearing Shanthi's similar experience was sort of comforting; I wasn't alone.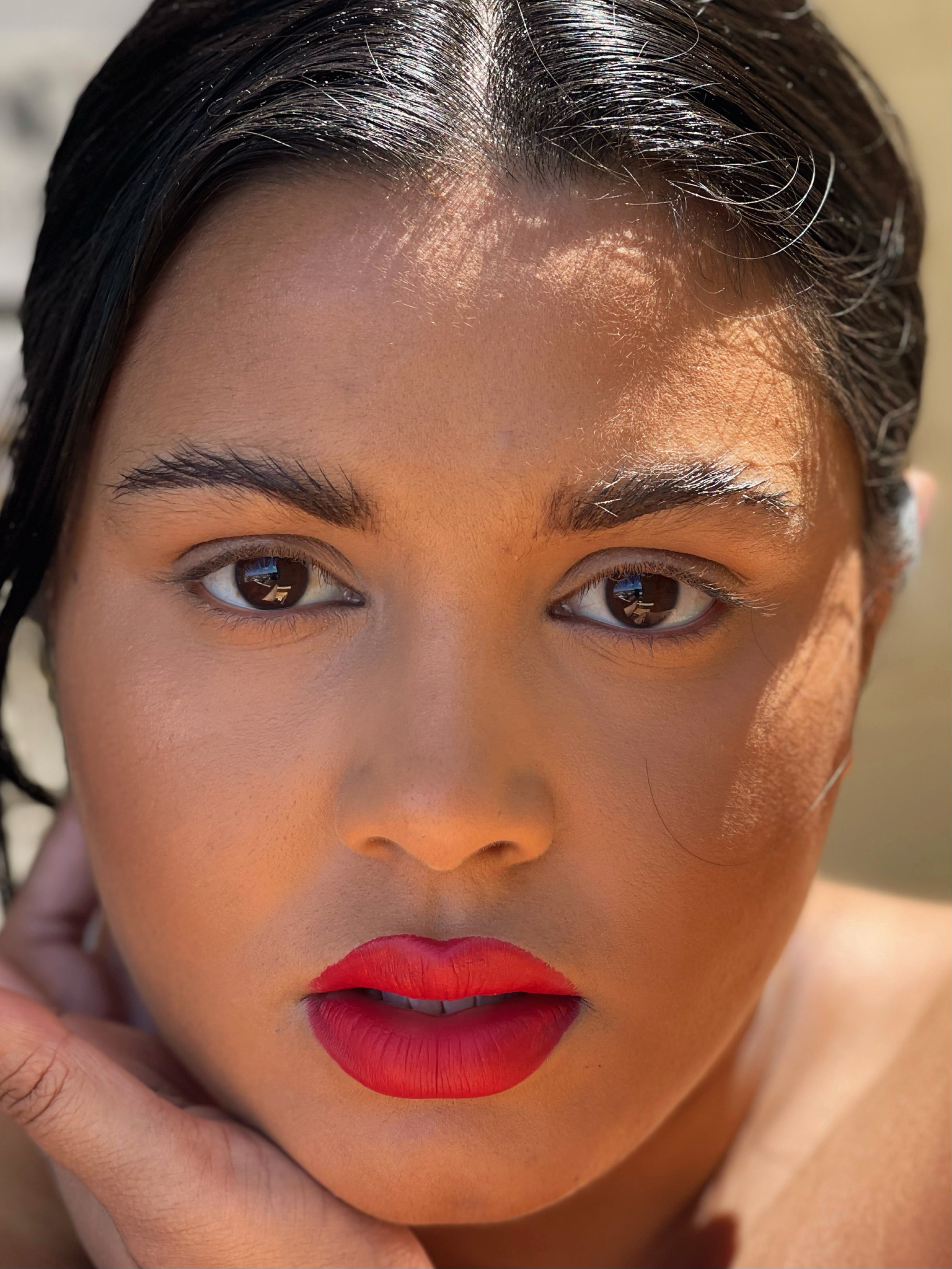 Having a seat at the table when it comes to decision-making usually comes with proximity to privilege. To bring our conversation to a close, I asked Shanthi to share any advice for young women in the BIPOC community who are struggling to reach leadership positions. The creator advises if there's "something I've learned throughout this entire process is that it doesn't matter where you sit within an organisation. If you have something to say, it's so important that you speak up." Reflecting on her impact, Shanthi continues, "When I began the Global Shades journey, I was not sitting at the table. I took my concerns about inequality in the industry and in our business to the founders of the organisation because I knew they had the power to make a change." She says, "I told them I was unable to purchase foundation or concealer on our company website because we didn't stock my shade. I told them if I was having this problem, others would be too. They asked me, 'how can we make this right?'" Overall, Shanthi says, "It's important to understand that your voice has influence regardless of your position in any business."
"It's not only important that BIPOC employees speak up, it's important that businesses create an environment where discussing issues like diversity and inclusion are supported and encouraged," she tells me. "Businesses have a responsibility to ensure they are practising what they preach — this means working on their values from the inside out." I asked what questions businesses should be considering to facilitate this kind of environment. Shanthi highlights these questions, "Do your employees know your company values? Do they align with how the public view your company? 'Diversity and inclusion' is such a commonly used phrase these days, but what does it actually mean for the people who work for you and walk through your company doors every day?" Continued, Shanthi reminds Australian businesses "if they don't feel heard or seen within your business, you have work to do. It's definitely a long road and not something you can resolve overnight, it's something that should be practised daily with a goal to do better as you continue to educate yourself and learn more."
As always, I concluded our chat with my final question. I asked Shanthi if she could provide advice to the Australian beauty industry.
"If I were standing in front of all of the big beauty brands and retailers in Australia, I would leave them with this message: Our nation boasts one of the most multi-cultural melting pots in the world. Our nation's people are beautifully diverse and our industry should reflect this diversity. We play a vital role in helping Australians express their personal identity. We have the power to ensure everyone is provided with access to suitable products, services and education catering to all Australians regardless of their complexion. Australia has reached a tipping point where the words diversity and inclusion hold global weight and worldwide support. If we're going to enact change, the time is now."
Faces of Australia season 2 is brought to you by