youtube.com/vogue
https://www.instagram.com/p/Bwux9PHhYi9/
https://www.instagram.com/p/Bu1izEyHG8f/
Singer/rapper/songwriter, Doja Cat, shared her makeup routine with American Vogue this Christmas and tbh, it's probably the most interesting of the Beauty Secrets series yet.
The "Say So" singer, who's known for her dramatic e-girl makeup and colourful wig collection, says her everyday look is inspired by two main influences: Harajuku culture and Tumblr girls — specifically, the Tumblr girls who make themselves look "intentionally sick" as if they have a really bad cold.
Cute.
And while it might sound a bit unusual, Doja Cat's unique take on e-girl beauty has helped her shoot to viral stardom, with millions of girls across the world emulating her playful look.
Though she admits her routine can take up to an hour and a half, the video is just over 15 minutes long and is jam-packed with wildly interesting tips for achieving her signature look.
So if you're a fan of faux freckles and skin so red you could be bordering hypothermia, here's Doja Cat's top 10 beauty tips for beating your face like an e-girl.
Tip 1/ Slap On Your Serums
After cleansing and exfoliating, Doja Cat applies her essence and serums by slapping them onto her face, noting, "When you slap your face you're bringing, kind of, the blood to the surface."
This helps create the red, flushed skin e-girls are known for.
Tip 2/ Use Eye Cream As Lip Balm
While we don't necessarily suggest using eye cream on other areas of your face (especially if your eye cream contains active ingredients), Doja Cat takes the leftover eye cream on her fingers and spreads it across her lips before starting on her makeup.
Two birds one stone, we guess?
Tip 3/ Layer Oil On Top Of Moisturiser
If you suffer from dry skin or just want to look low-key sweaty (which is kind of a look rn honestly), Doja Cat says try layering an oil on top of your moisturiser before dipping into your base products. "It holds [your moisturiser] down all day."
She also says this step makes your foundation look a lot more natural.
Tip 4/ Use Water + Cleansing Oil Mixture On Beauty Blender
This might sound counter-productive, but Doja Cat swears by wetting her Beauty Blender with a mixture of water and cleansing oil. "This works better than anything I've tried on my Beauty Blender," she said of the Burts Bees Cleansing Oil.
That's one way to sheer out your foundation!
Tip 5/ Become BFFs With Blush
To achieve that intentional "sick" look, work your blush all around your nose, across to your cheeks and even onto your lips and eyelids. "I just start packing it onto my nose. I scrub it. I scrub my nose," she says of applying her blush.
You basically want to look like you've been blowing your nose all day. But in a rly cute way.
Tip 6/ Become BFFs With Even More Blush
The secret to e-girl skin is red, flushed and super shiny. To achieve a dewy complexion, Doja Cat dabs liquid blush on top of her powder blush. This is actually a really great tip, as powder blush notoriously fades throughout the day
Adding a liquid on top helps seal it in.
Tip 7/ Line Your Eyes With Blush
Once you're done "scrubbing" your nose with blush it's time to do the same with your eyes! Doja Cat takes a blending brush and works blush into her crease and all under her eye saying, "It just makes you look cold— like you're freezing cold. And I don't know what's so sexy about being freezing cold but I like to look like I'm freezing cold."
Do you, boo.
Tip 8/ Mattify Your Brows To Make Them Pop
After filling in her brows, Doja Cat packs loose powder all over the hair to mattify them. She says most pencils and pomades make your brows look shiny in certain light which doesn't look natural.
She brushes it off using a fan brush.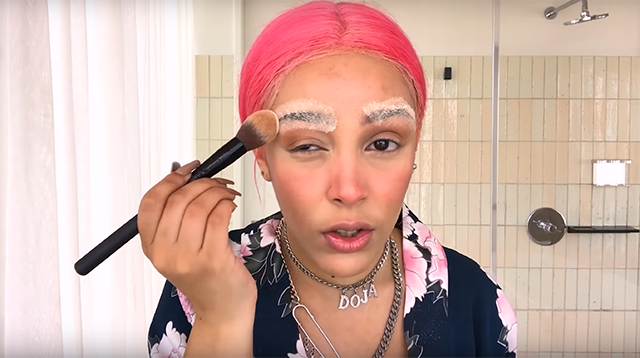 Tip 9/ Faux Freckles
Faux freckles are a staple in Doja Cat's makeup routine, and the star has it down to an art. "Look, you dot it, then you pick it up," she says as she presses her finger into a cluster of freshly placed faux freckles. "And boom!" She picks up the excess product on her finger and dots it across her face.
She also dots faux freckles across her forehead, nose and lip area.
Tip 10/ No Freckle Should Be The Same
Using the clever technique above, Doja Cat ensures no freckle looks the same. "Leave some of them darker than the others," she says of keeping faux freckles looking natural.
She uses Freck Faux Freckle Cosmetics to achieve the perfect dots.
BRB, running out to buy truckloads of blush.