@larlarlee / @minimaaswimwear
Laura Lee has come under fire after the owner of an Australian swimwear brand alleged the YouTuber copied her company name and logo design.
The accusations have come up against Laura's online clothing boutique, Minim LA. Minim LA initially launched in 2020 under the name Nudie Patootie and sold fun, flirty pieces based on the creator's personal style.
Due to trademark issues, Laura was forced to change the name in 2022. She used the opportunity to rebrand the boutique, leaning into the minimalist trend that's dominated fashion over the past couple of years. Minim LA (a play on "minimal") now offers contemporary basics and body care products.
While the rebrand was positively received by Laura's 4.6 million subscribers, with some fans claiming the new name and style feel more "grown-up" and long-lasting than Nudie Patootie, the YouTuber is now facing backlash for allegedly stealing the concept.
Earlier this week, Taylor Dodds, the founder of the Australian swimwear brand, Minimaa, posted a TikTok calling out a "massive U.S. influencer" for copying her brand name and logo.
"There's nothing more disappointing than pouring your heart, soul, and bank account into a business, only to have a massive U.S. influencer completely steal your branding," Taylor posted on the Minimaa brand account.
Taylor did not specifically name Laura, however, she went on to put her logo next to Minim LA's logo, saying "you cannot tell me that this is not the same thing." This made it clear to viewers that she was talking about Laura.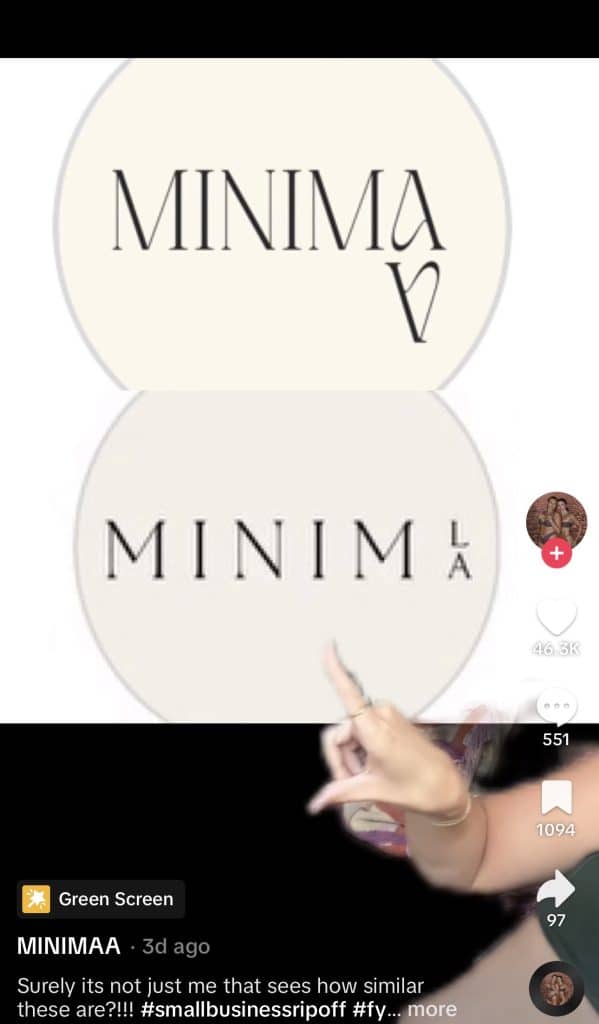 "I really pride myself on being original and coming up with my own ideas and things like that, so it's just really upsetting to see," Taylor said. "It's a sad day for a small business owner."
In a follow-up video, Taylor clarified that she launched her business in 2021, one year before Laura was forced to rebrand.
She explained that these similarities were only just brought to her attention.
"I had a friend of mine send me their logo/account on Sunday, then posted the video on Monday" Taylor tells Centennial World. "I chose to speak out as it's quite often you hear of big brands/influencers ripping off smaller ones & there is nothing ever done about it, so it was shared for awareness more than anything."
Taylor also confirmed that she has not heard from Laura or the Minim LA team at the time of publication.
Internet users are now likening this situation to Jaclyn Hill's Koze.
In October 2022, Jaclyn, another mega-beauty YouTuber with over 5 million subscribers, launched a loungewear brand called Koze.
Since Koze's inception, however, Jaclyn faced backlash for the brand name, as fellow YouTuber Kalyn Nicholson already had a lifestyle brand named Koze which had been in business for five years.
Kalyn was forced to close her company about a month after Jaclyn's brand launched, as she had not trademarked the name and was not interested in entering into a lengthy and expensive legal battle with Jaclyn.
By August 2023, Jaclyn announced she was closing Koze, leading to even more backlash.



Representatives for Minim LA did not immediately respond to Centennial World's request for comment.