@colecarrigan
Today in petty YouTube news, beauty creator Cole Carrigan is dragging Tana Mongeau for allegedly trying to sue him for $100,000 and hack his social media.
The drama kicked off when the 22-year-old took to Instagram stories earlier today to share screenshots of a cease and desist he allegedly received via text message from Tana's lawyer.
The text reads, "I am litigation counsel to Ms. Tana Mongeau. I am writing to inform you that your recent posting of social media videos are in direct violation of the Legally Binding Contract that you signed with my client on January 1, 2021. The breach of this contract subjects you to Liquidate Damages of one hundred thousand dollars ($100,000.00) per offense."
Though the remainder of the message is blocked out, snippets show her alleged lawyer also asked Cole to remove his items from Tana's residence. Cole and Tana were roommates up until recently.
Tana's alleged lawyer also called him "Corey" when addressing the cease and desist, to which Cole responded, "@tanamongeau hey babe can you tell your lawyer to spell my name right before trying to sue me for a hundred thousand dollars?"
The social media videos in question are still unclear, however fans online speculate that Cole posted Instagram stories that violated the non-disclosure agreement (NDA) Tana has her inner circle sign each year.
Cole continued, saying he's "one of the only ones who speak up" in Tana's friend group because "everyone else is too scared but this happens on the DAILY." He says he would rather be labeled as problematic than allow Tana to "scare" him with her "power."
He also claims "money and fame" aren't worth "losing sight of who you really are" which is why he feels the need to speak up against Tana.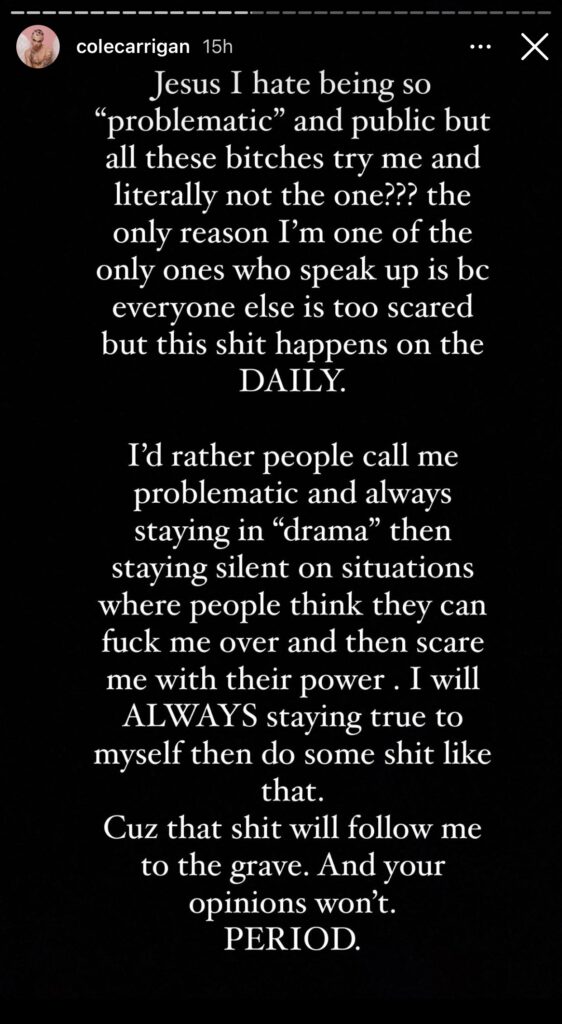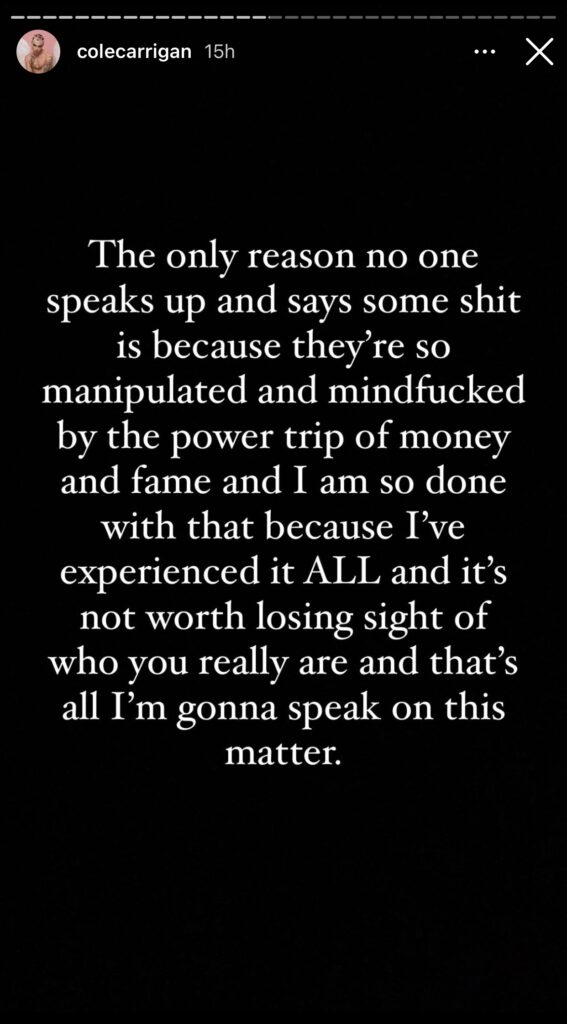 Cole then took to Instagram stories shortly after to reveal that Tana has allegedly hired a hacker to break into Cole's social media. The influencer shows alleged evidence of the hack posting a series of notifications he's received via text message and email.
"Hey guys they're trying to hack into all my social media's and everything right now, lmao just letting everyone know so if you get a weird message it's not me," he wrote over a screenshot of a 2-factor authentication code he allegedly received from Instagram.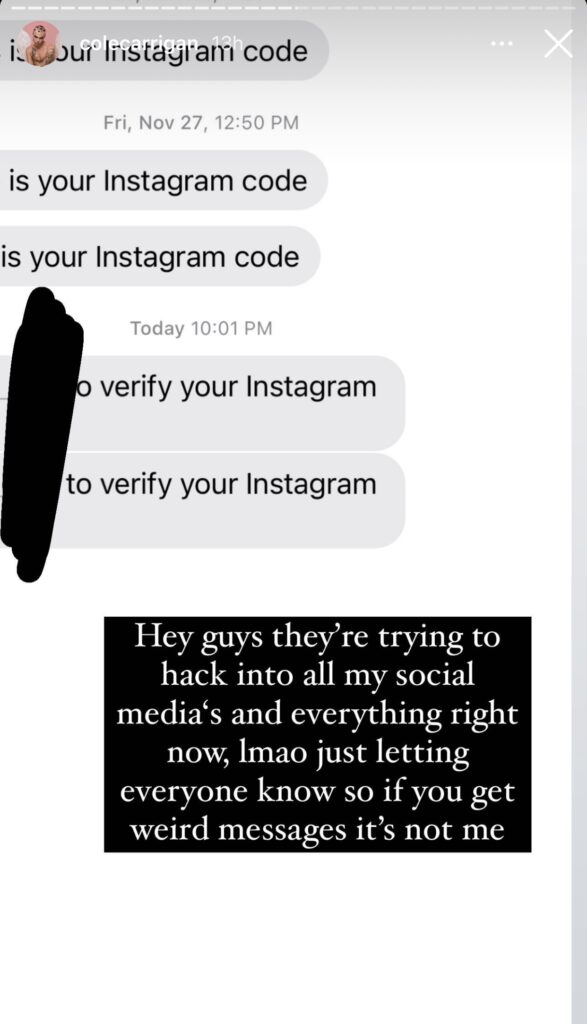 He posted several more screenshots of alleged evidence that the hacker is attempting to get into his email and YouTube accounts from an IP address in Frisco, Texas.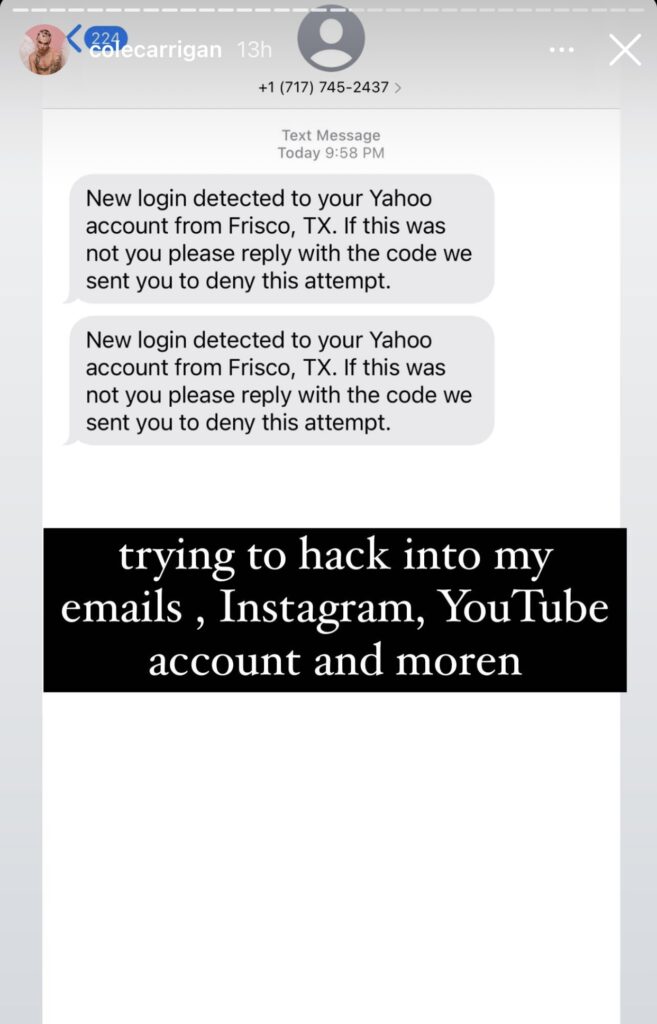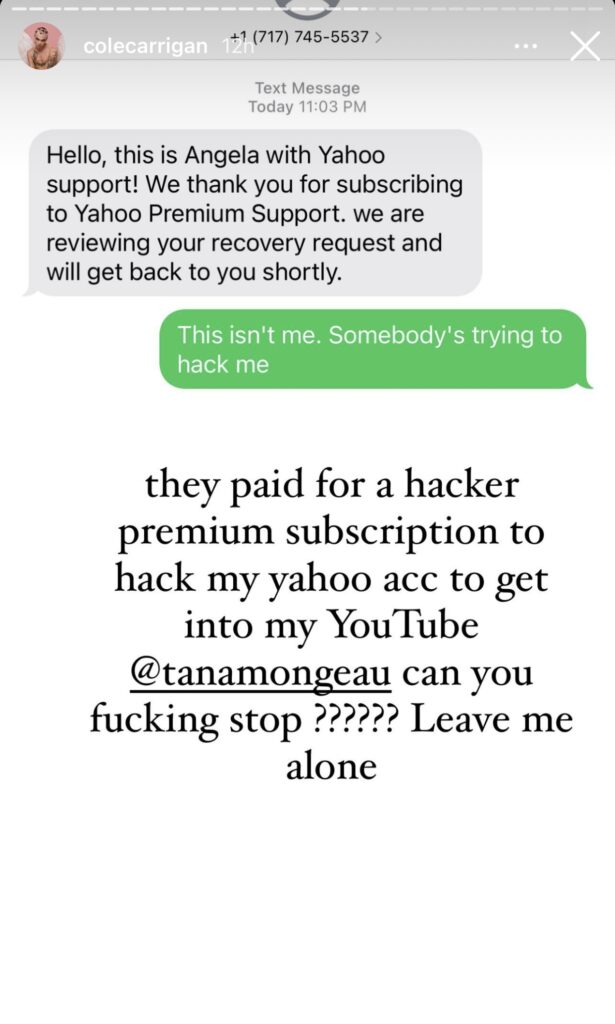 After fans questioned how Cole could possibly know it was Tana attempting to hack him, the creator tweeted that Tana "has a hacker named Eli for years that she's paid to keep her shit unhacked. He lives in Frisco Texas & I've known him for years because I am also……. from Frisco Tx born and [rasied]."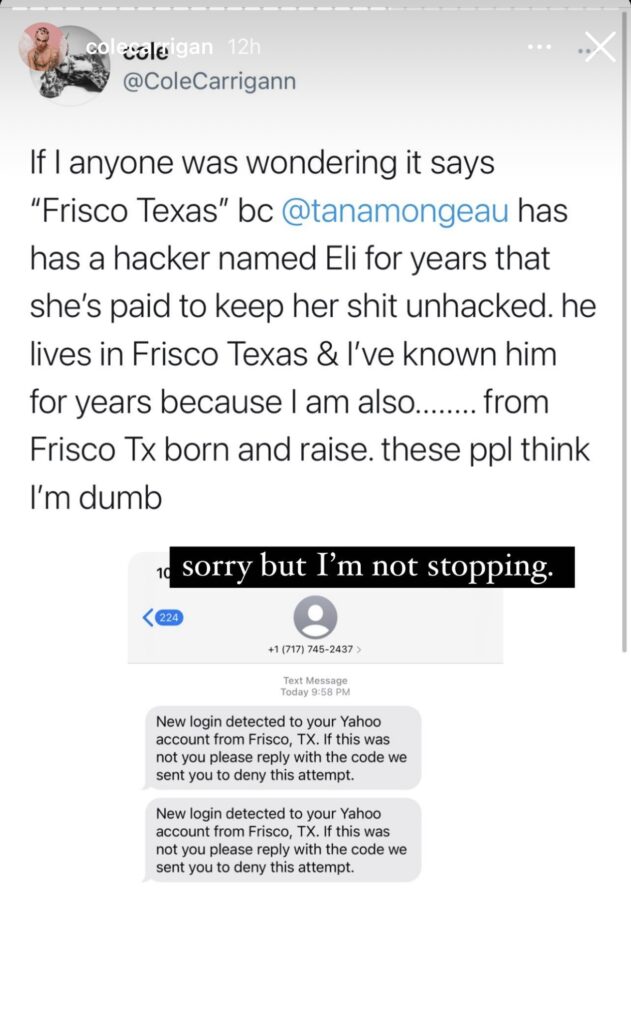 Cole claims they hacked his email, changed his OnlyFans and TikTok passwords, and were successful in deleting his Twitter account and his YouTube channel.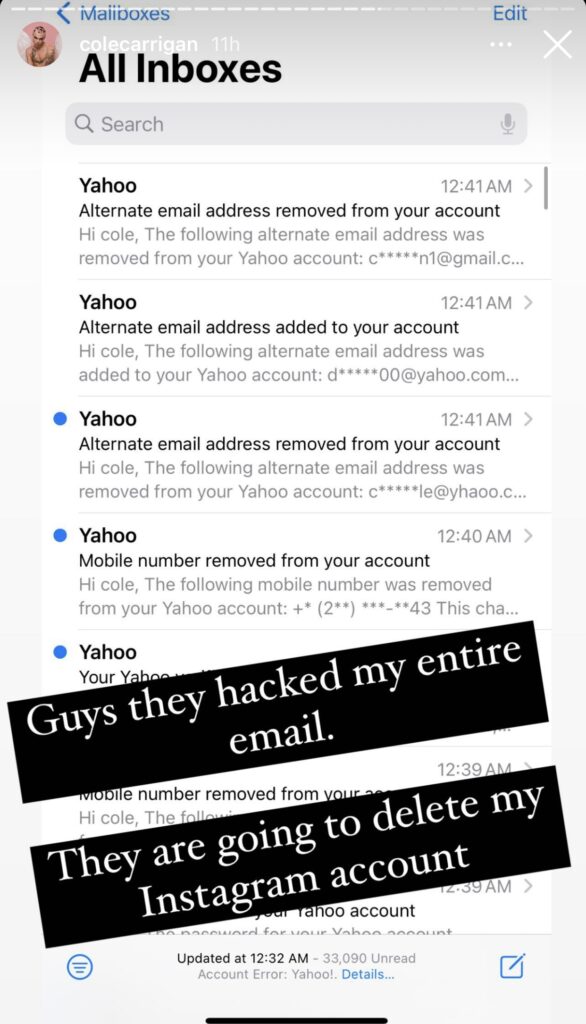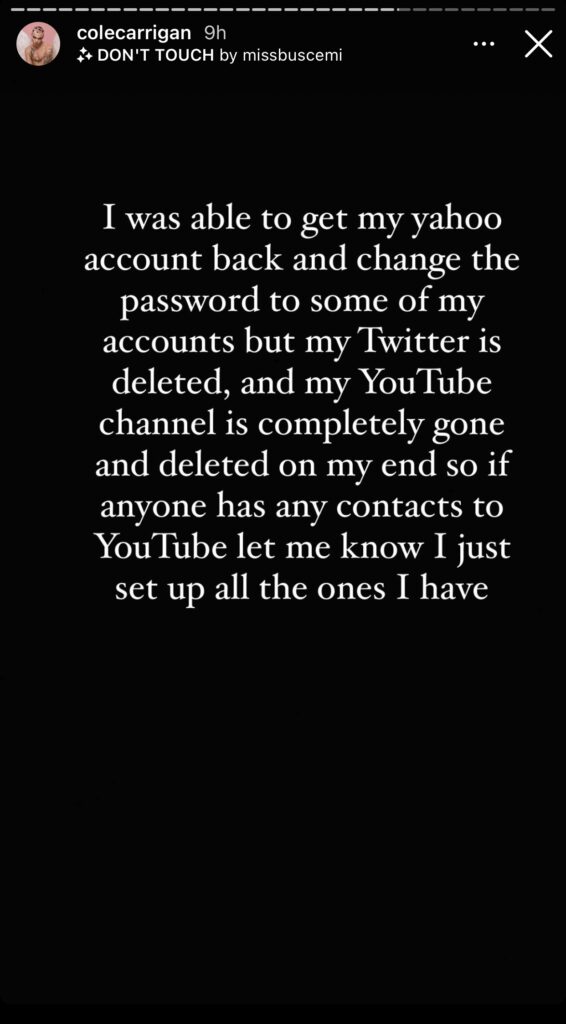 The beauty guru— who recently went viral for allegedly lying about hooking up with Kanye West amid rumours the rapper was in a sexual relationship with Jeffree Star— then took to Instagram live to drag Tana some more.
Amongst a slew of allegations, Cole claimed Tana used him for free makeup services, had her assistant kick him out of her house, and would go through his things in his room while he was out of town. He also said the trip Tana took to Colorado with several other influencers over Christmas was all for content and that they only did activities to take photos.
Cole then dropped a serious bomb, claiming Tana cheated on her ex-boyfriend MOD SUN, real name Derek Ryan Smith.
Tana has not responded to Cole's allegations at the time of publication, however Cole made it clear on Instagram live that he will be suing Tana.