@charlidamelio
https://www.instagram.com/p/CFg3qxXBD3B/
https://twitter.com/defnoodles/status/1309939912464986114
Could the bubble be bursting for Charli and Dixie D'Amelio?
After months of continuing to gather, socialise, and even party amidst the COVID-19 pandemic, the D'Amelio sisters are receiving a barrage of angry comments for their irresponsible decisions.
The backlash came to a head after the two attended the launch of Kelsey Calemine's new delivery-only restaurant Father Foods in L.A. this weekend. The TikTok stars were accompanied by Hype House's Chase "Lil Huddy" Hudson and Sway House's Noah Beck. Other influencers who attended the event include Nikita Dragun, Chantel Jeffries, and Madison Beer.
It seems fans have had enough with TikTok's biggest stars intentionally ignoring California's health and safety guidelines. Despite donning masks to and from the restaurant, fans are flooding Charli and Dixie's comment sections on TikTok and Instagram begging the sisters to stay home and practice social distancing.
"Stay home, there's a pandemic and people are dying because of guys like you," wrote one commenter. Others are begging the girls to be better role models and to "practice what they preach."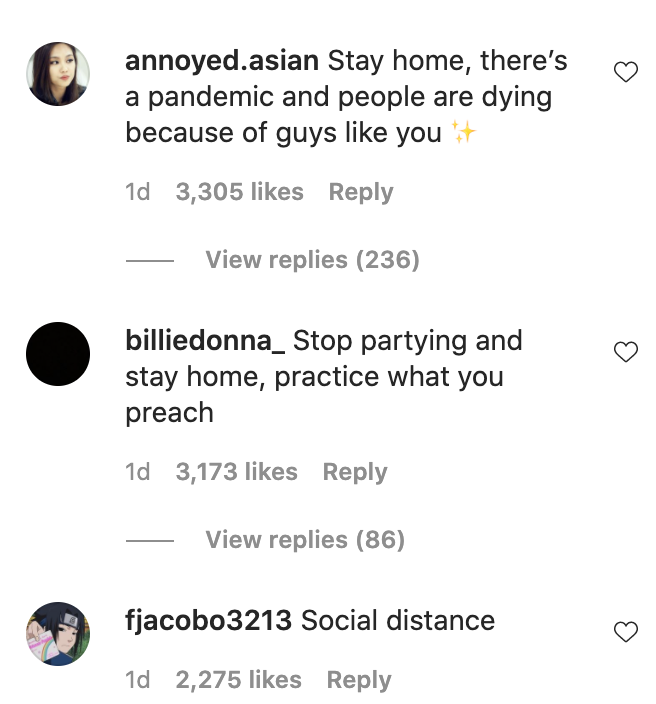 Many believe the D'Amelio sisters' squeaky clean reputation has protected them from harsh backlash other influencers have faced, coining it the "D'Amelio privilege."
Fans are also comparing the sisters' behaviour to their TikTok famous counterparts, namely Sway House who have been highly criticised for their lack of compliance with California's regulations.
Last month, LA City Attorney Mike Feuer announced criminal charges against Sway's Bryce Hall and Blake Gray for throwing massive gatherings at their Hollywood Hills mansion. The main gathering in question is Bryce Hall's 21st birthday party where hundreds of guests attended including multiple viral stars. Footage from the party revealed social distancing was not in effect and no masks were in sight.
On September 12th, the state of California issued a ban on gatherings unless otherwise specified in an effort to protect public health and slow the rate of transmission of COVID-19.
At the time of publication, the state of California has logged over 809K COVID-19 cases and over 15.5K deaths.