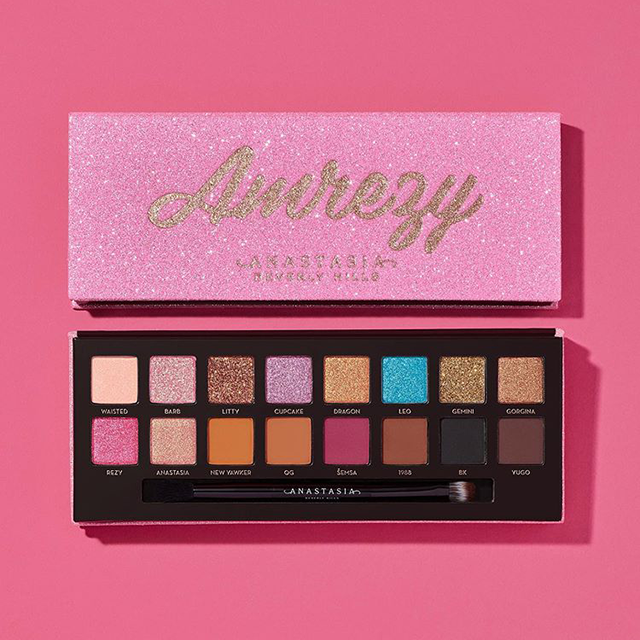 @anastasiabeverlyhills
https://www.instagram.com/p/B7B8t7RhglM/
In the best-kept secret since Kylie's pregnancy, Anastasia Beverly Hills announced their new palette collaboration today with OG influencer, Amrezy.
The palette contains 16 brand new shades ranging from glittery gold to hot pink to aqua blue and the packaging is, of course, sparkly AF. ABH also revealed on their Instagram that the palette features a completely new pressed glitter formula.
So it's safe to say we're expecting big things because if you know anything about Amrezy, you know she loves glitter.
The collab was surprisingly kept under wraps and came as a complete shock to both Amrezy's followers and beauty sleuth accounts, such as Trend Mood, who took to Instagram to share her surprise, writing, "I bet you didn't see this coming…She is IG OG! ? and THE OG!!! Of ABH #EyeshadowPalette in 2020 they are taking us back to 2014 ??"
Anatasia Beverly Hills has previously collaborated with Amrezy on a 10-pan eyeshadow palette back in 2014 and on a (seriously blinding) highlighter in 2018.
Claudia Soares AKA 'Norvina,' daughter to Antasasia and president of ABH, used the palette reveal to announce that this will be the brand's last collaboration— at least for a while. She tweeted "My last collaboration had to be with my bff @amrezy?"
Fans quickly tweeted back asking what she meant by "last collaboration" to which she replied saying she's taking a step back from doing collabs to focus on ABH and Norvina— a subset of the ABH brand.
Anastasia Beverly Hills has coped a bit of heat in recent years since Norvina took over the colour cosmetics sector of the business, with long-time supporters expressing their frustrations with how frequently the brand releases new palettes and claiming the quality has declined.
Sounds like ABH may be taking it back to basics and we're here for it.
The ABH x Amrezy palette will be available online as of January 14th and in retail stores on January 19th. It costs $49 USD.