TikTok / @lostmymarblesagain
Updated: November 16th, 2023.
Over the last month, social media influencers have taken to Instagram and TikTok to address the events unfolding in the Middle East. While many creators have been sharing resources and explainer-style videos on the situation, internet users have been urging Brittany Broski to speak out.
Since skyrocketing to TikTok fame in 2019, Brittany has solidified her position as one of the funniest people on the app. Though she primarily creates comedic content, she has also emerged as a vocal ally, often speaking out against the oppression of People of Colour and the LGBTQIA+ community.
Given this history of allyship, many fans had hoped she would use her platform to address the evolving crisis.
As the weeks passed and Brittany continued to post as usual, members of Broski Nation flooded her comment sections on every platform, urging her to speak out. Many criticised her for failing to condemn the violence against Palestinian people, leading some social media users to label her as "performative" and urge her to "check her privilege."
"Your silence breaks my heart, man. It's been a month," one Instagram user commented under Brittany's post about a Kim Petras concert. "What happened to 'solidarity costs you nothing'? guess if it costs you your brand deals and sponsorships, that's just too much."
"Do not ever claim to be an ally of my community if you cannot be an ally to all in need. Speak up," another added.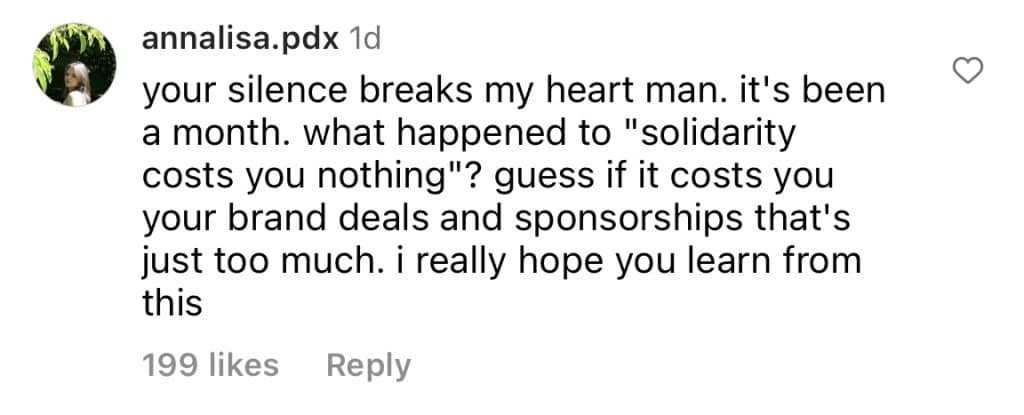 While most comments appear to condemn the creator, some defend Brittany's decision to remain silent. These users question why fans expect influencers to address such a complex and sensitive geopolitical issue, especially as misinformation runs rampant online.
"Asking an Internet personality to speak on issues instead of living her life is incredibly insensitive. She's allowed to live, and honestly, a lot of people don't want to piss off or offend people, especially if they don't really have a grasp on things," another user writes under Brittany's Instagram post. "Out of respect for people facing human rights violations, people who don't know how to speak up shouldn't and internet lynch mobs shouldn't force them to."

Brittany shared a similar sentiment on her 'Close Friends' Instagram story. The video was leaked to the public yesterday and has since gone viral.
The clip begins with Brittany discussing how an upcoming episode of her podcast, 'The Broski Report,' will feature a segment addressing "the situation in the Middle East." She goes on to question why, as a white American creator, she is expected to contribute to the discourse around the war.
"What f—ing dystopian universe? Sorry, it's not funny, but it's absurd. What dystopian universe do I have to address the situation in the Middle East at the top of the podcast episode?" she says. "In what universe am I a voice to speak on this? I am the opposite of the people who should be speaking on this, but because I have a checkmark and I have over a million [followers]… immediately, I am qualified."
At the time of publication, it remains unclear who leaked Brittany's 'Close Friends' stories.
The mounting pressure to address the ongoing suffering of Palestinian people was only intensified by her comments in her 'Close Friends' story— leading Brittany to speak on the situation on her "secret" TikTok account, @lostmymarblesagain.
She began by acknowledging that she can "understand why many people are upset with [her]" before explaining that she plans to discuss everything in more depth on 'The Broski Report.'
"I completely understand the weight of having a platform and… the power of silence when you have a platform," she says. "My silence hurt and confused a lot of people who love and support me, and for that, I can't tell you how sorry I am."
Brittany admits that she had "waited too long to talk about Palestine" before expressing her continued support for "the Liberation of the Palestinian people." She also offered some context behind the leaked 'Close Friends' clips, noting that it was a "human moment" for her.
"We are actively living through a historic humanitarian crisis. But in my mind, I was like, people don't need me to tell them that…" Brittany says. "[In the 'Close Friends' video], I am talking about how absurd and dystopian it is to look to people who look like me for news and opinion…I am acutely aware that I'm a white woman, and my voice is not needed in a lot of spaces."
Brittany reveals that she was feeling "confused" about how to use her platform "properly" as a white person, citing concerns about "speaking over or for people [and] spreading misinformation."
She concludes the video by urging her followers to reach out to their elected officials and donate to charities supporting people in need.
"I know we have been experiencing a collective sense of helplessness or hopelessness and to that… I urge you, if you have not already, to contact your elected officials… I have," Brittany says. "I think that is truly one of the only ways to see actionable change."
The response to Brittany's messaging has been mixed. 
Some viewers have countered her claim that, as a white woman, she should not speak on the issue. These TikTok users note that her privilege has afforded her a platform where her voice is often prioritised. In other words, as a White American woman, she has the power to encourage people to learn about the situation in the Middle East, reaching those who might not engage otherwise.
On the other hand, some argue that although influencers like Brittany must denounce violence and oppression, it's fair that it may feel out of her depth in this context. Many viewers question why fans assume Brittany is "qualified" to speak about and distribute information on global atrocities she may be unfamiliar with— especially when other well-versed creators are actively speaking out.
While Brittany has yet to address the response to her apology, she has reiterated the messaging in her TikTok video in the most recent episode of 'The Broski Report.' 
A representative for Brittany did not immediately respond to Centennial World's request for comment.