@afashionnerd / Instagram
Updated: November 16th, 2022
TikTok users have had enough of influencers flaunting their financial success, privileged lifestyles, and power. From the recent controversies around @taraswrld to the New York Fashion Week drama earlier this year, it's clear that an anti-influencer sentiment is bubbling across the internet. And in the newest instalment of niche TikTok drama, fashion creator @afashionnerd has only added fuel to the fire.
Known for posting outfit inspo and designing accessories, @afashionnerd— real name Amy Roiland — has long been a favourite among the fashion girlies. She got her start in 2013 after her blog, A Fashion Nerd, gained popularity online. Since then, Amy has become a go-to creator for anything and everything fashion on Instagram and TikTok.
Most of Amy's posts include her daughter, something she has faced criticism for in the past. Many internet users claim the influencer exploits her child for content, clicks, and views.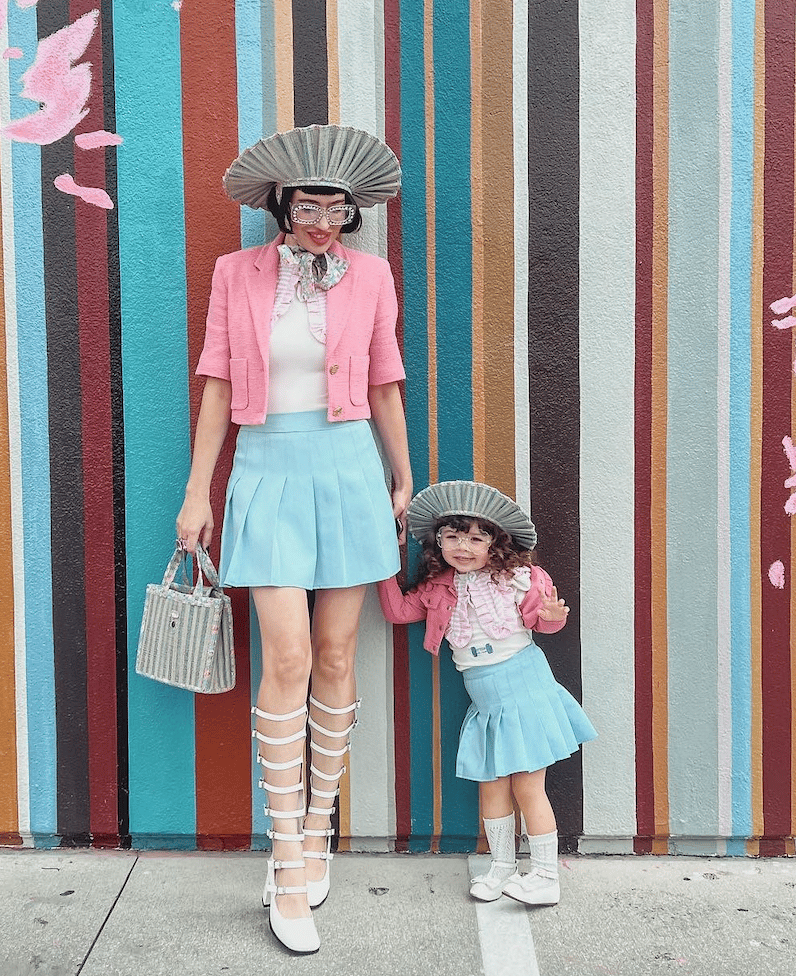 While Amy is no stranger to controversy, she is currently facing backlash for her encounter with @smacmccreanor, a co-owner of the Billy Studio in Los Angeles. Earlier this week, Smac went viral on TikTok for poking fun at an influencer asking to use her studio who, rather than offering payment, promised social media exposure.
"This is a real voice note an Influencer left on my studio business IG when I said No to her using our space for free", the text reads as Smac dances to the voice message she received from an unnamed creator.
"I asked to come there for twenty minutes to shoot something for my daughter, and that is disappointing?" the influencer says in the voice note. "We charge a lot of money for postings, and we have like twelve million hits on our TikTok, and we do really well, and that is disappointing? … That is crazy. Who runs this account? Are you ninety years old and not know how influencers work? You guys are really out of touch, it is crazy."
Smac went on to share screenshots of her texts with the influencer, blurring out any details that could help identify them. The creator continued pushing Smac to hire out the studio in a series of text messages. After Smac repeatedly said that she only accepts paying clients, the influencer wrote, "I will make sure to never support you or what you do… ridiculous."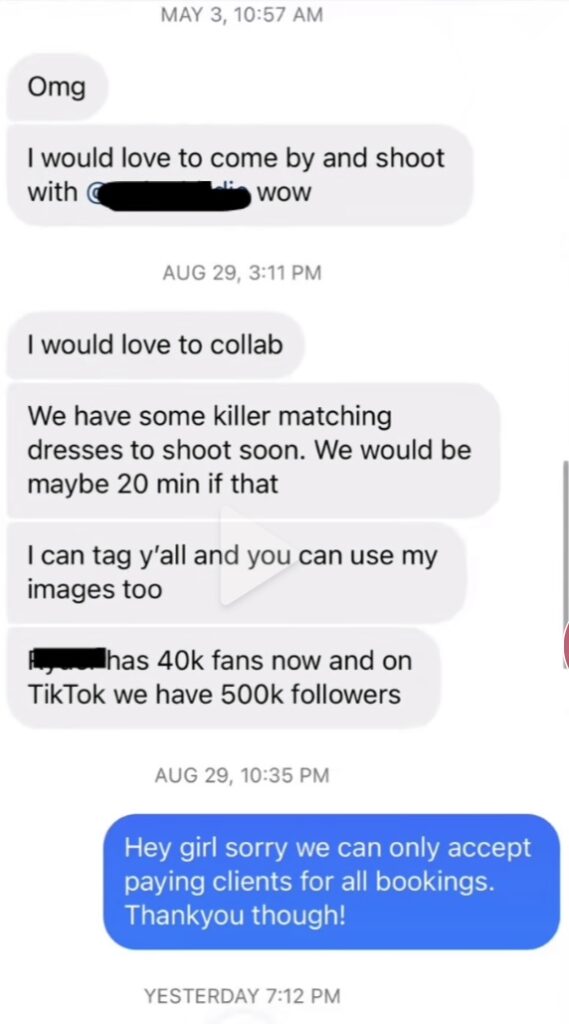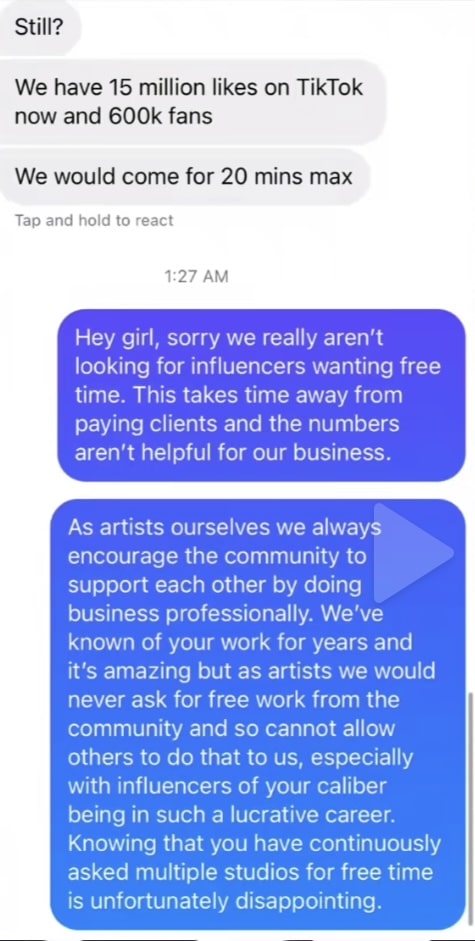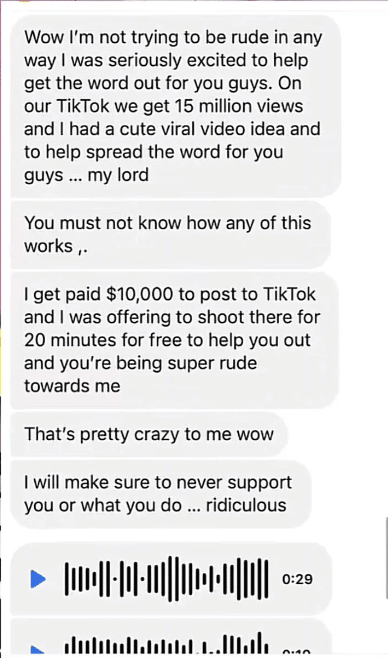 While Smac kept the creator's identity private, some viewers recognised the influencer's voice. For instance, @lolavalentina69 and @mystic_selise on TikTok were among the many users claiming that Amy was the influencer in question.
Amy soon deleted her TikTok profile and has put her daughter's TikTok account on private. However, one day after leaving the platform, @afashionnerd has returned to TikTok. At the time of publication, she has yet to address the drama directly.
Since users started speculating that Amy sent the voice messages, many business owners and smaller creators have come forward, sharing their experiences working with influencers and large companies.
TikTok user @tanya.volt explained that she recently had a "major bridal company" ask her to photograph a wedding for exposure on social media instead of payment.
"Like, what is my landlord going to say when I show them the social media posts that I got as payment," Tanya says. "I'm just glad that Amy showed her whole ass on here because it just shows how much it is peak entitled behaviour."
To this end, the controversy surrounding Amy reflects a larger issue on social media. With TikTok users coming forward to defend Smac, it seems the internet is tired of full-time influencers exploiting smaller creators and businesses for exposure. Here's to hoping creators like Smac get the credit and compensation they deserve moving forward.