@emilyjeffri / @iammarinaki
TikTok has skyrocketed movies and TV shows like Outer Banks and Bridgerton to viral fame. And over the past few days, a 1980s horror movie called Zepotha seems to be all anyone can talk about.
The catch? It's not a real movie.
TikTok loves an inside joke— we all remember Dabloons, the imaginary cat currency, or that time when Baby Gronk rizzed up Livvy. So, it's no surprise that users have taken to the app to create Zepotha lore, making videos about their favourite plot points and characters.
At the time of publication, #zepotha has amassed 57.8 million views and counting.
Alongside the discussion about the infamous "forest scene" and videos of creators sharing their Zepotha cosplay, comment sections are flooded with users comparing random creators to characters from the film.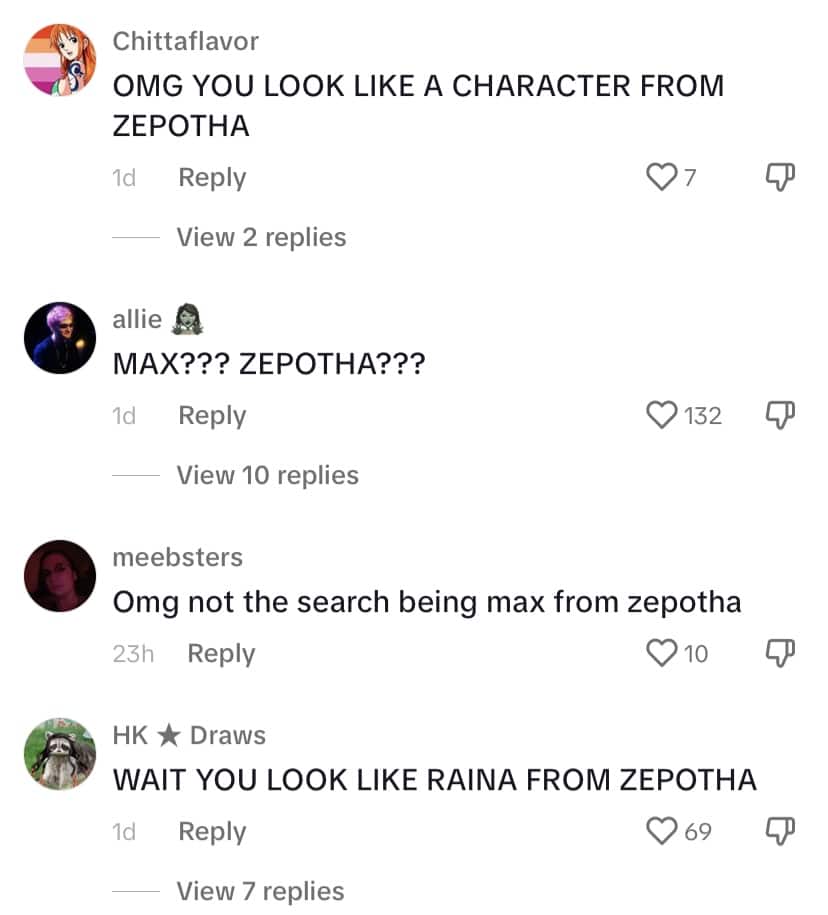 Users have even created a "What Zepotha Character [are you]" randomised filter, listing Cole, Danny, Vincent, Jasmine, Rita, Neil, Alaine, Alecia, Michael, Alex, Robbie, Maxine, and Kalani as the film's protagonists.
The trend seems to originate from @emilyjeffri on TikTok. Just one day ago, they posted a video inventing the 80s horror film, calling on TikTok users to follow their lead.
"OK so new bit idea: what if we created a fake 80s horror movie called 'Zepotha' and started commenting 'omg u look exactly like that one girl from Zepotha' or 'wait, u look exactly like __ from Zepotha' on every thirst trap we see," they write. "Together, we will witness new lore develop, main characters will emerge etc. & we can convince thousands of people that this weirdly titled horror film actually exists."
Emily's TikTok has since accumulated 4.3 million views and over 800K comments.
It appears they created the TikTok to promote their upcoming album, Soundtrack For an 80's Horror Movie, set to be released on August 25.
But for those who didn't see Emily's original post, TikTok's obsession with Zepotha has been confusing— with many users asking what the film is about and whether it is legitimate.
While most users have jumped on board, others note that this 'bit' has been done before— likening Zepotha to Goncharov, a 1973 mafia film created by Tumblr users. The imagined movie went viral last year, with Martin Scorsese listed as the director and Robert DeNiro, Al Pacino and Cybill Shepherd as cast members.
Here's to hoping that a real Zepotha film is coming soon!