@durtedom
https://www.instagram.com/p/B2C7EaPAkmP/
https://www.instagram.com/p/B1hkEfdAyQt/
Updated: September 25th, 2021
It's no secret this has been a tumultuous year for the David Dobrik and the Vlog Squad.
Off the back of several accusations of sexual assault, racism, and bullying against the YouTube collective, a woman, who goes by the pseudonym of Hannah, shared her experience with the Vlog Squad in an interview back in March. Hannah's story ignited a storm of backlash and exposés that have since changed the course of the Vlog Squad's careers.
Speaking with Insider, Hannah recalls that back in November 2018, she and some college friends were chatting with Durte Dom— real name Dominykas Zeglaitis— on Instagram DM who said he wanted to "hook up" with them. Durte Dom, who famously played a sex addict character for Vlog Squad content, joked about inviting the girls over for a "five-some" in the published vlog.
It's important to note that David's audience is largely made up of teenagers, many under the age of 18.
Hannah told Insider that Dom had sex with her while she was too incapacitated by alcohol to consent. David filmed Hannah and Dom entering into the bedroom and spun it as a "threesome" bit. "It was very much an environment where it felt like saying 'no' was not OK," she told the publication. "It felt like from the moment we came there was an expectation that they were doing us a favour and we had to give them content."
Hannah claims Dom pressured her into "at least" giving him a kiss before having sex with her while she was "blacked out"— too drunk to even dress herself afterward.
Hannah asked David to remove the video, which quickly reached over 5 million views, and she sent Durte Dom a message in February 2019 saying she felt "taken advantage of."
After a mass hiatus from Vlog Squad members since the March 16th article was published (with the exception of some very questionable apologies from David Dobrik, Todd Smith, Jeff Wittek after losing nearly all their sponsors), Dom addressed Hannah's allegations in April via Instagram story.
Posted to his private account, Dom started by saying he wants to "sincerely apologize directly to the women involved in this incident".
While he claimed to "empathize" with the pain he caused Hannah and her friends, he went on to say that as far as he is concerned, "everything that occurred during that night in question was completely consensual".
"I believe the statements that have come out against me are entirely misleading and shed an incorrect light on my involvement," he wrote. "My character is being unfairly attacked and the statements that exist in the public eye are unfairly defaming and assaulting my character and reputation."
Dom then went on to pat himself on the back, saying he's "donated" his time and "thousands of dollars to women's rights groups". He finished by calling on fans to "demonstrate more respect for one another in every facet of life".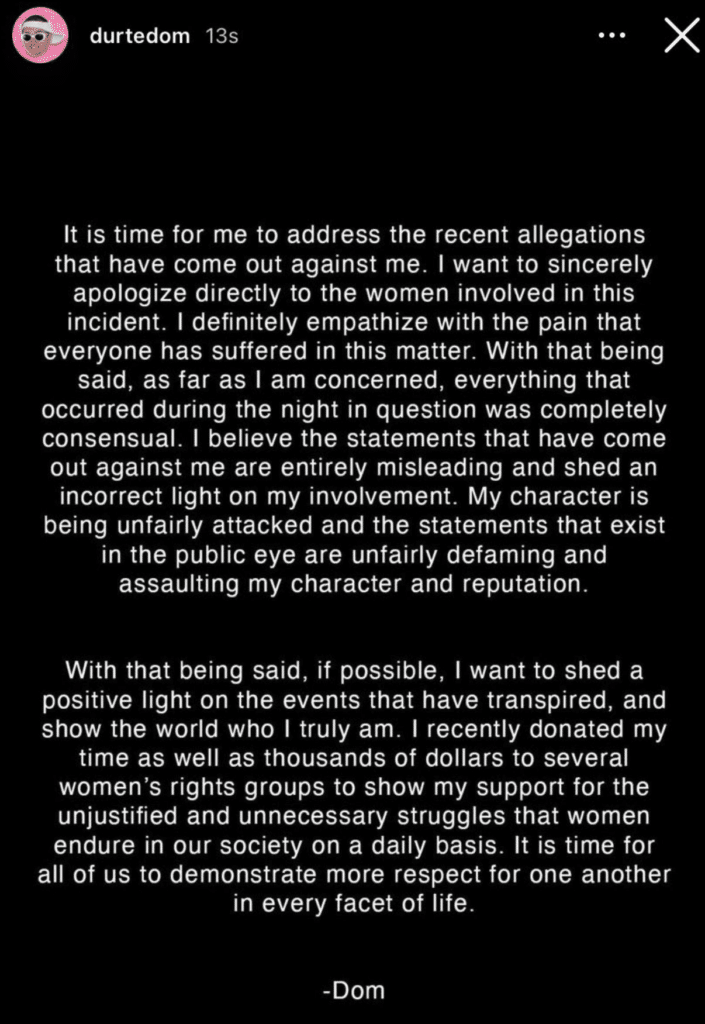 Months later, Dom has now addressed the sexual assault claims in a sit-down video on his YouTube channel.
Throughout the video, Dom defends that he believed the encounter with Hannah was consensual. He shares text messages between himself and Hannah in the days following that allegedly show the two making plans to hang out again, as if to imply she enjoyed their time together.
Dom admits that Hannah reached back out to him in February 2019 to ask that the video be taken down. He claims he sent screenshots of this conversation with Hannah to David.
The video also featured an appearance from David Dobrik's former assistant Casandra Ramos, who claims David was not interested in removing the vlog. Casandra has also posted a video to her own channel interviewing Dom about the sexual assault. Throughout both videos, Casandra maintains that David treated his friends poorly.
Neither Dom nor Cassandra's videos have been recieved well by fans, who question their motiviation behind attempting to discredit a sexual assault survior while placing the majority of the blame on David for Dom's actions.
"Nothing [Dom] said discounts [Hannah's] story," one viewer commented on Casandra's video. "He cannot read her mind, he doesn't know how coherent she was during any of what happened."
In a similar vein, many have noted that people often don't realise they have been the victim of sexual assault until much later, deeming the text messages between Dom and Hannah following the encounter irrelevant to Dom's defense.
Kat Tenbarge, the journalist who reported on Hannah's story, believes the two may be trying to hit back at David, who had already disassociated with Dom prior to the Insider article. After a short hiatus following the backlash, David has returned to posting regular content and fans have seemingly welcomed him back with open arms.
It is clear Dom has not learned anything over these last few months nor will he ever take any accountability for the trauma he inflicted on Hannah.