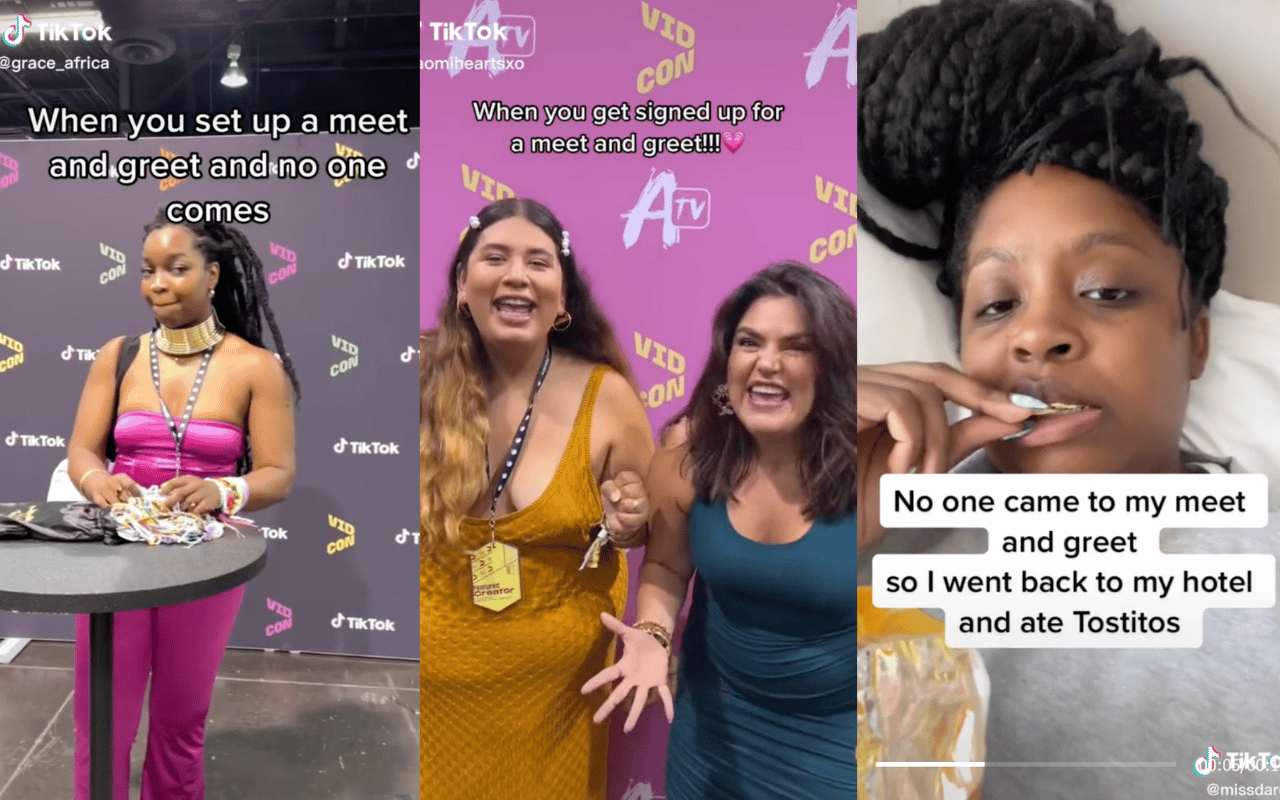 @grace_africa / @naomiheartsxo / @missdarcei
Where VidCon in years past has seen stacked lineups of YouTube creators, from David Dobrik and Liza Koshy to Emma Chamberlain and Rickey Thompson, drawing in hoards of young fans to support top and emerging creators alike — VidCon 2022 looked vastly different.
Featuring a star-studded, TikTok heavy list of creators, including Charli D'Amelio, Khaby Lame and MrBeast, the keystone event, returning after two years of COVID cancellations, has given rise to reports from unhappy creators who claim no one attended their meet & greets.
While creators involved have followings ranging from 470k to 1.3 million on TikTok, @missdarcei and @grace_africa's experiences have gone viral, after they documented completely empty lines for their meet & greet sessions at the 2022 event.
Theories have begun circulating in response, from fellow creators and commentary channels, attempting to make sense of what may be the new normal when it comes to fan events such as VidCon.
TikTok doesn't foster a deep audience connection
As OG YouTuber Simplynessa15 explains in a stitch of @missdarcei's original video on TikTok, she says, "I'm part of the generation when VidCon was packed, when people were getting chased from one side to the other side with mobs. I'm telling you meet & greets had 3000 people standing line." Of the shift, she theorises that "TikTok completely killed the concept of influencers," explaining that the kind of virality seen on TikTok makes it far easier to grow a following than it was on YouTube, "but that doesn't necessarily translate into fandom." She believes that TikTok popularity comes and goes, and creators can become relevant and irrelevant month to month.
Due to the short-form nature of the content, followers can simply scroll past content they are no longer interested in, but are unlikely to "unfollow" a creator— leaving influencers with large followings of unengaged fans. She also explains TikTok has contributed to audiences having shorter attention spans, and as a result not being able to translate followings to alternate or longer form platforms, such as YouTube.
TikTok followings are often performative
Where @missdarcei's video of her VidCon experience currently has 276k views, @grace_africa, who regularly sees between 30-100k views, has seen 30 million views on her VidCon experience. Building on Simplynessa15's theory, TikTok commentator @joris_explains shares his belief that neither TikTok nor VidCon are to blame, contrary to comments blaming a lack of promotion by VidCon for specific creators— instead denoting that "we, as individuals are [socialised] to consume Black pain, but to only reward whiteness in a way that is materially meaningful," justifying the virality of @grace_africa's video. "I'm convinced that white [male] creators with the same amount of followers would have had people queuing for their meet and greet."
He continues, that Black creators growing large followings "often doesn't [materialise] into any tangible change for Black creators."
While the comments section of @grace_africa, @missdarcei and the accounts of creators with similar experiences have seen a groundswell of love and support, it does pose the question of whether VidCon remains relevant in the era of TikTok? While there will always be an engaged fan base for the top tier creators, VidCon stands as an example for existing arguments, namely the lack the genuine influence of TikTok stars.