@weareknowbeauty
https://www.instagram.com/p/CQbg8aPNP_4/
Vanessa Hudgens and Madison Beer have teamed up with their dermatologist, Dr. Karen Kagha to launch Know Beauty: an "intelligent" skincare brand that takes both nature and nurture into account when it comes to developing your skincare routine.
Surprised? We are too. But here's what we 'know' about the brand so far.
Vanessa and Madison first became friends through Vanessa's younger sister, and later connected over their shared love-hate relationship with skincare. With both these starlets growing in the spotlight, they bonded over their skincare troubles and frustrations over the constant trial-and-error of products.
Vanessa explains that she had pretty good skin throughout her teen years, and it was only in her 20s that she started to experience breakouts, citing her love for wine and cheese. Now in her 30s, Vanessa prioritises taking care of the skin she has.
In her skincare routine video for Harper's Bazaar, Vanessa talks about the "vicious cycle" of breaking out, rushing to try new products to fix it, only to further aggravate your skin.
Madison also spoke on her experience dealing with cystic acne, sharing via her Instagram story that after years of dealing with acne, she often had "no idea" what she was putting on her face, and really just wanted "an easier way to figure out the right products to use".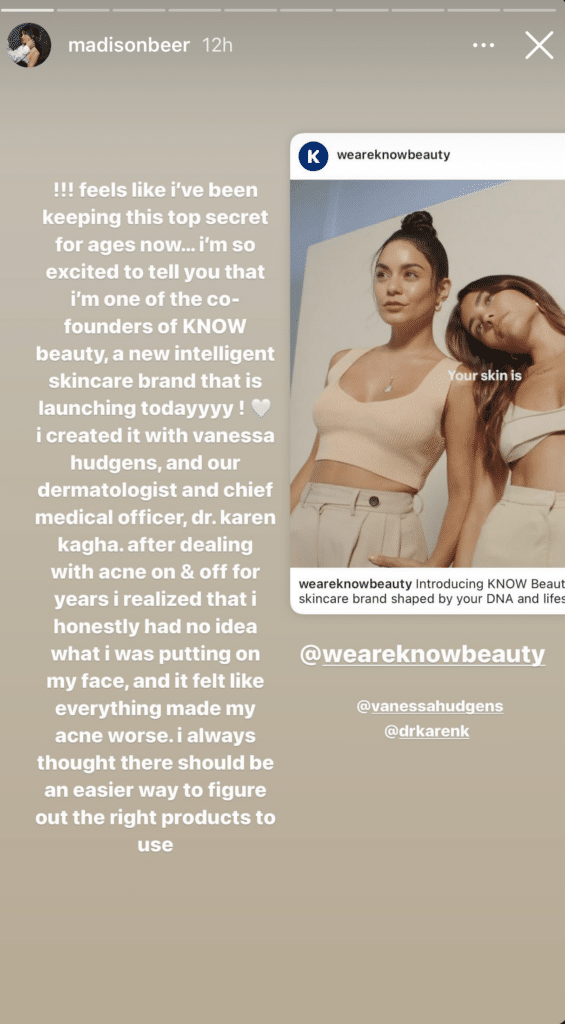 With the catchphrase "healthy skin without the trial and error", Know Beauty is meant to take the guesswork out of skincare. Their skincare routine starts with a DNA test or a skin diagnostic quiz to find out what your skin is naturally prone to, whether it be hyperpigmentation or sunburn.
"We're looking at 46 chromosomes and specifically analyzing seven skin categories. Their results give them information on what their skin is more prone to develop and areas they need to be focusing on in the future," Dr. Kagha says.
The $95 DNA test kit is shipped to your home where you perform a cheek swab and send it back to the lab, who will get back to you with a report on the ingredients and treatments that would be best for your skin. For others who want to try the products ASAP, a 1-minute online diagnostic quiz is also available on their website.
The product range currently includes cleansers, moisturisers, masks and serums which are priced between $20 and $30. The products are cruelty free and come in mostly recyclable packaging. The brand currently only ships within the US.

Still want to Know more? Head to their website knowbeauty.com to check out their products.