Kaydee Kyle-Taylor / Ruchi Page
Faces of Australia is a column highlighting BIPOC creatives to bring you their stories. Creators are asked to collaborate on a makeup look that empowers, holds meaning, or describes their experience as it relates to Australian beauty standards and the Australian beauty industry. Faces of Australia is written and produced by Ruchi Page, with a mission to show the beauty industry how accessible BIPOC talent is across this diverse nation.
I am thrilled to be speaking with my next Faces of Australia guest, Kaydee Kyle-Taylor— a multi-faceted artist, creator, and cut-crease master. Our collaborative makeup look is a representation of the fierce and unstoppable energy required to be seen in an industry that has rarely invested in us. To complement our bronzed complexions, we have both used MAC Cosmetics Studio Fix Fluid Foundation. The foundation allows for powder and cream bronzer to glide across the skin without any pilling or disruption, making Studio Fix Fluid the most reliable base product to use for this look. Foundation aside, reliability hasn't always been Kaydee's experience when it comes to the beauty industry.
Kaydee tells me she is "a proud Wakka Wakka (Cherbourg mission), Birri Gubba (Palm Island), Kantju (Cape York Far North Queensland), Ngati Porou (East Cape of the North Island of New Zealand), Ngati Kahungunu (East Coast of the North Island of New Zealand) woman". Australian soil is home to Kaydee and with hard work and persistence, she has become one of the leading First Nations professional makeup artists in Australia. Alongside this impressive title, Kaydee is a small business owner of her artistry account, @ITHINKSHEAFREAK, whilst working in a full-time education role as the Aboriginal Coordinator of the Deadly Sista Girlz Program at Thornbury High School. It was Kaydee's impressive experience across both inclusion advocacy and beauty that elicited this conversation.
With 5 years of experience in the beauty sphere as a pro artist, Kaydee tells me about what it was like entering the industry. "I reflect a lot on when I first ever started studying specialist makeup artistry," she says. "Because the beauty industry lacked representation of women like myself and First Nation artists, models, and cosmetics. There was already this 'unwelcoming' atmosphere when entering." Despite this, Kaydee gravitated towards makeup artistry so she could express her identity. "I find that everything I do in both of my roles and in life is heavily influenced by culture and community," she explains. "And the love and admiration that I have, especially for women in our community. I am so driven to want to continue to build on not only myself but also build on my fellow WOC."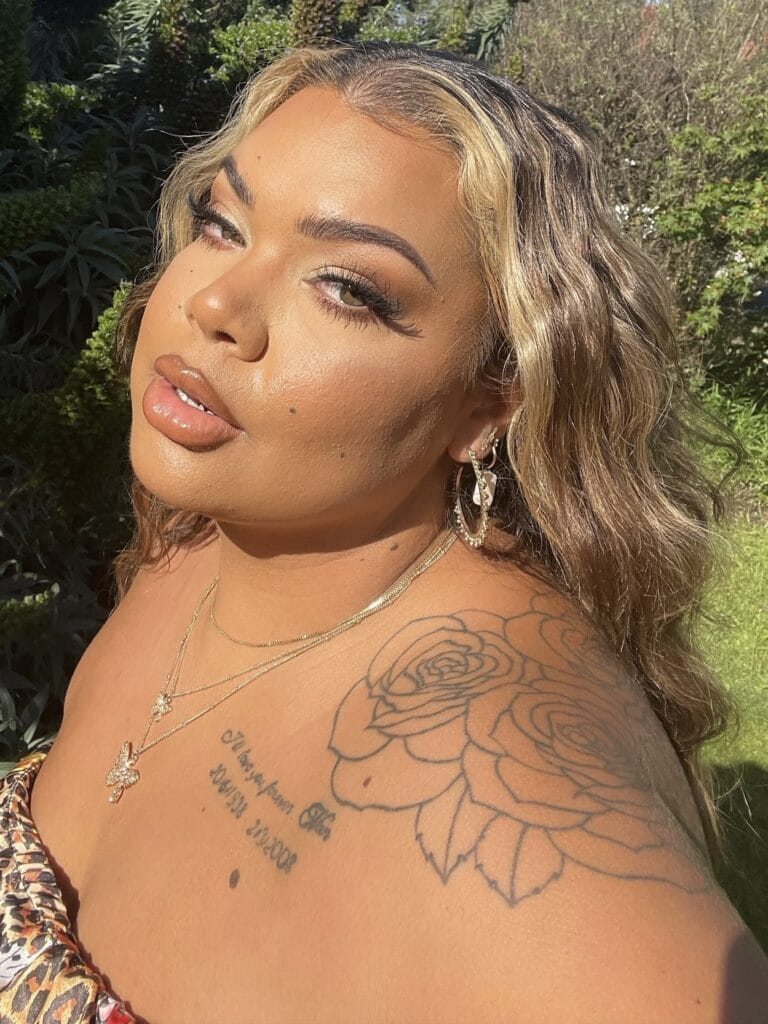 I wanted to explore more of Kaydee's role as an Aboriginal coordinator at Thornbury High School. I asked for a bit of insight into the program she manages. On behalf of the Wirrpanda Foundation, Kaydee says "it focuses on delivering sessions and mentoring young Aboriginal and Torres Strait Islander women in high school". Additionally, she says it's designed to "deliver sessions around leadership, health (sexual/mental health), career pathways and self-building and self-determination all through a cultural lens".
This is something that did not exist in my primary or high school. I feel if this type of mentoring was involved in all schooling systems, it would be transformational. I asked Kaydee if she could explain why First Nation representation within the school curriculum is so important. She tells me, "having First Nation representation within a school setting is so important to our youth, it inspires and empowers them to want to aim high in their schooling years. But the main importance is that it provides them a cultural safety at the school which only just increases their school attendance and their engagement." We agreed that seeing people who look like you thrive in leadership positions when you're a child is essential to development and self-esteem. Kaydee's existence alone is significant. Thornbury High School has provided a home for Kaydee to implement a sense of belonging for Aboriginal children. She has taken on a Reconciliation Action Plan (RAP) to ensure the school celebrates their cultural calendar as well as the mandatory cultural awareness training.
Whether it's the beauty industry, Australian media and television, or the school system, representation for First Nations people evidently is lacking in all areas. Kaydee tells me that "Australia is very much in denial of its genocidal history and denies the racism and systemic oppression towards Indigenous Australians." Continued, she explains "the history books my students are handed imply that Australia is a white nation and begun in 1788, when we have the evidence proving that wasn't the case at all." Similar to the beauty industry, the lack of inclusion in Australian historical texts has left First Nation children and adults feeling unseen and insignificant. Kaydee says, "I can only imagine what it would be like if we saw ourselves depicted more within the school's materials and school settings…how empowering that would be."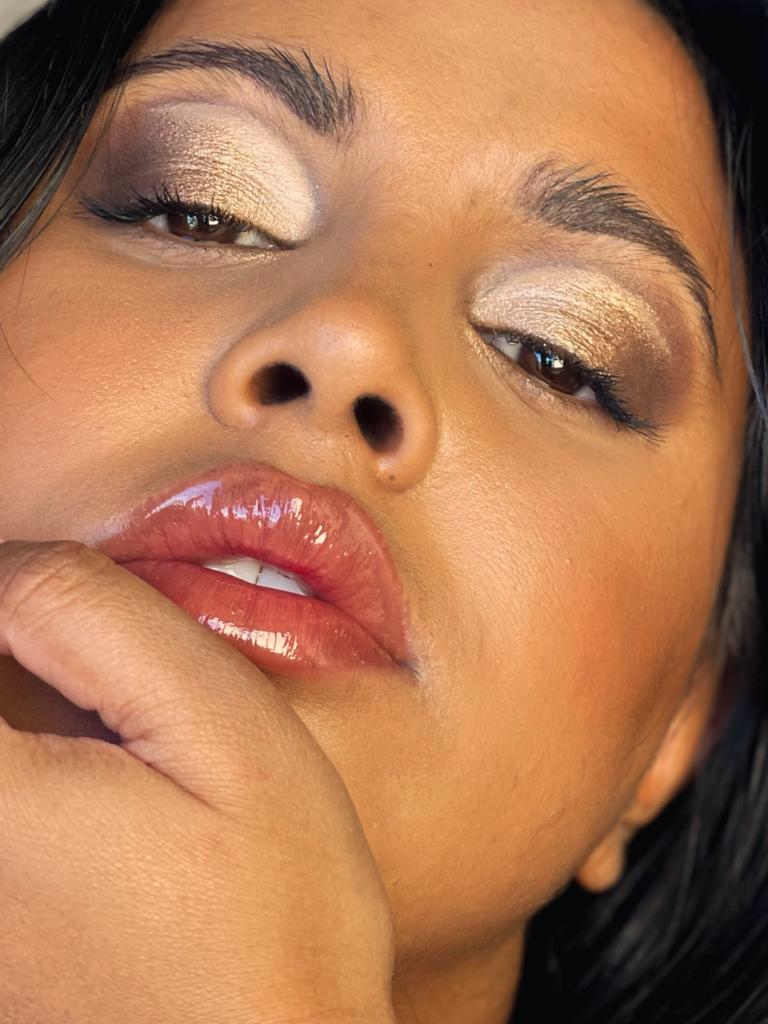 It is a firm privilege to see yourself in inspiring positions. But to be the person in that position is even more rewarding. Kaydee is a leader in the education and beauty industry, though specifically I wondered if she had any memorable beauty experiences to share. Positively, she recounts that her clientele are both grateful for the end result and her natural desire to cater for BIPOC clients. Her most memorable experience was the beginning of entering the beauty sphere. "There was really no one that represented me within the beauty industry so it was hard at first to find my bearings and find guidance," she tells me. With minimal options in beauty products and services for BIPOC, Kaydee tells me "I had to eventually become the person I needed to see within the beauty scene and I think to this day it has helped pave the way for the next generation of First Nation artists to feel invited and inspired to work within the beauty industry." Success isn't without its failures and Kaydee has experienced her fair share of rejection as a qualified makeup artist. After applying for multiple makeup counter positions, confusion and self doubt came into play after being rejected each time. But it was her Mum who revived the belief within Kaydee. Now? Kaydee is proud of her position in the beauty world. "I have had the honour to embody that representation of First Nation Women within the beauty industry and be part of the on-going change within it." Oh and the makeup counters that turned her down? The Pro Artist says "they now send me PR and pay me to work on campaigns with them."
I expressed my admiration for Kaydee's dedication to her work. We agreed that whilst the Australian beauty industry is starting to open doors, it's taken time to get to this point. We also agreed that young First Nation women deserve to identify with success and the idea that they can attain that success. "I know for when my girls see me in social media ads and beauty campaigns, they feel very inspired and almost hold themselves to a higher level because one, I am their coordinator and two, I look like them," Kaydee tells me.
As our conversation came to an end, Kaydee shared her advice for the Australian beauty industry and the BIPOC community in the industry.
"Be more inclusive, genuine, and inviting into the beauty industry. I say 'genuine', as well, in the sense to not be inclusive to just tick that diversity box. My advice to my fellow BIPOC that are in the Australian beauty industry or wanting to enter: I hope you don't ever feel bad taking up space or having big energies. BIPOC are conditioned to feel excluded and made to feel that things need to be 'toned down' when in actual fact, the oppressors see how great our potential is and feel threatened. I can't wait to take over this industry with you all."
Faces of Australia season 2 is brought to you by