Kylie Jenner has responded to recent criticism involving a Go Fund Me campaign for makeup artist Samual Rauda.
Earlier this week, the youngest Kar-Jenner came under fire for posting a swipe-up link on Instagram stories to a GoFundMe campaign to cover medical expenses for celebrity makeup artist Samuel Rauda. Samuel was allegedly involved in a car accident which left him seriously injured and fighting for his life. According to the GoFundMe, the makeup artist underwent surgery on March 14th.
Following the accident, several high-profile beauty influencers and makeup artists posted asking for love, support, prayers, and donations for Samuel. Friend and fellow beauty creator La Demi posted on her Instagram stories that Samuel "flew off of a moving vehicle crushing his head into the pavement" and has been "suffering from internal bleeding and 8 different injuries to his brain."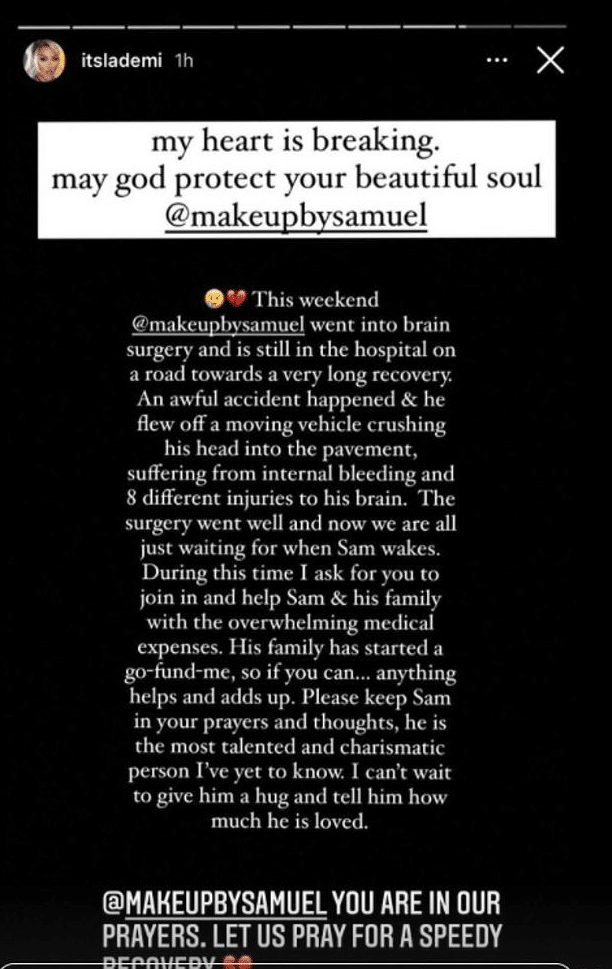 Ariel Tejada AKA Makeup by Ariel— Kylie Jenner's main makeup artist— also posted a series of heartfelt messages to his stories. Ariel's support seemingly garnered attention from Kylie, who works with Ariel almost daily. Kylie made a $5,000 donation to put the fund over its initial $10,000 goal and posted asking fans to donate as well. Samuel has apparently done work for Kylie in the past, however they do not work together frequently.
After sparking outrage on Twitter for posting a swipe-up link to the Go Fund Me, Kylie has now responded to backlash on Instagram stories.
"I feel it's important for me to clear up this false narrative that I've asked fans for money and am not paying for my makeup artist's medical bills," she started.
"Sam isn't my makeup artist and unfortunately we don't have a personal relationship anymore but I have worked with him a few years ago and think he's the sweetest."
Kylie goes on to say that when she visited Sam's GoFundMe page, she saw the initial donation ask was $10,000. "They had already raised 6K so I put in 5K to reach their original goal and thought I'd post on my stories to gain more awareness if anyone else felt compelled to share or donate."
She then says Samuel's family has reached out to her through Ariel and is appreciative of the "donations, prayers, and love."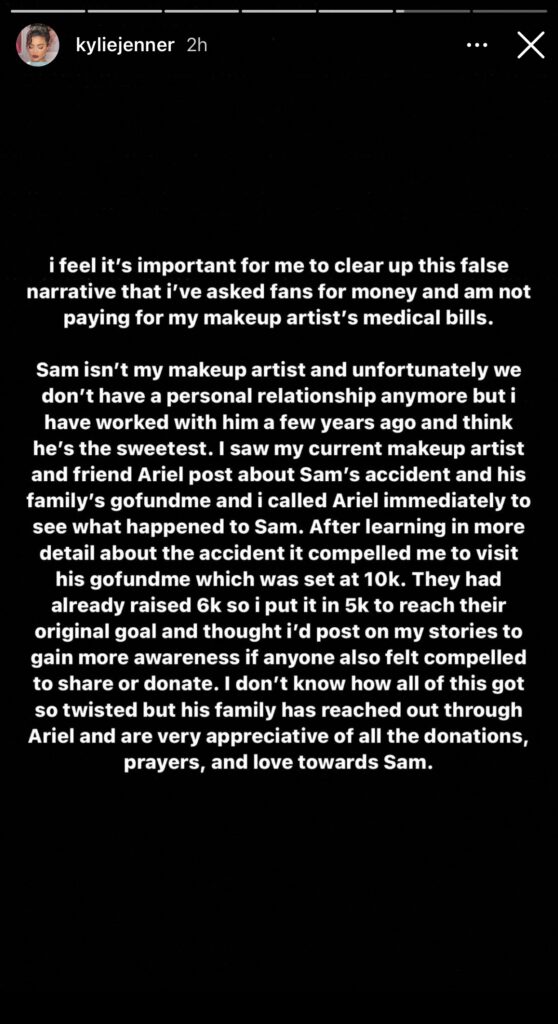 She continued, "Anyone that knows me knows that I do things from the heart and I try to be helpful whenever I can be. Let's all stay positive and keep Sam, his family, and anyone you know who is going through a difficult time in our prayers."
"I hope you have a beautiful day and let's encourage each other to help," she finished.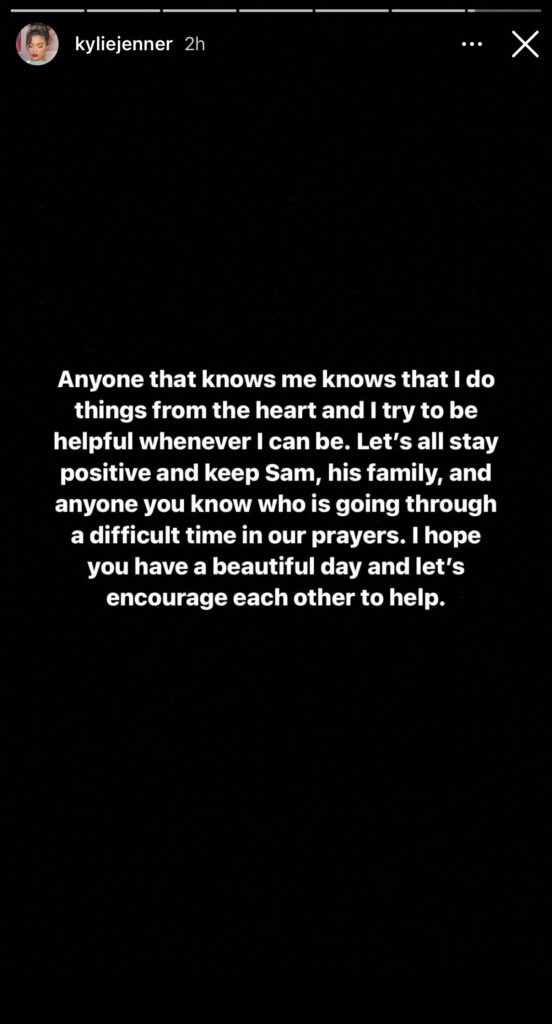 Samuel's GoFundMe has now raised over $99,000 with a new goal of $120,000.