Updated: September 4th, 2023.
Ruby Franke, of the now-defunct 8 Passengers family channel, has been arrested. 
The news broke on August 30, after Shari Franke, Ruby's oldest daughter, uploaded a photo to her Instagram story showing a police car with text that says, "Finally."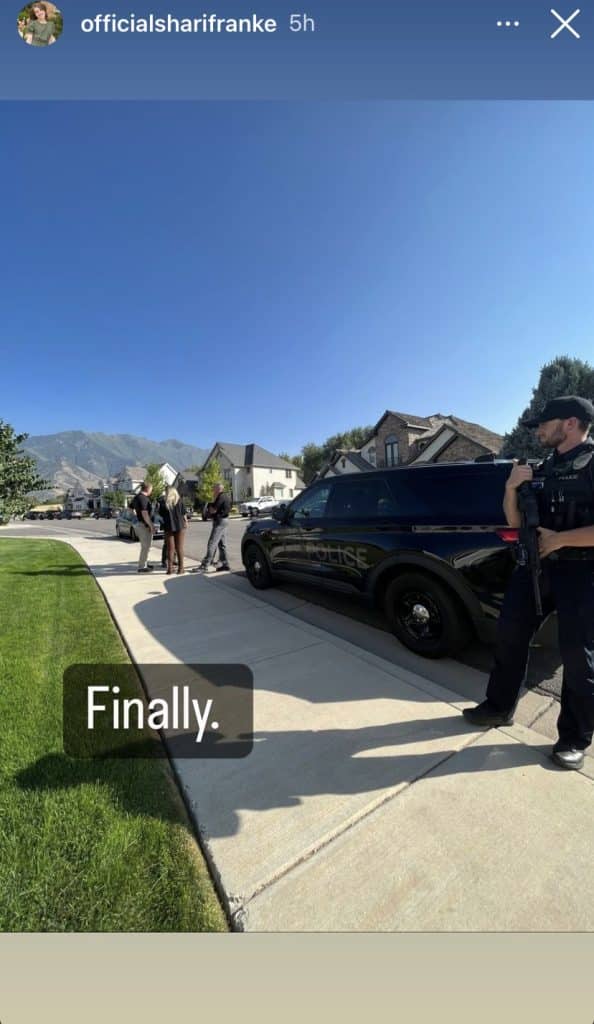 Soon, local news in Utah reported that Ruby was taken into custody with Jodi Hildebrandt, the founder of a personal improvement group called ConneXions.
ConneXions claims to offer a form of healing "that psychotherapy cannot offer you." Ruby has since become the face of the group alongside Jodi, where the two create content about "mental fitness" and "living in truth" centred around disciplinary principles.   
The "truth" principles taught by ConneXions are considered dangerous and unrealistic by many. In their Tactics of Deception YouTube series, Jodi and Ruby preach that to "live in truth", you must love these principles more than your children. And if your children do not abide by these principles, they don't love you unconditionally.
It was at Jodi's home in Irvins, Utah, where she and Ruby were taken into custody after one of the Franke children climbed out of a window and ran to a neighbour's house. While it was first reported that Ruby and Jodi were arrested on two charges, both women have since been charged with six counts of child abuse.
"On August 30, 2023, around 10:50 hours, a report came into our dispatch center regarding a juvenile asking for help. The calling party stated that the juvenile appeared to be emaciated and malnourished, with open wounds and duct tape around the extremities. The juvenile was asking for food and water," a press release from the Santa Clarins-Ivins Public Safety department reads.
According to this statement, another malnourished child was found at Jodi's residence, where they were soon transported to the hospital for treatment.
"The Department of Child and Family Services were contacted, and in joint effort with the Springville Policy Department, four minor children were taken into the care of the Department of Child and Family Services," the department's press release says.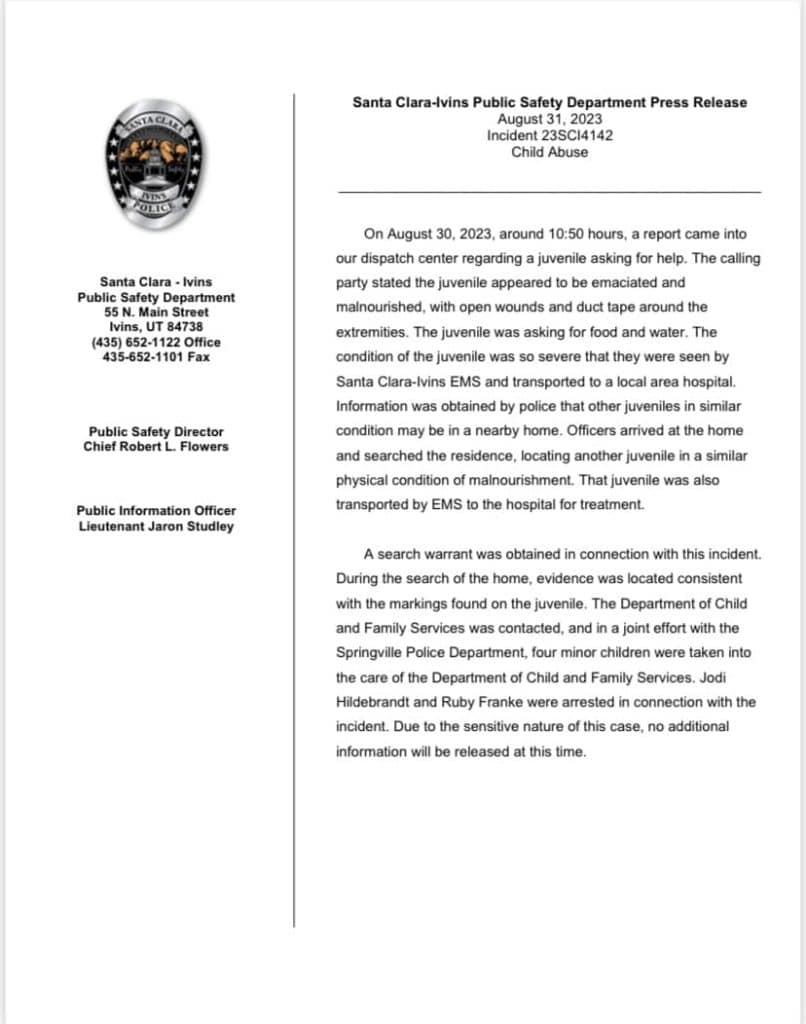 Although the children were found at Jodi's home, arrest records note that Ruby was featured in a YouTube video filmed at the residence just two days earlier, indicating that she was aware of the abuse, malnourishment, and neglect.
Ruby and Jodi have both been denied bail based on court records citing "the severity of the injuries sustained by their two children in the home." It has also been reported that Ruby refused to speak with authorities upon her arrest and requested an attorney.
At the time of publication, the legal representation for Ruby remains unclear. However, questions for the children's father, Kevin Franke, are being directed to his attorney, Randy S. Kester, as reported by Page Six.
"[The] urgent focus is simply to keep his children together under his fatherly care," Kester tells the publication.
While Kevin has not made any public statements at the time of writing, Shari has addressed the arrest on her Instagram story.
"Today has been a big day. Me and my family are so glad justice is being served. We've been trying to tell the police and CPS for years about this, and so glad they finally decided to step up," she wrote on the day of the arrest. "Kids are safe, but there's a long road ahead. Please keep them in your prayers and also respect their privacy."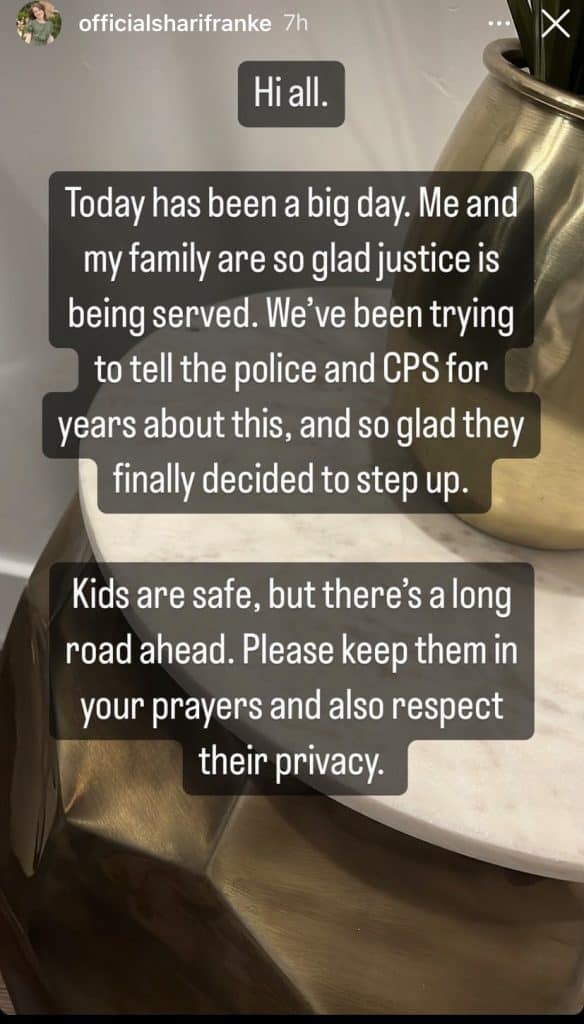 Shari has previously opened up about her tumultuous relationship with her mother, which led her to distance herself from her immediate family. During a podcast interview in April of this year, Shari explained that the ConneXions coaching was too extreme.
Shari has also asked her followers to DM her "any questionable or concerning ConneXions or 8passengers videos," explaining that "it's too much for me to sort through myself."
She went on to create a Google Doc for her followers to include any evidence they may come across.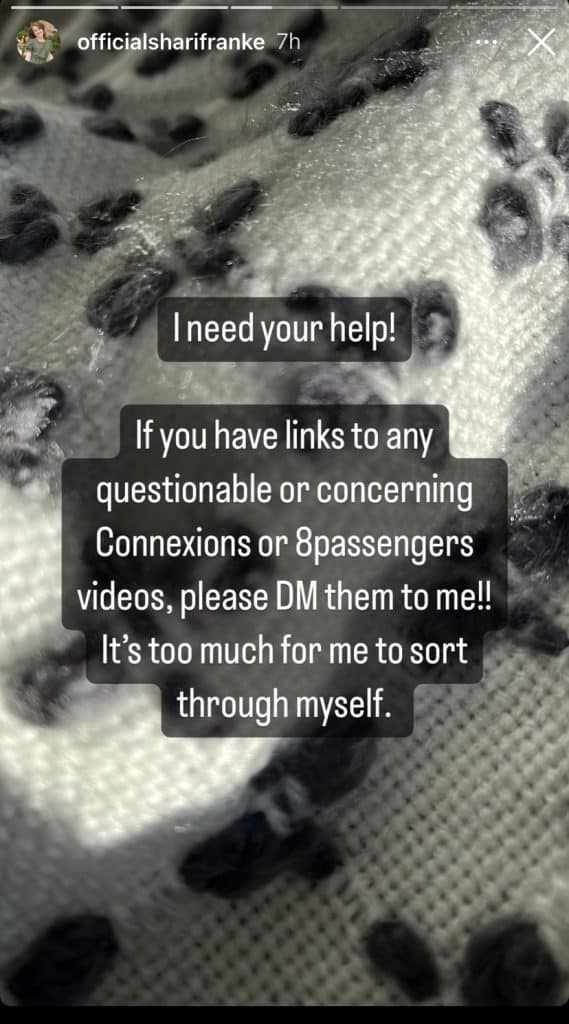 Alongside Shari, Ruby's sisters – Bonnie Hoellein, Julie Griffiths Deru and Ellie Mecham – have all spoken out about the situation. Bonnie posted a short YouTube video, sharing that "[the family] did as much as we could" to protect the children before Ruby's arrest. The video is now unavailable.
According to NBC, the video's description read, "It would feel very out of place for me to continue to post my regular content after the arrest of my sister. It feels like a weight has been lifted as we now know our nieces and nephews are safe."
Julie and Ellie posted a joint statement to Instagram, sharing a similar sentiment.
"For the last 3 years we have kept quiet on the subject of our sister Ruby Franke for the sake of her children," the statement begins. "Ruby was arrested which needed to happen. Jodi was arrested which needed to happen. The kids are now safe, which is the number one priority."
It appears that no court date has been set for the case at the time of publication.
Check back for updates.