BTS / Twitter
https://www.instagram.com/p/CLPs6dCHODW/
https://twitter.com/danieldaekim/status/1357580443403567104
On Wednesday, German radio host Matthias Matuschik compared K-Pop group BTS to the COVID-19 outbreak during a broadcast, calling them "some crappy virus that hopefully there will be a vaccine for soon as well."
He went on to call their music "blasphemy" before insisting his comments were not rooted in racism or xenophobia, saying, "I have nothing against South Korea, you can't accuse me of xenophobia only because this boyband is from South Korea… I have a car from South Korea. I have the coolest car around."
Despite being the most successful and universally-loved boy band in the world, Matuschik joked that BTS "will be vacationing in North Korea for the next 20 years" as penance for their cover of Coldplay's 'Fix You.'
The backlash was swift, but the damage was done. Matuschik's comments are yet another act of violence against Asian communities amid the coronavirus pandemic.
Since the start of the pandemic one year ago, attacks and hate crimes against Asian communities have surged in the Western world. Experts report this is largely due to the race-based rhetoric used— sometimes by leaders like former U.S. President Donald Trump— to describe the virus.
"When President Trump began and insisted on using the term 'China virus,' we saw that hate speech really led to hate violence," said Russell Jeung. Jeung is the creator of the Stop AAPI Hate tracker which tracks hate incidents against Asian American Pacific Islander communities in the U.S. He is also chair of the Asian American studies department at San Francisco State University. "That sort of political rhetoric and that sort of anti-Asian climate has continued to this day."
Since March 2020, thousands of Asian Americans have reported being the victim of a race-related hate crime. The official FBI data is not available just yet.
In the U.K., anti-Asian hate crimes increased by 21% during the first three months of the pandemic.
In February 2020 alone, the London Metropolitan Police reported 64 acts of violence against individuals of "Oriental" ethnicity— more than twice the reported incidents from the year prior. By March 2020, that number had spiked to 101. Experts believe these numbers are likely higher, as victims are often too ashamed or afraid to come forward.
Now, U.K.-based Anti-Racism Group (CARG) says it's witnessing a surge in online hate speech linked to the pandemic, which could result in violence once restrictions lift.
Amid these reports, several artists have spoken out against Matthias Matuschik's comments about BTS.
"I am horrified to read the comments made by Matthias Matuschik," Halsey wrote on her Instagram story. "Racism and xenophobic cannot be thinly veiled as 'on air humor.' Irresponsible and disgusting statements in a time where hate speech and violent behavior towards Asian communities are skyrocketing."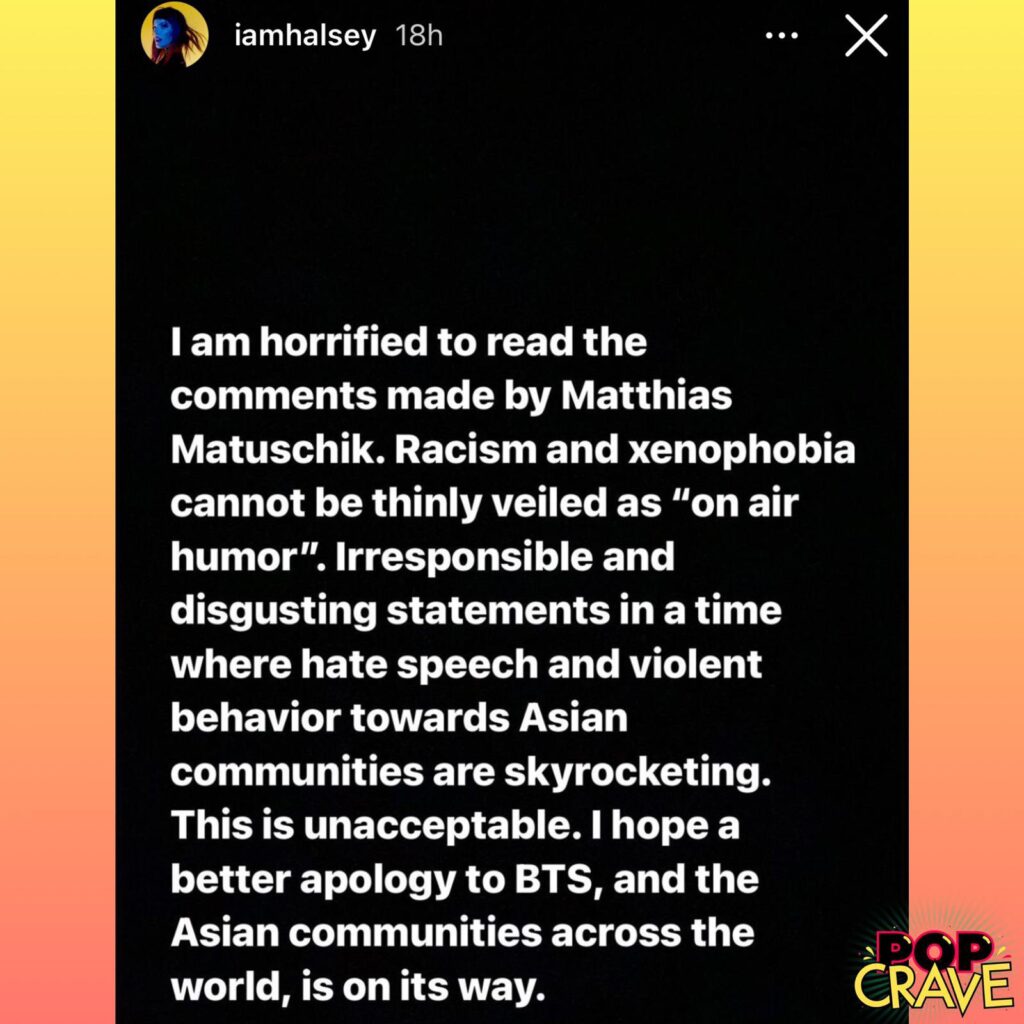 DJ Steve Aoki, who's of Japanese descent, tweeted that Matuschik's words were "unacceptable" and that he stands with BTS "to condemn hate of any kind and stop this kind of prejudice where we can."
MAX and Zara Larsson also tweeted their support. However, some fans have taken issue with the wording of their statements, saying they could be interpreted as BTS doesn't deserve racism and xenophobia because they are so successful.
Both artists finished their tweets by denouncing hate towards the Asian community right now.
Bayern3 radio station has since apologised for their host's vile comments, claiming that Matuschik was "presenting his opinion in an ironic, exaggerated way and with exaggerated excitement, his words went too far and hurt the feelings of BTS fans."
"But he — and he has assured us of this — in no way intended this," they continued. "He just wanted to express his displeasure over the aforementioned cover version." They also went on to note that the disgraced host is involved in raising aid for refugees and fights against far-right extremism.
"That does not change the fact that many of you found his statements to be hurtful or racist," Bayern3 finished. "We apologise for this in every way possible. We will work on the matter with Matthias and the team in detail again in the next few days."
Whether intended as a "joke" or not, rhetorics like Matuschik's are influencing this surge in violence against Asians in the Western world. To learn more about how to be an anti-racist ally, see here.