@natalinanoel
https://www.instagram.com/p/CK9txwOnLD4/
Updated April 1st, 2020
Natalie Noel is the latest Vlog Squad member to speak on the allegations against David Dobrik and the YouTube collective.
Shortly after Carly Incontro and Erin Gilfoy broke their silence, David's assistant and Dispo's creative director Natalie Noel— real name Natalie Mariduena— issued a statement on her Instagram stories.
"I've spent a lot of time thinking about the recent allegations and because of the severity, it's taken me time to process," she starts.
"Like many of you, I'm upset and angry and do not condone the behaviour detailed in the article or any sexual misconduct/abuse for that matter."
She finishes by saying, "I acknowledge, hear and support those who came forward and I stand by the victims."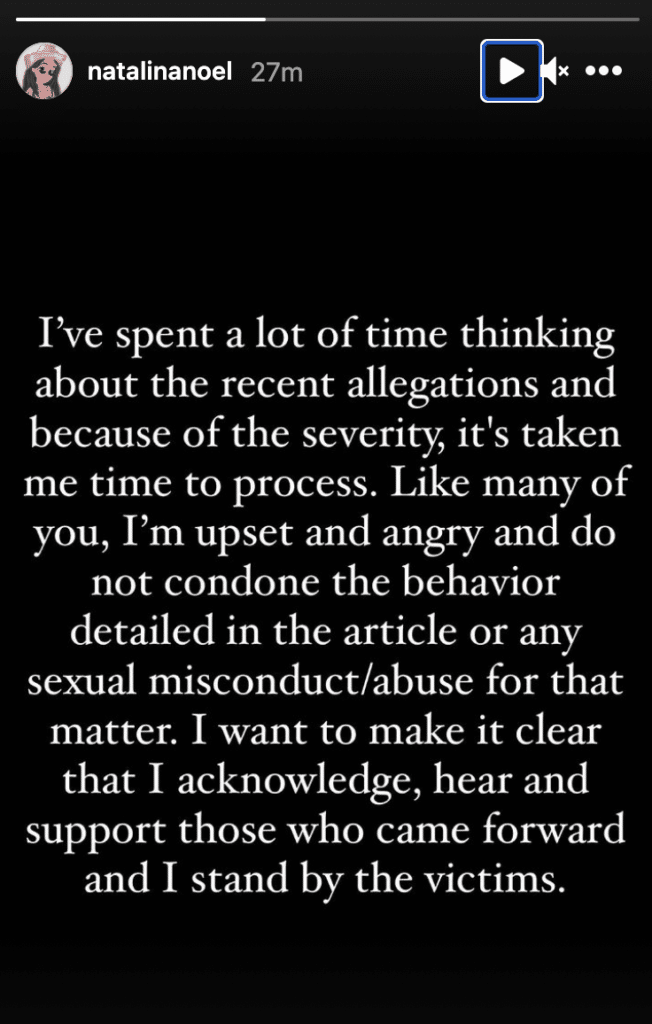 Natalie's statement comes off the back of an Insider investigation which found accusations of rape against former Vlog Squad member Durte Dom, real name Dominykas Zeglaitis, while David Dobrik and friends allegedly enabled the assault.
David and the Vlog Squad have also faced several allegations of sexual assault, racism, and bullying in recent weeks.
Brands like EA Games, Hello Fresh, Dollar Shave Club, DoorDash, General Mills, Honey, Audible, and his most consistent partner SeatGeek, have all cut ties with David and the Vlog Squad, and David has officially parted ways with his start-up app, Dispo.
On April 1st, Natalie uploaded another Instagram story after receiving backlash for her initial statement— many felt it was insufficient.
"The last few weeks have been nothing short of challenging— especially for the women who have come forward and while I was not there, I stand by my statement that I believe Hannah and the other women on what happened that night," she writes. "As a woman, sister, daughter as well as someone who knows that many women look up to me, I know I have a platform that can draw awareness to important causes and organizations that can protect and provide resources around sexual violence."
Natalie goes on to say she be donating to National Sexual Violence Research Center and using her platform to share useful information.
"This is just the start of a long journey for me and I appreciate those who stick by me during this time."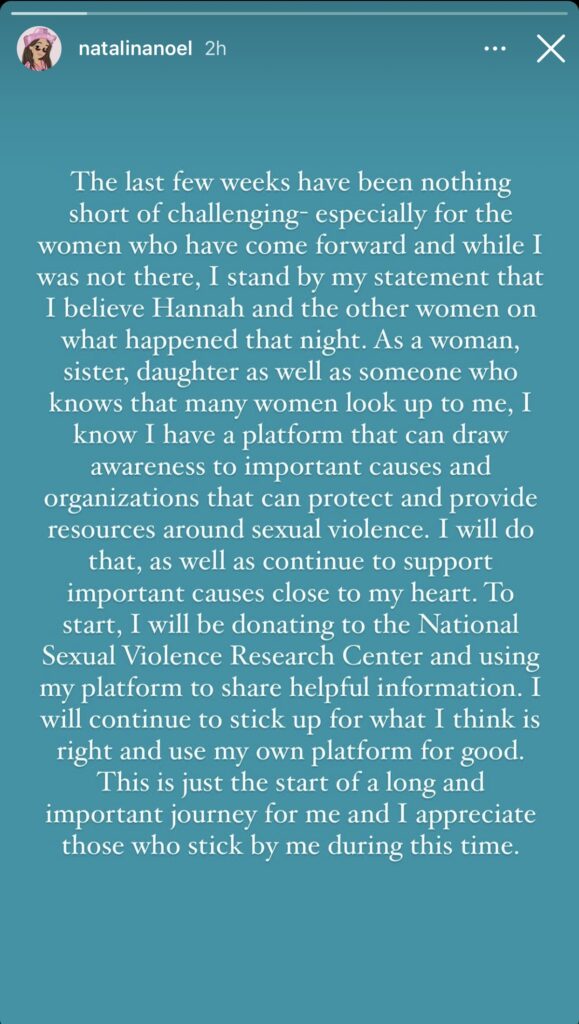 Natalie's boyfriend, Todd Smith, also issued a statement recently. Todd also claims to believe Hannah, however he still maintains he did not purchase the alcohol.