@alexanderwangny / TikTok / Twitter
Julia Fox is facing scrutiny after walking in a fashion show for disgraced designer Alexander Wang.
Earlier this week, Julia modeled in Wang's first NYC fashion show in three years. While the show wasn't officially part of New York Fashion Week, over 150 guests were in attendance, including Anna Wintour, Noah Beck, and Nikita Dragun.
Wang was accused by multiple people of sexual assault in 2020. After issuing a statement to The New York Times calling the accusations "baseless and grotesquely false accusations", it was then reported that he met with 11 of his accusers and said he will "do better".
Wang took a step back from the public eye, returning in 2022 with a fashion show in Los Angeles. He has since dressed several high-profile celebrities and influencers, including Kylie Jenner, and has shifted his marketing strategy to celebrate his Chinese identity and support AAPI causes, likely in an attempt to rehabilitate his image and brand.
Julia immediately faced backlash for participating in the fashion show, with fans flooding TikTok and Twitter expressing their disappointment.
"I am so upset with you miss Julia," wrote @cargoshorty on Julia's latest TikTok.
"Girl the Alex Wang thing… why??" commented another user.
Others have criticised fans for buying into Julia's "woke feminist" persona— a reputation she's built for herself on TikTok and through interviews with other white "feminists", like Emily Ratajkowski.
"Everyone mad at Julia Fox for working with Alexander Wang — y'all REALLY believed her "woke feminist on tiktok" schtick? The fact that she dated Kanye for clout should've told u everything u needed to know about her since day 1 lol," tweeted @GgV0gue. "Don't break your own hearts stanning celebs."
Julia quickly addressed the backlash in a TikTok comment.
In response to one user who wrote, "Julia doesn't walking for Alexander Wang go against everything you stand for???", the actress said that cancel culture needs to "leave room for rehabilitation" so people can learn from their mistakes.
"[To be] frank I love cancel culture but we do need to leave room for rehabilitation & for those who put in the work & heal & learn from this mistakes," she wrote.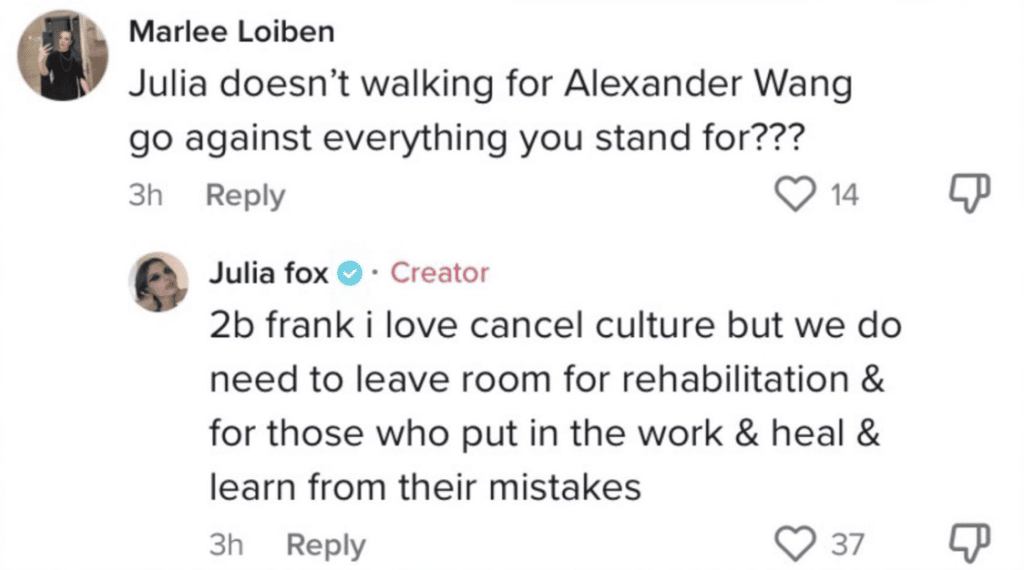 Despite this attempt to justify her decision to walk in the fashion show, Julia's explanation has left fans even more disappointed, given that Wang has not offered a public apology to his victims and continues to avoid accountability.
Many have also taken serious issue with Julia's comparison of sexual assault to "cancel culture" and "mistakes".
On February 10th, Julia's largest fan account on Twitter, @juliafoxsource, shared their disappointment over the model's controversial decision to support Wang.
"This is where I draw the line," they tweeted about Julia's justification.
The account then shared a thread detailing Wang's accusations, writing, "since the industry is ignoring the 11 victims let me use this mass engagement to educate you on how sick and disgusting it is that his career is skyrocketing again".
Pop culture account @bitch_rights responded to the fan's quote tweet, claiming that Julia deleted her comment justifying why she walked in the Alexander Wang show and was also deleting comments from users mentioning the situation on her latest TikTok.
"She's deleting mine aswell," replied @juliafoxsource.
A day later, the fan account tweeted a meme of a tombstone that reads, "Here lies Julia Fox fan updates 2022-2023", implying the account would be shut down or go dormant from now on.
Sadly, it doesn't seem like fans will get the answers they deserve from their fave this time around.