https://www.instagram.com/p/CDhncZqn2mr/
Awkward.
Yesterday, music icon Alicia Keys announced her first foray into beauty— a line in collaboration with Elf Cosmetics expected to launch in 2021. And though beauty has always been a topic the star speaks passionately about (particularly inner beauty and natural beauty), the internet lost its mind.
Twitter erupted in confusion over the news, as the 15-time Grammy winner notoriously announced in 2016 that she would stop wearing makeup. The singer/songwriter has since re-introduced makeup back into her routine in spaces she feels comfortable as a means of self-expression.
Amongst the Twitter-fire were subtweets from the beauty community's top names, like James Charles and Manny MUA.
James tweeted that "people who do not wear makeup should not be coming out with makeup brands." Many people thought the influencer was shading Charli and Dixie D'Amelio who recently launched a collection with Morphe 2. This is a criticism many fans have of the collab.
"Does anyone get slightly irritated when celebs come out with entire makeup lines? especially when those celebs don't even wear makeup…" Manny wrote. "I'm like girl."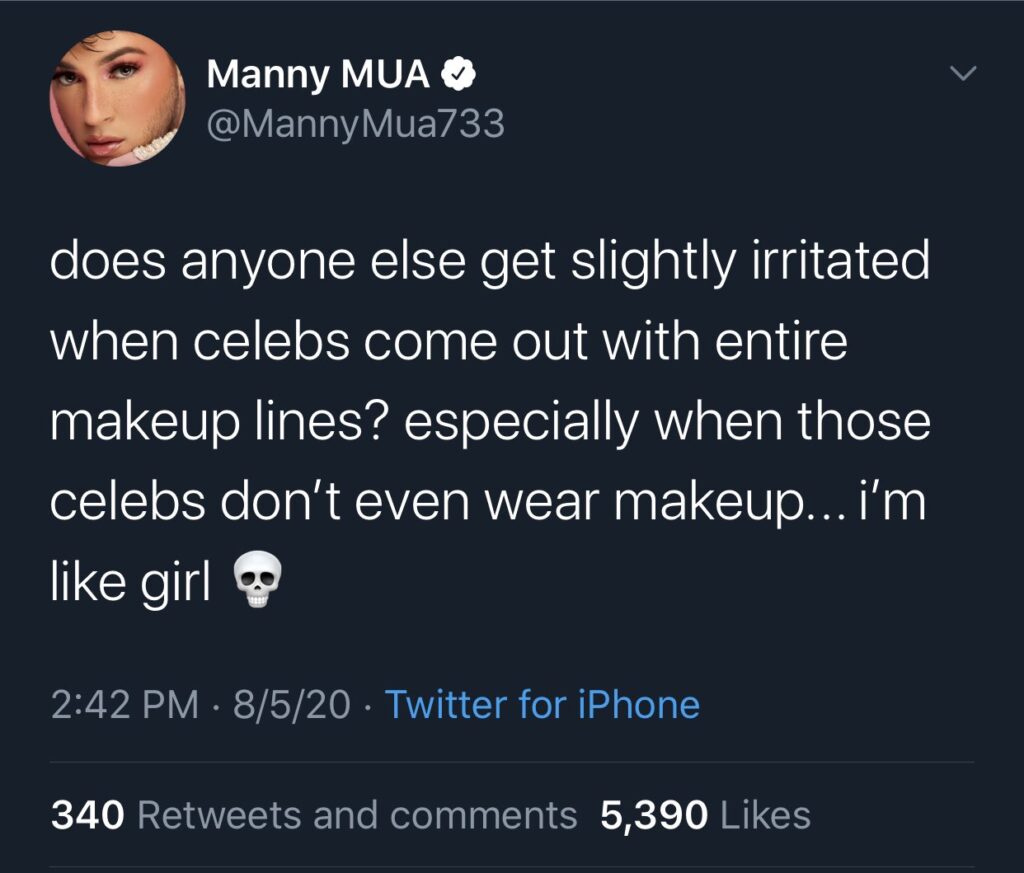 Now, both YouTubers are eating their words. Shortly after news broke of Keys' new venture, Elf Cosmetics revealed via press release that the collaboration will be skincare and lifestyle— not makeup.
"A culmination of Keys' personal skincare journey and her passion for bringing light into the world, this new lifestyle beauty brand will enable Alicia to further explore conversations about inner beauty, wellness and connection," cites the press release, according to Page Six.
The Alicia Keys x Elf Cosmetics line will reportedly include cruelty-free products developed with a dermatologist.
James Charles has now issued an apology to Keys, confirming his tweet was about her. In a lengthy Twitter note, James writes that it was "childish to indirect tweet someone" and that he is "not the gatekeeper of makeup." He says he should have done more research before going on the attack and admits that his behaviour was a microaggression against Keys. "To @aliciakeys I owe a direct apology – I'm sorry. It wasn't my place to gate keep this industry," he finishes. "I can't wait to support and try out the products and I know the brand will be worth a billion in a few years."
Manny MUA has also addressed his subtweet. Manny also confirms his tweet was about Keys and says he should have done more research into what the collaboration would actually involve. "I get defensive of the beauty community because so many celebrities only come out with cosmetics lines as a cash grab, but I shouldn't have jumped the gun and regardless I know I am not the be all end all voice of makeup…anyone can create what they want to create!"
Manny ended by apologising directly to Keys and to anyone he upset with his tweet, saying there is space for "everyone" in the beauty community.
Alicia Keys has not responded at the time of publication.
But we image she's living her best life completely unbothered.