James Charles / Ariana Grande / r.e.m. beauty
https://www.instagram.com/p/CWohykRPbE8/
James Charles has no more bad blood with Ariana Grande.
The beauty YouTuber, who has been laying low since his return to the internet following allegations he sexted minors, recently filmed a review video for r.e.m. beauty— Ari's new cosmetics brand named after a song on her Sweetener album.
The video sparked questions around its authenticity, as James has been vocal in the past about his tumultuous relationship with the singer, calling her the "rudest celebrity" he'd ever met back in 2018. James claims Ari unfollowed him after she received backlash from fans amid James' 'BYE SISTER' scandal.
"I messaged her back, and I was like, 'Hey, did I do something wrong?'" James recounted in the 2018 video. "And she literally was like, 'Hey babe, I saw a lot of angry tweets from my fans and I would never want to disappoint them, so I unfollowed.'"
James later addressed his comment during a September 2021 Instagram Q&A when he was asked the question: "What did Ariana Grande do for you to say she's the rudest celebrity you have ever met?"
"Literally nothing," James wrote. "The fact that I said that is one of my biggest regrets of my career & it still follows me 4 years later which sucks."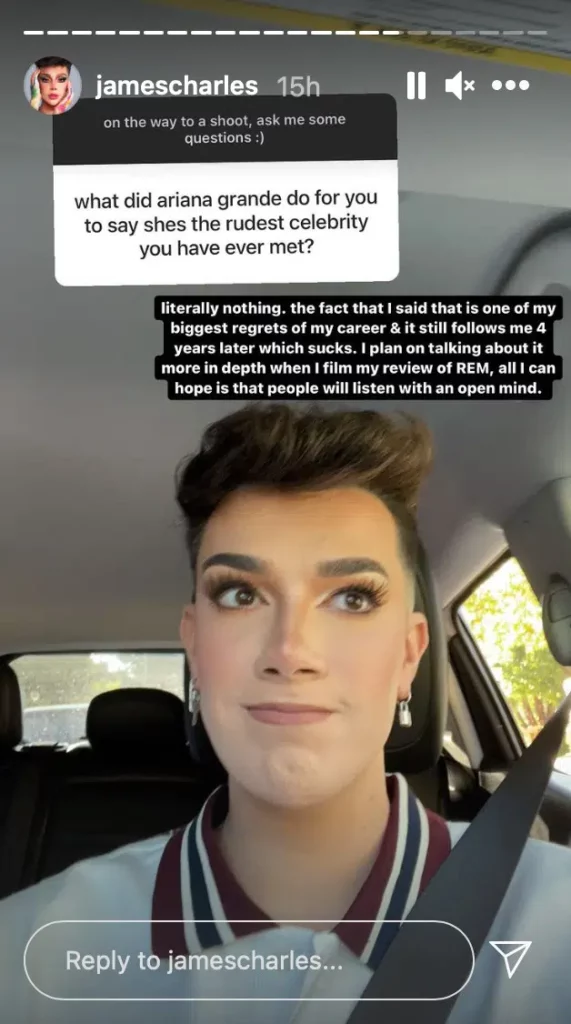 The creator went on to say he would be addressing the situation in his r.e.m. beauty review, however, the promised explanation is noticeably missing from his new video.
In response to a Twitter user that commented, "we all know [the video is] gonna be bitter because you weren't on the PR list," James responded. While he did film an explanation on his drama with Ariana Grande, James says he decided to cut it out after realising he may get even more backlash for trying to say his piece.
"I filmed an intro talking about the drama from 4 years ago, apologized for being a dramatic teen who got upset over someone they loved unfollowing them & explained that we talked, are good, & moved on but I [cut] it because I knew no matter what I said this would be the response lol," he wrote.
Despite the missing public apology, it seems the two stars have buried the hatchet and both moved on.
You can watch James Charles' review of r.e.m. beauty here.