@dixiedamelio / @trevorzegras
Deuxmoi is once again starting relationship rumours—this time, with Dixie D'Amelio.
The celebrity gossip account recently shared a tip that Dixie was spotted with the centre for the Anaheim Ducks, Trevor Zegras.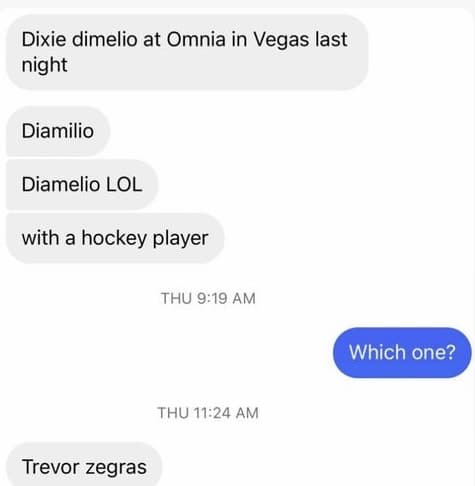 Since Deuxmoi posted the tip, online sleuths have doubled down on the investigation, checking the influencer's following list and interactions on social media.
TikTok update account @teatoktalk found that Dixie, her best friend Kate Tifford and Trevor are all mutuals on Instagram— leading some fans to believe that the relationship rumours are rooted in truth. This has piqued curiosity among many Instagram users, as Trevor and Dixie run in very different social circles, making their hangouts and interactions on Instagram all the more surprising.
"We did some digging, and Dixie and her best friend Kate both follow Trevor, and Trevor follows them both back as well! It doesn't seem like he follows anyone else in her family just yet.." @teatoktalk writes in the caption. "However, Landon liked Trevor's post back in June, but neither of them follow each other 👀"
Other users remain unconvinced, with many pointing out that Dixie following Trevor on Instagram doesn't mean they are dating.
"can girls not have guy friends without ppl assuming otherwise" one Instagram account commented under @teatoktalk's post.
"This is so random but them spotted together doesn't mean they're dating and him following her bestfriend doesn't mean they're not…" another shared.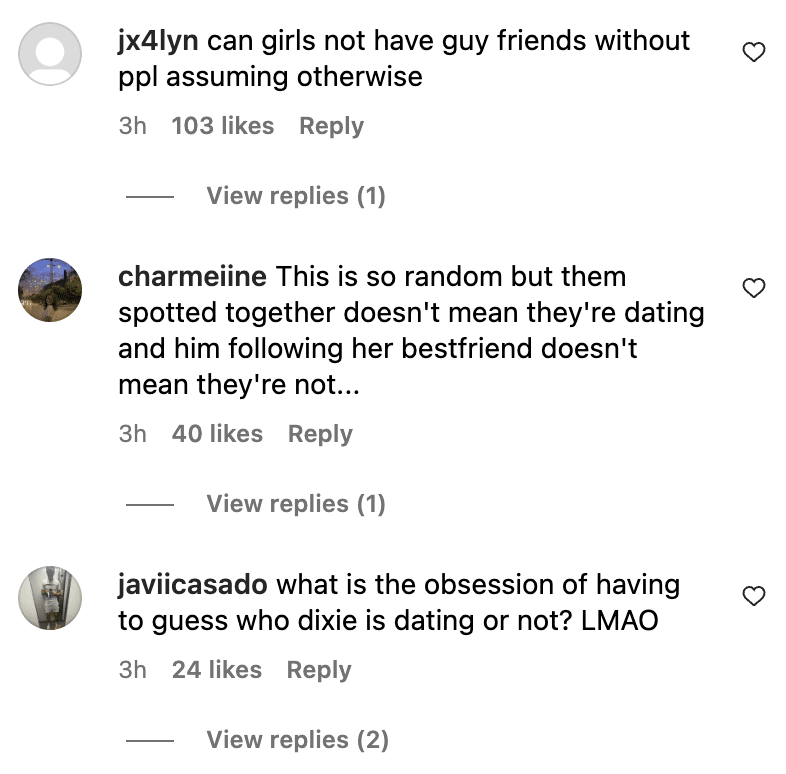 Nevertheless, if the rumours are true, this wouldn't be Dixie's first relationship with another public figure.
She was previously one half of TikTok's "it-couple" during her time dating Noah Beck. The pair first connected in 2020 after Dixie had ended her relationship with Griffin Johnson, a fellow TikToker and former member of the now-defunct Sway House. By October 2020, Noah and Dixie had gone public with their romance.
Although the couple preferred to keep their relationship private, Dixie confirmed their split last year during the second season of her family's Hulu reality show, The D'Amelio Show.
After their breakup, Dixie has been the subject of several relationship rumours, with the TikToker-turned-singer romantically linked to Josh Richards and David Dobrik.
While these claims have been debunked, it's still too early to tell if Dixie and Trevor's relationship is fact or fiction.
Check back for updates.