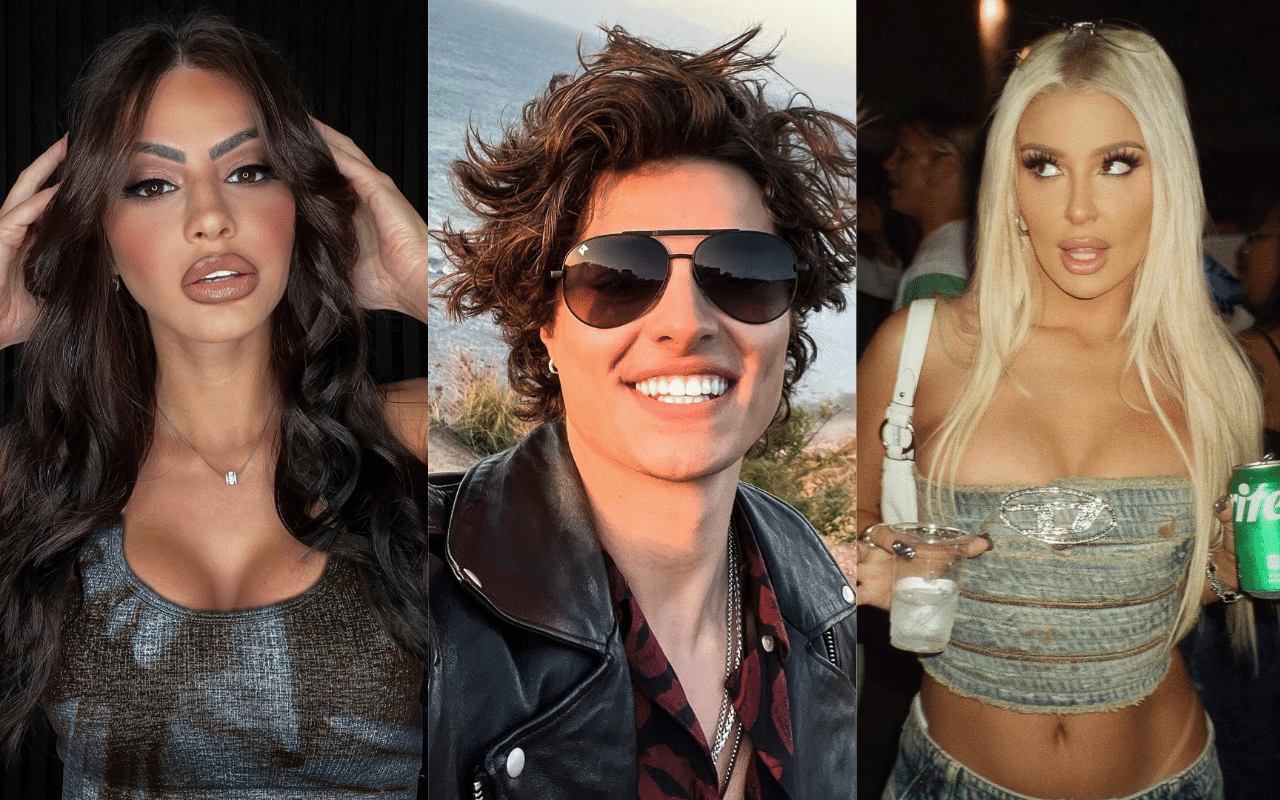 @thedudacastro / @jondretto /@tanamongeau
In true Tana Mongeau fashion, the influencer has once again found herself at the centre of controversy.
This past weekend, Tana posted a TikTok sharing a story about how she recently slid into a fellow influencer's DMs— little did she know that he was already in a relationship.
"On today's episode of embarrassing things I do and me about to cook someone to oblivion, and cause a lot of issues for myself, let's go," she begins. "Yesterday, I was with my friends, and we saw this guy on TikTok, and he was so, so, and I cannot express this enough, so fine."
The man in question was Jon Dretto, a TikTok star known for his viral videos singing and playing the guitar. Jon is currently in a relationship with model and social media personality Duda Castro.
While Tana kept Jon's identity anonymous in the now-deleted TikTok, she explains how her friends encouraged her to slide into his DMs and write, "god sent me here." Tana admits that she sent the message; however, it didn't turn out as she had hoped.
"This man promptly responds and says, 'sending you back to god, first class airmail,' which is just… you can't come back from that; it is horrifying," Tana reflects.
She then reveals the remainder of their conversation, where Jon asks, "Don't you know my girlfriend?"
"I have no idea who his girlfriend is, and then, a couple of minutes later, I see that someone named Duda Castro mentioned me in her story," Tana says in the video. "She posts the DMs, which I can admit is very embarrassing and funny…"
Alongside the screenshot of the conversation with Jon, Duda included an old picture with Tana—leaving fans to question whether Tana was genuinely unaware of his relationship status.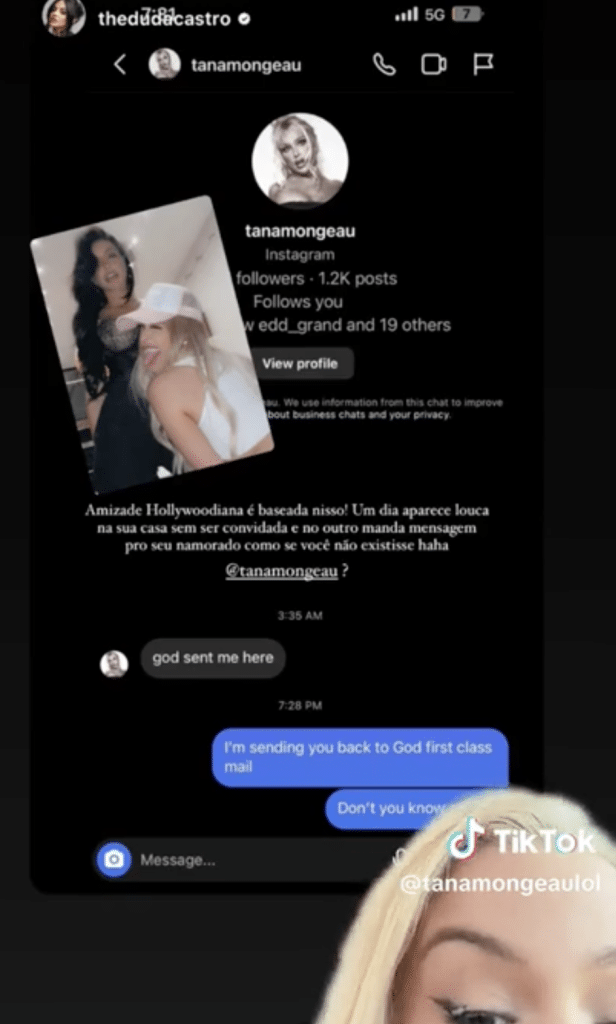 Addressing Duda in the now-deleted TikTok, Tana explains, "This photo was taken when you invited yourself into my home… and then asked for a photo like it was a meet and greet… I don't follow you, and I never have."
Afterwards, Tana shared screenshots of Duda's comments on her posts—particularly those related to Jake Paul, whom Tana had "married" for clout back in 2019.
After Tana posted her TikTok, things took a downward turn. Duda swiftly clapped back on the short-form video app, splicing together old videos of herself and Tana to debunk the influencer's story.
She begins by including a snippet of a TikTok she created with Jake Paul in 2020, using the sound "Why can't friends just kiss each other." Duda then cuts to a clip of herself and Tana recreating that video. She also includes multiple photos of the pair to prove that she and Tana were familiar with one another.
To conclude the video, Duda doxxed Tana— sharing what turned out to be an old phone number.
Duda later apologised for posting the TikTok, using Instagram stories to share a written statement addressing the ongoing drama.
"I admit I was wrong to post a video about you on my TikTok right after you posted about me. I decided to delete it minutes later because I realised that I had become someone just like you: Toxic, insecure, lonely and CRUEL. And for that, I apologise," she says about the now-deleted video.
Throughout the statement, Duda doubles down on her claims that she and Tana know each other, accusing Tana of exploiting the situation for clout. She also alleges that this is not the first time the 25-year-old has approached someone she has dated.
"I can't understand the hatred you seem to have towards me. Is it my looks? My friendship with Jake? Or because Bella Thorne Followed me on Twitter? Is it because my partner shut you down publicly or because your manager approached me in the past interested in working together?" Duda adds.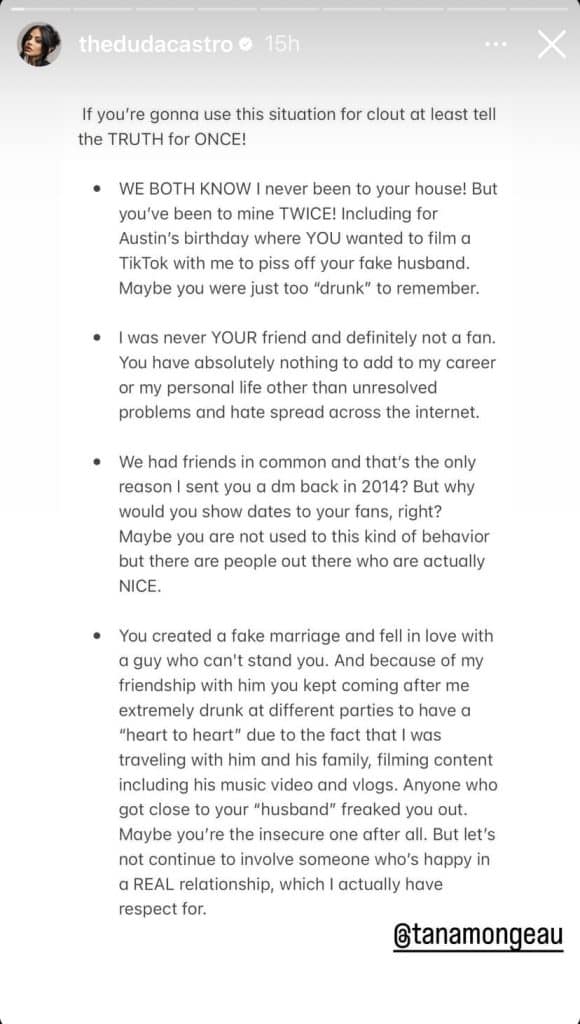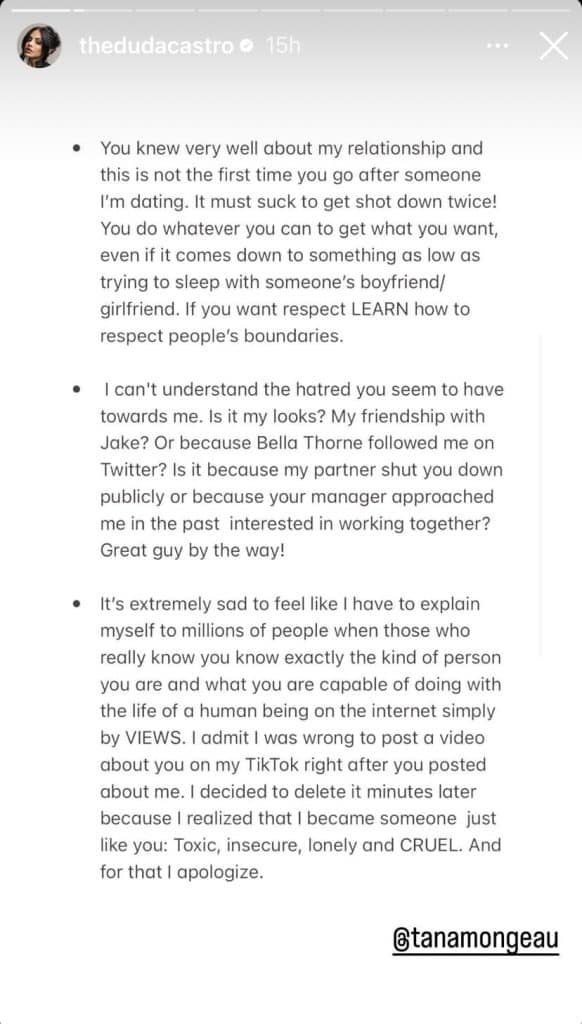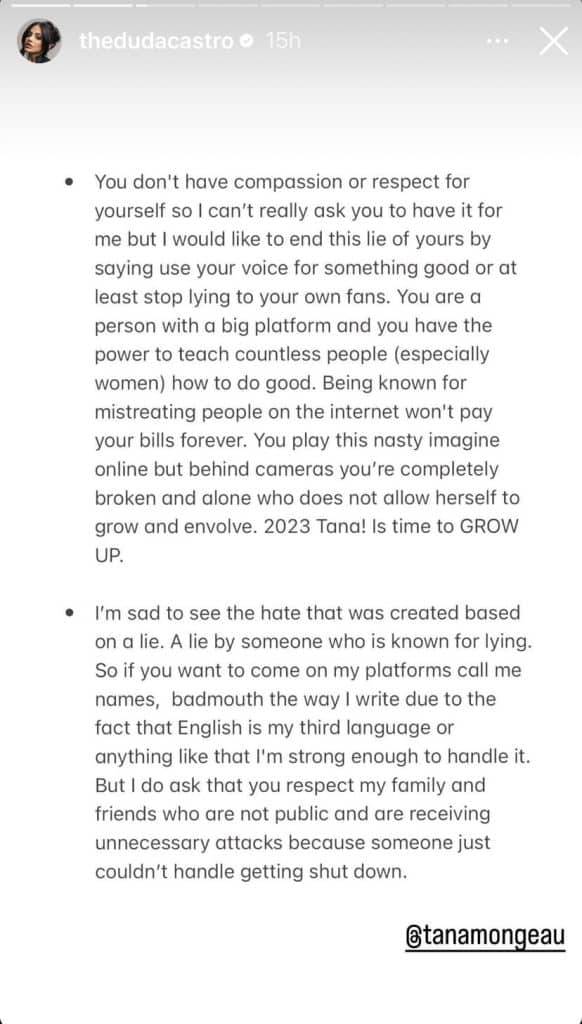 The model went on to share Tana's response to her Instagram stories. In the screenshot, Tana seemed unimpressed, writing, "This is the most embarrassing shit I've ever seen lmao / it's sad to see that someone can't realise they started a problem…"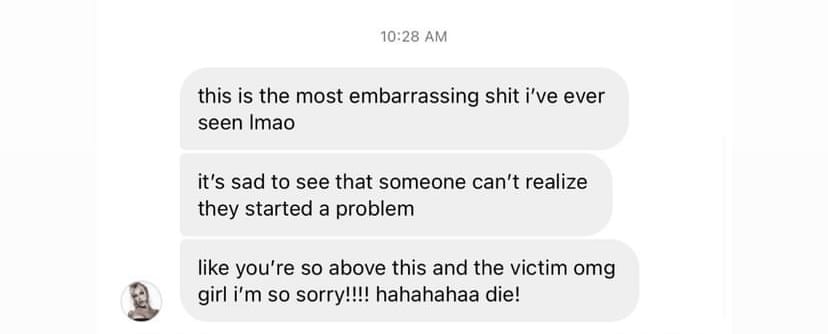 The response to the back-and-forth has been mixed— with viral culture enthusiasts rushing to both Tana and Duda's defence.
Tana's fans have noted that Duda went public with the DMs first, claiming that she is clout-chasing and holds a grudge against Tana.
"Duda also has tried to start drama with Tana literally since 2020 surrounding Jake so for her to say they were friends is CRAZY. Her and her boyfriend made this all public by posting this on their stories, going as far as to post other influencers responses to them 'exposing' tana. They started this, so for Duda to say that Tana made her video for clout is actually comical." Reddit user thisiscaitsreddit shares in the r/canceledpod subreddit.
Despite this, other users believe that Tana is at fault—especially after Duda shared old pictures of them. They argue that there is no way that Tana didn't know Jon was in a relationship since he often tags his girlfriend in posts. Meanwhile, some users supporting Duda criticise Tana's handling of the situation as "misogynistic," particularly her use of derogatory language to describe the influencer.
Unfortunately, it doesn't seem like the drama will come to an end anytime soon, with many fans believing that Tana will discuss the situation in an upcoming podcast episode.
Check back for updates.