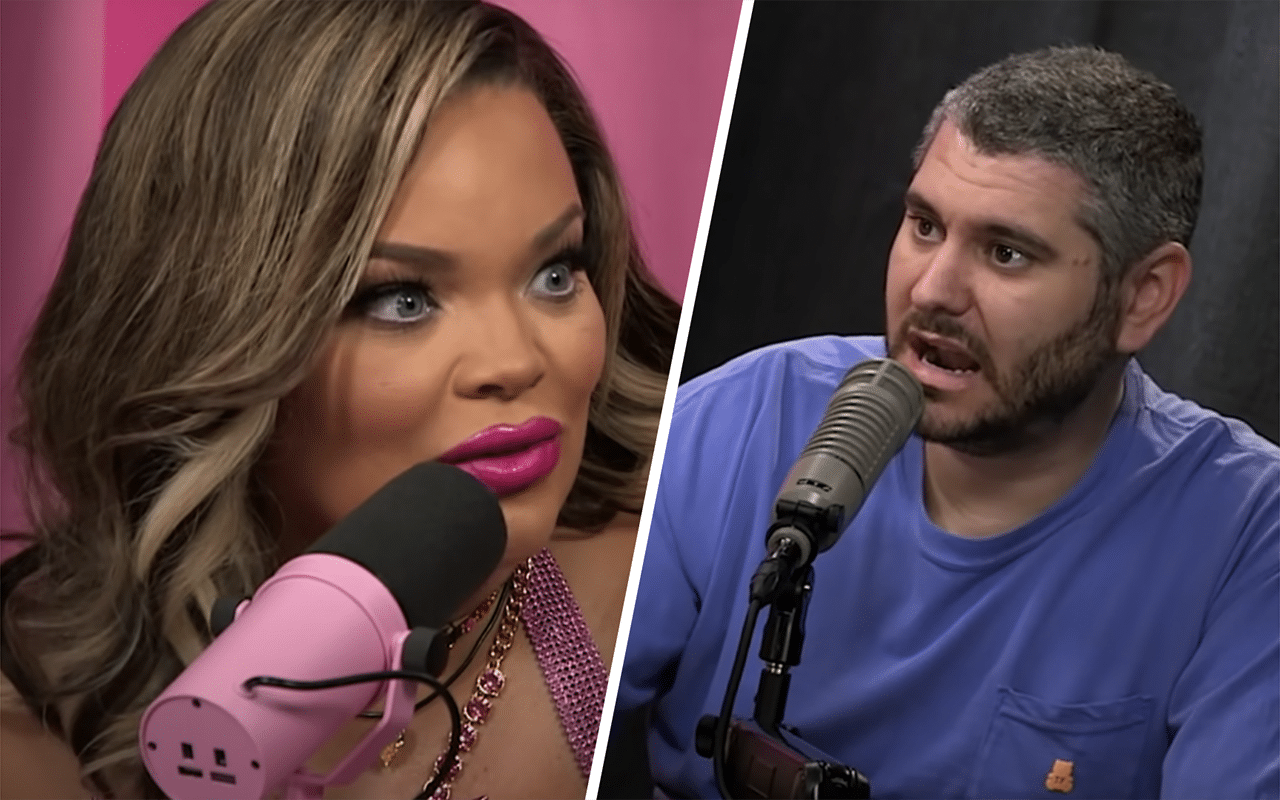 Frenemies Podcast
https://www.instagram.com/p/CP3mcPHJ8uQ/
https://www.instagram.com/p/CP3w5JNH6aq/
https://www.instagram.com/p/CP344VdHB7T/
The internet's favourite podcast is coming to an end.
After joining forces in September 2020 to launch the Frenemies podcast about their tumultuous friendship, Trisha Paytas and Ethan Klein (h3h3) seem to be parting ways.
Trisha announced they would be leaving the show in a new YouTube video titled, 'stepping down from frenemies,' following a fight the co-hosts had on the most recent episode for paying members.
According to those who viewed the episode, Trisha admitted to having an "episode" over a segment that was created by a new h3 producer which upset that producer. This led to a discussion about Trisha's contribution to Fremenies where Trisha took issue with Ethan saying they don't contribute to the show.
Frenemies is filmed, edited, and produced by Ethan's production company, h3h3Productions.
The two then got into a discussion about the financial breakdown of the show. While Ethan and Trisha allegedly split the paid membership revenue 50/50, Ethan makes 50% of the AdSense revenue for the Frenemies channel— which falls under h3h3Productions— and Trisha takes home 45%. The remaining 5% goes to pay the crew.
Trisha allegedly complained that the crew's cut comes out of their split of the AdSense. These comments reportedly upset the crew, who were present for the conversation.
"I do need to apologise [to the crew] for the delivery of how I said it," Trisha said about the situation. "But I just feel really, really icky about the situation and I really do think that I just don't fit in… Everyone is really nice. I really do apologise for offending."
While Trisha has quit Frenemies in the past, this time feels more serious, with h3h3Production writing that today's show would be the last.
Ethan has also tweeted his sadness over the show ending, writing, "I am honestly gutted over this whole thing, Trisha's video this morning was a total surprise to me. I don't really know what more I can say or do. I'm very sorry to all the fans of Frenemies, I know how much it meant to everyone, I did everything I humanly could to save it".
Following speculation that Trisha and Ethan would work it out (as they've done in the past), Trisha commented on the latest Frenemies' episode on YouTube, saying they are "leaving to ease the tension everywhere" and that they "cannot continue" because Frenemies is "not good for me mentally anymore".
Trisha went on to say this is the "hardest decision" they've ever made and apologised to fans for disappointing them.
Though Frenemies may be over for now, many note that their dispute came off the back of their latest episode discussing YouTuber Gabbie Hanna.
ICYMI, Gabbie sat down for an interview with Buzzfeed earlier this week, in which she discussed her several controversies over the years including her drama with Trisha Paytas. In the article, Gabbie alleged that Trisha played a part in ruining her reputation. "Imagine you had a friend six years ago who, to this day, is contacting your employers, contacting everyone you know, and trying to ruin your reputation… I lost sponsors, I lost a record deal, I lost my friends," Gabbie said. According to Buzzfeed's reporting, Gabbie was referring in part to Trisha.
Trisha from has since said the interview made them feel "triggered," leading fans to believe that the 33-year-old might come back to Frenemies when their mental health is doing better.
Despite a rocky start to their relationship (hence, "frenemies"), the podcast has been a massive success for Trisha and Ethan both personally and professionally— playing a huge role in reviving Trisha's damaged reputation and bringing both co-hosts back into relevancy online.
We are sad to see Trisha go, but we're happy they're putting their health and happiness first.