Laëtitia Pelch / Ruchi Page
Faces of Australia is a column highlighting BIPOC creatives to bring you their stories. Creators are asked to collaborate on a makeup look that empowers, holds meaning, or describes their experience as it relates to Australian beauty standards and the Australian beauty industry. Faces of Australia is written and produced by Ruchi Page, with a mission to show the beauty industry how accessible BIPOC talent is across this diverse nation.
Episode 10: Laëtitia Pelch
The brief? The national flag of our birth countries.
Introducing photographer, writer and content creator, Laëtitia Pelch. Newly based in Melbourne, Laëtitia considers herself Afropean. The creator spent the first decade of her life in Yaoundée, Cameroon then made the move to France where most of her young life took place. Laëtitia notes that her identity does not lie within one country, and both experiences have shaped her sense of self. "I feel like I would deny a part of my identity," she explains.
As our conversation continued, the photographer made a statement that had me vigorously nodding my head in awe. "My skin colour will always speak for me before I even open my mouth," she notes. As a POC, this made me feel. Laëtitia reflected on how the melanin in her skin has been the baseline of how people define her. "I can't compete with stories and assumptions going on in people's heads when they see me for the first time. My skin colour will always be linked to my African heritage. It can't be erased, it's a part of who I am, but not all."  
Whilst Laëtitia didn't struggle to find her shade in high-end foundations such as M.A.C Cosmetics, exclusion became evident when sourcing other steps to her beauty routine. The writer shares some of her insight from a recent article she penned for Adore Beauty, writing, "Being black means adding 'for black people' on the end when you type something into Google."
"This is the struggle when you are a minority," she tells me.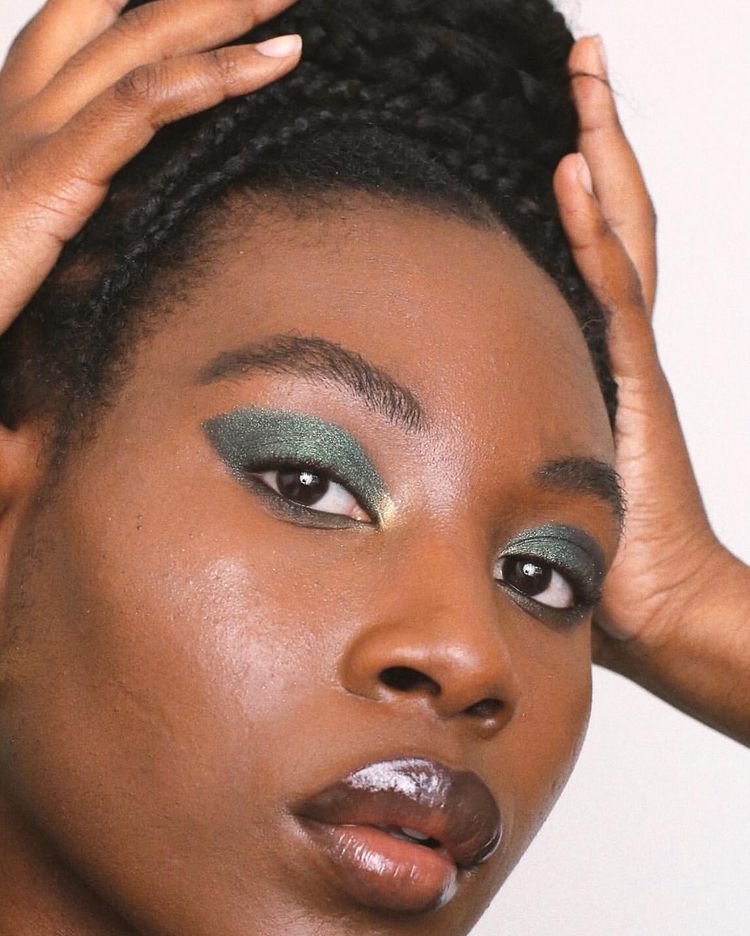 Since her move to Australia, this struggle became a part of her experience as she struggled to find general beauty services. "Whether it's hair or beauty-related, nothing is ever in a straight line. I want to feel beautiful like any other woman and give myself some self-care. But beforehand, I need to do some research. I might not find anything on Google and will resort to Facebook groups for Black women in Australia," she says. From laser hair removal to getting her makeup done, it has become an integral part of Laëtitia's routine to check if these beauty experts have worked with Black people prior to booking.
Laëtitia tells me that hairstyling services have always been her main concern, questioning the limited options that can cater for her 4C hair type. "I don't have the privilege of trying many [hairdressers]. Imagine if the only person you feel comfortable styling your hair is in Sydney and they come to Melbourne every 5 weeks because the demand is high?"
Taking matters into her own hands, Laëtitia has resorted to stocking up on the rare products she can find online that cater to the texture and style of her hair. The beauty creator says she's succumbed to the reality that her bathroom acts as her own salon and has become the most reliable hairdressing experience she can find. "In Australia, you have more chances to find a cannelé [a small pastry from a specific region in France, that is hard to find outside of the country] than a hairstylist who knows how to take care of afro hair," she says.
As a woman of colour, I, too, could identify with feeling like my skin colour speaks for me first. I asked Laëtitia how her skin colour makes her feel and as she reflected, she actually recalled not having a negative association with her skin growing up.
Living in Cameroon meant her surroundings were carefree. "I have experienced what being in the right place feels like and being surrounded by people with the same skin as me," she explains. Laëtitia remembered not longing for idols of colour because these role models were already present and accessible, stating, "this definitely helped to not be too hard on me and not seeing my Black features as a burden." It wasn't until moving to both France and Australia that she felt 'othered.'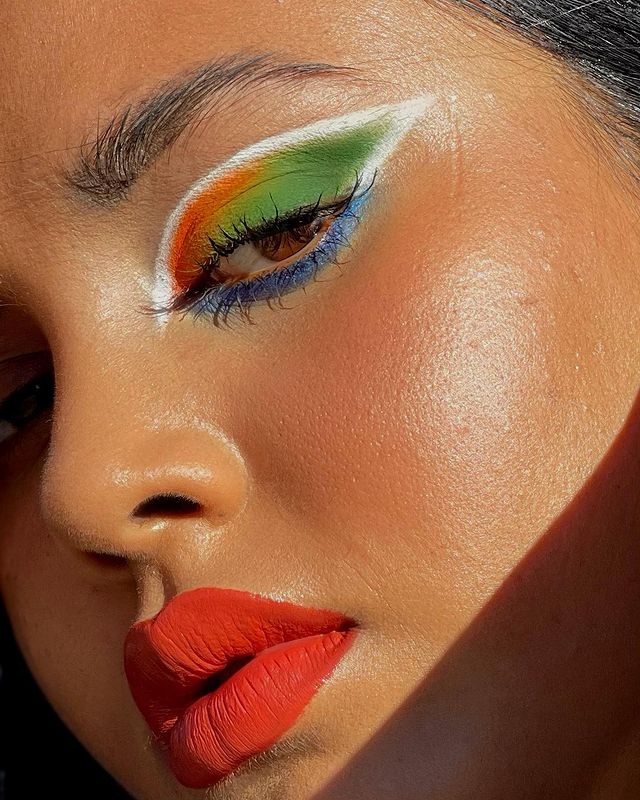 From feeling represented across media and beauty in Cameroon to wishing her natural features were less visible to match the French beauty standard, Laëtitia was forced to eventually accept that she was not the problem. However, as she began her travels from France to Australia, Laëtitia recalls how she quickly became "the only Black girl in the room."
Pride is what comes to mind when Laëtitia thinks of her birth country and skin colour. Our makeup look reflects our birth country flags (India and Cameroon) and we are both proud of our identities which have been shaped by these countries. Our conversation concludes with a discussion surrounding the beauty industry and its impact. I asked Laëtitia what she thought brands are missing when it comes to catering for all skin tones. We both agreed that many tend to slap two deeper shades at the end of a range in an effort to appear inclusive without actually investing in diversity.
But post-Fenty Beauty era, we know two shades of rich tan isn't going to cut it. Her advice for the Australian beauty industry follows:
"Brands forget Black people aren't just one shade. In a 30-foundation shade range, they seem to understand the necessity of providing 20 shades for a caucasian person to choose from, but expect 10 darker shades will be enough for deeper complexions to find their match. We, people of colour, also have nuances amongst the one and only dark shade they seem to only visualise. There are Black women with light, medium and dark skin tones. And undertones are incredibly important to consider. Stop treating us like one person, we deserve a wider range and shouldn't have to mix shades to create our own."
– Laëtitia Pelch, beauty expert and writer
PRODUCTS USED