Ruchi Page / Anabelle Ussher
Faces of Australia is a column highlighting BIPOC creatives to bring you their stories. Creators are asked to collaborate on a makeup look that empowers, holds meaning, or describes their experience as it relates to Australian beauty standards and the Australian beauty industry. Faces of Australia is written and produced by Ruchi Page, with a mission to show the beauty industry how accessible BIPOC talent is across this diverse nation.
The second season of Faces of Australia has officially kicked off and we are beginning with (in my opinion) the human definition of glamour; introducing Anabelle Ussher. Our collaborative makeup looks purposefully draw attention to our melanin, representing the struggles we've faced amongst the beauty industry simply because of our skin colour. Using the ultimate inclusive base, M.A.C Cosmetics Studio Fix Fluid Foundation, our looks celebrate feeling prideful in our complexion, even if we haven't always felt that way.
Born and raised in Sydney, Australia, Anabelle is of Ghanaian-Australian heritage. Passionate about the beauty industry and its influence on those of us who love it most, the content creator has not shied away from speaking her truth about the industry's inclusivity and diversity problems. This was made clear in an op-ed Anabelle wrote for Adore Beauty earlier this year, and I can confirm it's been too long since a piece spoke to me with such impact. It was this piece, titled, It's Time to Stop Telling People of Colour They "Don't Need" to Wear Makeup, that sparked my interest in speaking with Anabelle.
To start, I wanted to hear more about what inspires Anabelle to be vocal about these issues. "When discussing lack of inclusivity, it is often minimised with the phrase 'get over it, it's just makeup'," she tells me. "But the choice to cover 'imperfections' at will is powerful and should be afforded to everyone; regardless of skin tone, gender or socioeconomic status."
Accessibility means that Anabelle is able to wear makeup for the pleasure of self-expression. "I don't wear it to please anyone but myself and it is so much more than just being able to apply it," she says. "Makeup can be creative and expressive or it can be comforting."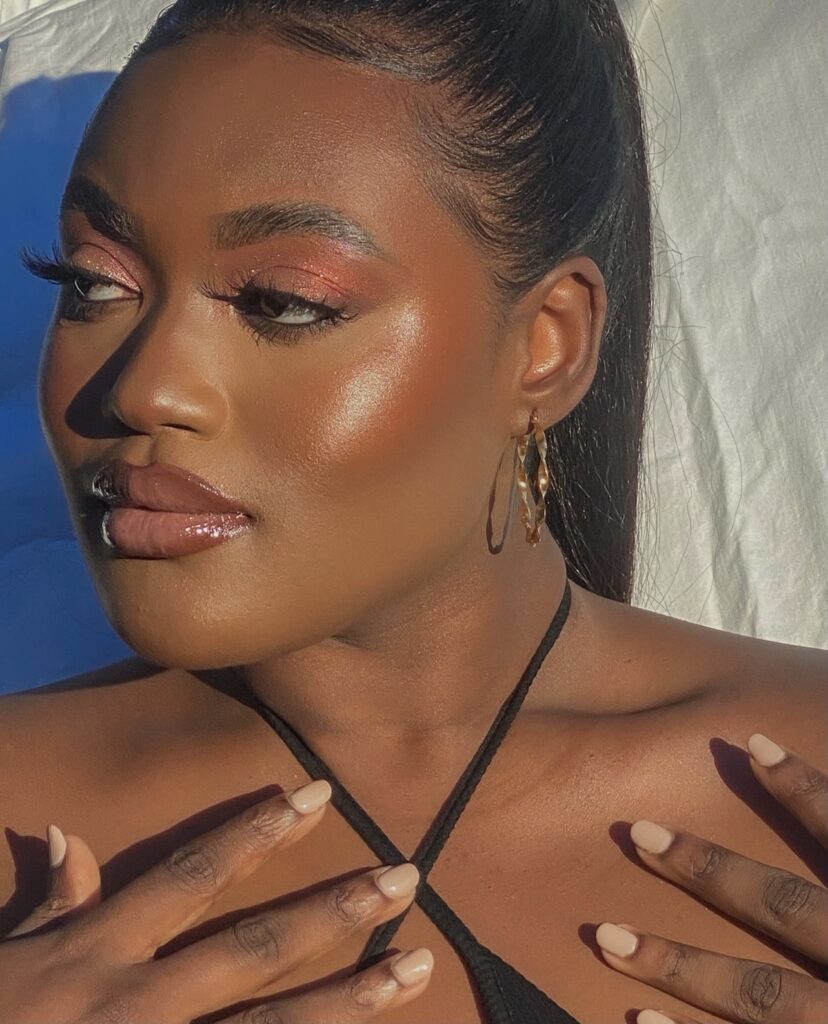 The luxury of equal access in the beauty industry, specifically when it comes to complexion products, is deserving for all consumers. Anabelle and I agree that brands such as M.A.C Cosmetics have been leading by example in this space, challenging the traditional standard of beauty and providing options for customers of all skin tones since before it became 'trendy'.
"Finding makeup that matches and makes you feel good above anything else is like finding a pair of jeans that fit perfectly. A truly unmatched joy," Anabelle explains. I couldn't agree more. It really is that simple; we all deserve to find that perfect fit.
As the conversation flows into personal experiences, Anabelle shares with me a memory that felt close to home. "Like many other dark skin BIPOC people, I've had my share of uncomfortable moments feeling excluded and unrepresented in the Australian beauty industry," she starts. "I recall going into makeup counters in high school and instantly feeling so excluded. I'd look at the shades available on gondolas and the white-passing models used to sell these products. There was never anything accessible for me or anyone who looked like me."
Anabelle eventually found brands that did cater to her needs but this usually meant a higher price tag, creating a financial barrier. Supermarket makeup shopping was a non-existent experience for both of us, simply based on our skin colour.
"The privilege of running down to the pharmacy or local grocery chain and buying makeup is a luxury that me, and people that look like me, simply do not have," Anabelle says.
Left to her own resources, the model began sourcing POC representation on social media in hopes to find answers to the exclusion she faced. Beauty gurus such as Jackie Aina and Patricia Bright provided guidance, however, their product recommendations were often exclusive to their country. "International shipping wasn't what it is today folks," she reminds us.
Anabelle was forced to pay the price. "I honestly just had to save money from my after school job, wait for what I wanted to come back in stock or buy a few shades to mix. I'm in a different position now but looking back at my 15 and 16-year-old self. I was really in the trenches," she tells me.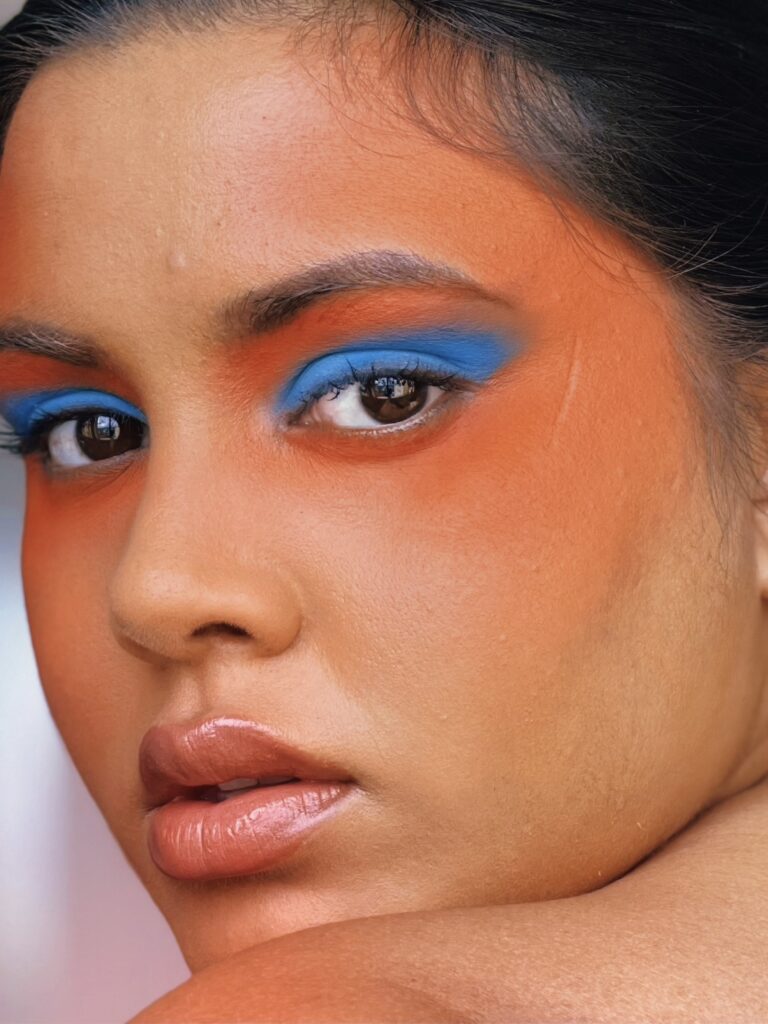 As our conversation comes to a close, I ask Anabelle to articulate the importance of being represented in the Australian beauty industry for herself personally.
"Being able to relate or identify with someone facilitates a sense of belonging, integral to the human experience as a whole. Most models and creatives that receive support from mainstream media and social channels are disproportionately white, white-passing or light-skinned. This is a huge problem," Anabelle explains. "We live on stolen Indigenous land and even our first nations people are unrepresented in beauty campaigns."
We both agree that the selective nature of beauty standards is damaging to not only our self-worth but also our self-expression. Anabelle continues, "tokenism of Black bodies in media is suggestive that Black isn't beautiful and is inherently undesirable and unprofitable." Whether people are willing to understand this reality or not, Anabelle assures that exclusion in makeup is "merely another form of erasure BIPOC have dealt with consistently for years; perpetuating whiteness and proximity to whiteness as the only beauty consumers worth formulating for."
As I do with all my interviews, I finish by asking Anabelle's advice for the Australian beauty industry. Here is what she tells me:
"The Australian beauty community needs to take responsibility, educate, and grow. This extends far beyond foundation, as other areas continue to be overlooked. Where are the bronzers? Where are the lip liners? We should not have to opt for niche or expensive brands as many of these options are inaccessible to most. Big brands need to welcome uncomfortable meetings and conversations in order to stop perpetuating the erasure of an entire demographic. The next generation of beauty consumers should not have to suffer the way so many of us already have. Inclusion means more than just shade range, it's about understanding the nuance in undertones of skin, hair products, and access. It's about feeling seen and heard. It's acknowledgement."
Faces of Australia season 2 is brought to you by