@tajiareed
Another day, another Black creator left uncredited for their work.
Over the past couple of weeks, a new viral trend has swept beauty TikTok. Set to the Silent DJ remix of SZA's Kill Bill (Speed Up), the trend involves a makeup transition from a bare face to full glam as the creator lip-syncs to the lyric, "I just killed my ex. Not the best idea."
There are over 421K videos used alongside this sound at the time of writing. The top content under this sound is beauty-related videos.
On February 8th, makeup artist and creator Tajia Reed posted her own rendition of this trend involving two transitions— the first from bare face to full glam, and the second from full glam to fake blood splattered (bedazzled with rhinestones!) across her face.
While Tajia doesn't appear to be the first creator to incorporate blood splatter into this trend, she was the first to combine it with a double transition.
As Tajia's video racked up over 1 million views, several TikTokers have recreated her transition sequence without due credit.
Beauty creator @stephani.p, who imitated Tajia's transition on Valentine's Day, has reached over 3.4 million views on her video. Her comments are flooded with fans praising her work, saying she "won" this trend.
Similarly, lifestyle creator @lianajadee recreated Tajia's transition for her 7.9 million followers. Her video currently has over 4.6 million views and hundreds of comments giving her credit for the blood splatter effect.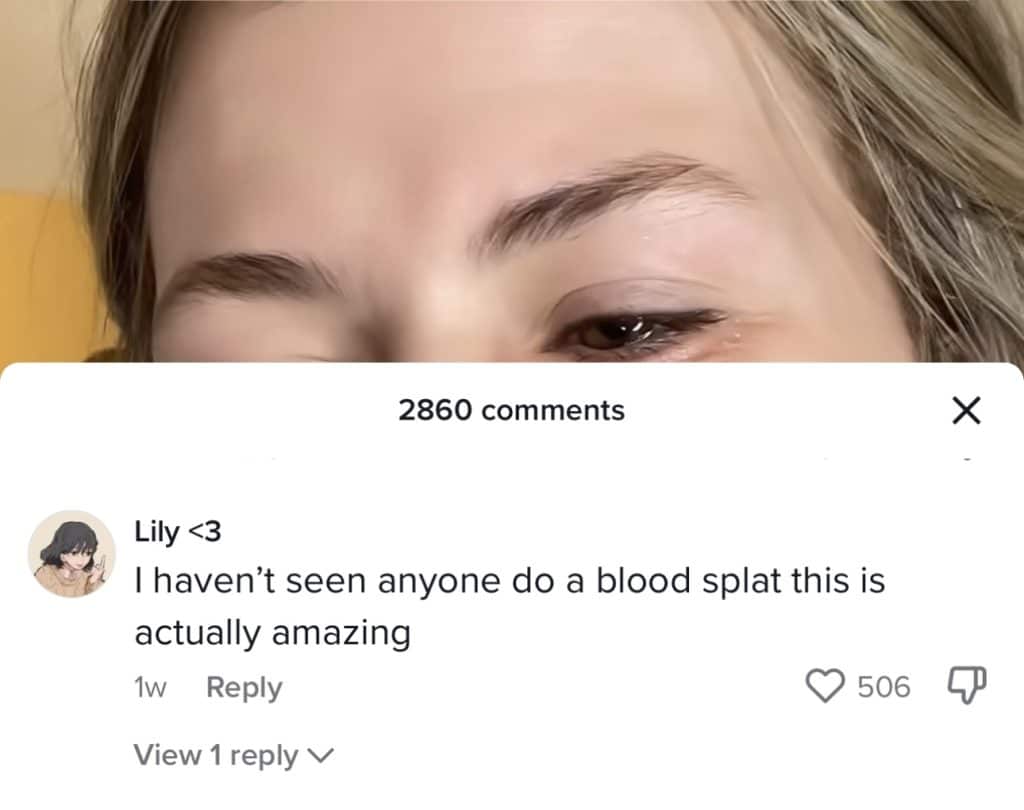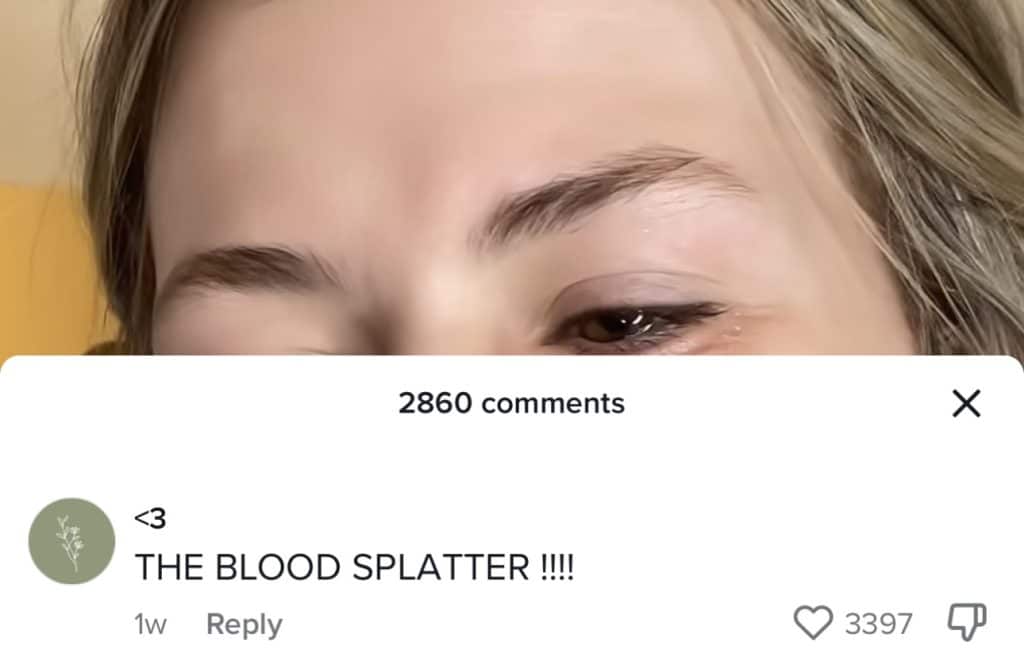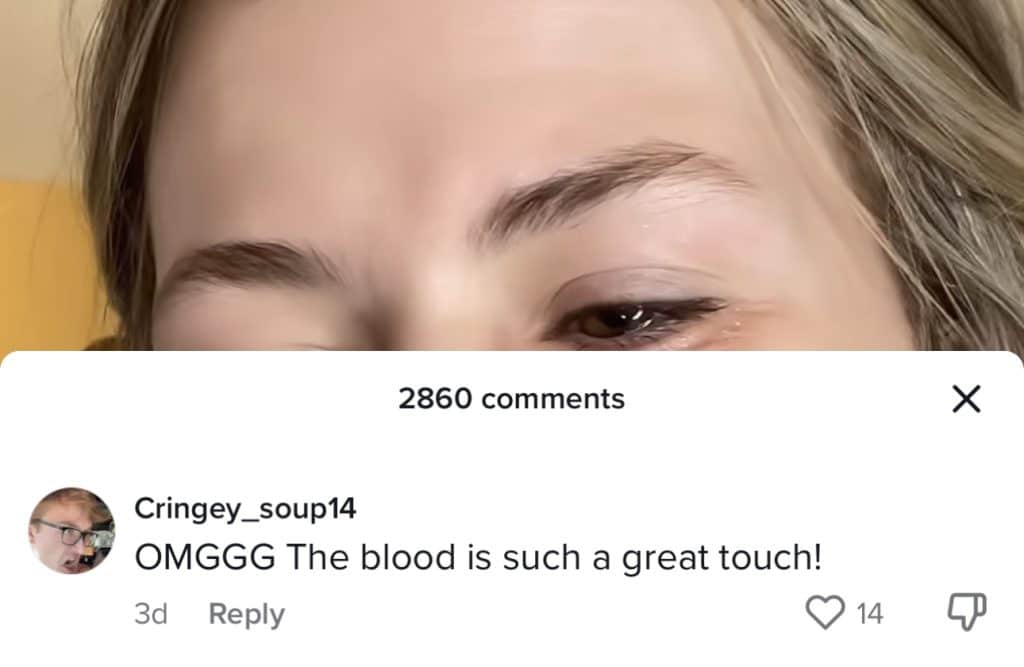 In the comment section of her video, Liana asked her followers to tag the creator "who started this trend". Many people tagged @nailearough, a makeup creator who is currently banned. Nailea did use fake blood in her makeup transition to the same sound, however, she did not do the double transition. You can find her video on YouTube Shorts.
Other creators tagged in Liana's comments are @sydney_art, @mimiermakeup, and @brookmonk_.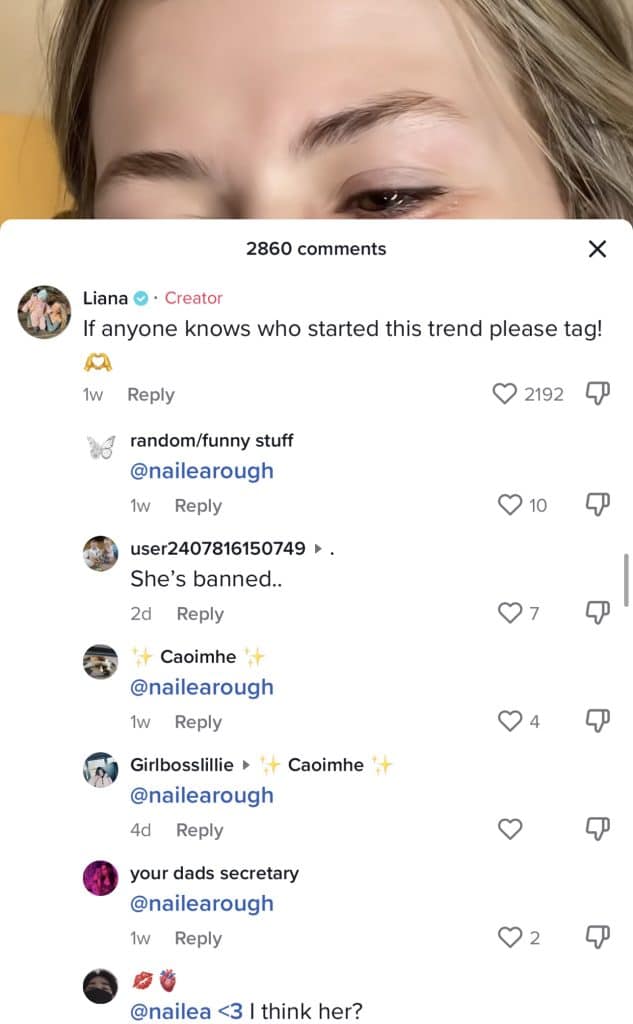 Tajia addressed the misinformation around her trending transition in a TikTok video posted two days ago.
In the video, Tajia said the transition from bare face to full glam to blood splatter is her original concept and she decided to speak out now that the trend is moving onto Instagram.
She went on to explain how hard it is for Black creators to get their due on TikTok, noting that white creators often blow up from taking trends, concepts, and inspiration from Black creators.
"Black creators work so hard and are constantly called the 'blueprint' on this app and others when it comes to setting trends. And it's like people go out of their way to take from Black creators and not give credit," she said.
In speaking to Centennial Beauty, Tajia clarified that her intention with the video was "not to take credit from anyone else". Her message is more about the lack of exposure for Black creators than being credited for the double transition itself.
"It is really disheartening to see so many people rally behind Black creators getting their credit while simultaneously gaslighting me across social media platforms. Telling me it 'isn't that serious' or that I am chronically online as if something this 'insignificant' hasn't jump-started careers," she said.
Tajia has experienced this type of "jump-start" herself and knows how life-changing exposure can be.
"I went viral in 2019/2020 because my makeup [videos] accompanied with transitions got so much exposure that they went viral and made it possible for me to work for myself," she explained. "People can act like this is stupid and I'm annoying if they want, but I am living proof that giving credit can change the trajectory of your life when you work it the creator space."
"I champion giving credit to EVERYONE and I even commented several times before Nailea was suspended to give her proper credit for her single transition," Tajia continued. "I saw a comment on Twitter that said 'we've been raised our whole lives to cite our sources, but now that someone asked for credit, suddenly it far fetched?'"
Though a lack of credit or miscredits may be unintentional, this is an ongoing problem for Black creators on TikTok.
The short-form video platform has faced criticism over the years for disproportionately suppressing the content of Black creators and often removing it altogether.
This is deeply problematic, especially since TikTok can attribute much of its enormous success to the work of Black creators on the app.
For example, TikTok dances— the content that first popularised TikTok within the mainstream— rely heavily on choreography, trends, sounds, and styles rooted in the Black community and developed by Black creators. AAVE is also commonly spoken by white users colloquially on the app as if it's trending slang.
In March 2020, translated documents from TikTok's parent company ByteDance revealed that moderators were instructed to suppress content from creators based on their physical appearance and perceived socioeconomic status— another indication that the platform discriminated against non-white users.
The suppression of Black creators on TikTok goes beyond the platform, however, as white users have notoriously profited off the work of Black creators without giving due credit or exposure.
This pattern was first brought to light in 2020 when The New York Times profiled Jalaiah Harmon, the teen who choreographed the renegade dance from her Atlanta bedroom in late 2019. Becoming the most popular dance TikTok, the renegade dance helped shape the zeitgeist of the platform and essentially handed several white creators their careers, including Charli D'Amelio who was branded the "CEO of Renegade" despite having no association Jalaiah.
This conversation re-emerged in 2021 when Addison Rae— another white creator who shot to fame during the renegade era— came under fire for performing a compilation of TikTok dances on The Tonight Show Starring Jimmy Fallon. Nearly every dance was choreographed by a Black creator without any credit or acknowledgment.
While these aforementioned situations gained mainstream attention, there have been several other instances of Black creators taking a stand against their unfair treatment.
Lex Scott, the founder of Black Lives Matter Utah, created a viral TikTok challenge in May 2020, urging creators to change their profile photos to a Black fist in protest of the "unfair censorship of Black creators" on the platform.
"Rules of our protest," she wrote of the May 19th demonstration. "1. Change your profile pic to the black power fist (even if just for the day); 2. Unfollow one creator that is not supporting this movement; 3. Comment #ImBlack or #BlackVoicesHeard under every video you post/see; 4. Follow and support one new Black creator; 5. Only like Black creators' content. Just for today."
In 2021, Black creators organised a strike— refusing to create choreography in an attempt to shed light on the platform's habit of suppressing their content. Initially reserved for Megan Thee Stallion's release of 'Thot Shit,' the strike extended for several weeks and solidified the need for Black creativity on the app.
Though credit for a TikTok transition may not seem like a big deal to some, countless white creators have built multi-million dollar careers for themselves at the expense of Black creators who paved the way and ultimately, were left behind.