Instagram / @kristinaalice1
From the Alix Earle cheating scandal to Stassie Karanikolaou & Jaden Hossler's reunion, it's been a big week for internet relationships. While there have been ups and downs, viral culture enthusiasts are excited by the news that Ethan Dolan is engaged to Australian influencer and model Kristina Alice.
Kristina announced the engagement on her Instagram earlier today. She shared a photo embracing Ethan, and in the caption, she wrote, "The most special day of my life 🤍💍". While the picture only shows the pair's silhouette, Kristina proudly displays her ring to the camera.
The comment section was inundated with supportive messages from fans congratulating the newly-engaged couple.
"Still crying 😭😭😭❤️❤️❤️❤️so incredibly happy for u 2. ❤️!!" one user wrote.
"OMG ETHAN FINALLY PROPOSED! CONGRATS TO YOU BOTH 🤍🤍🤍," another shared.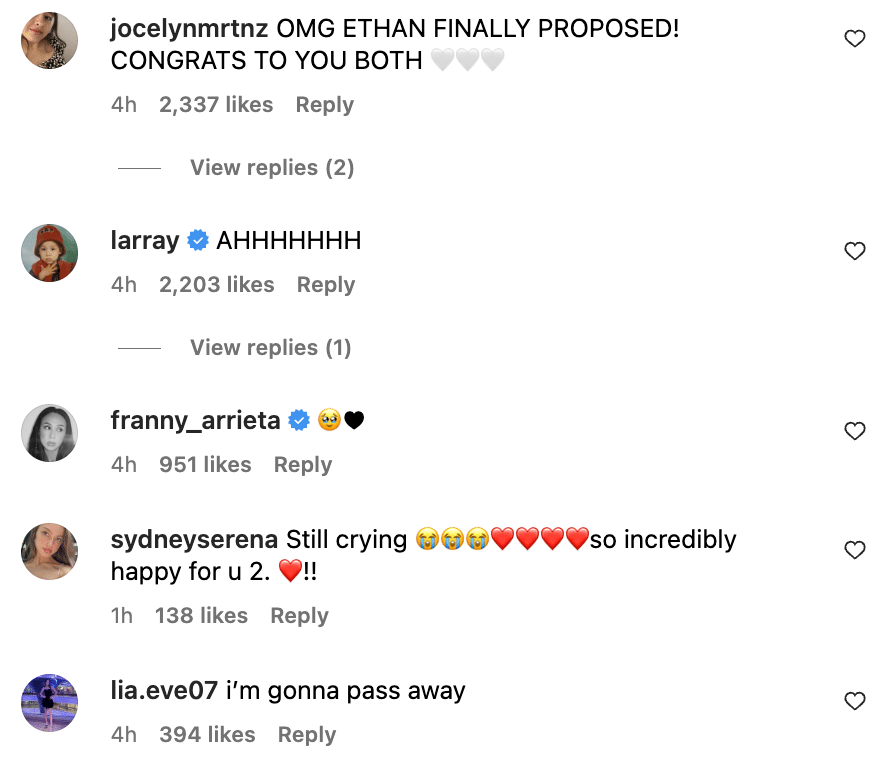 While Kristina and Ethan have known one another since 2016, the pair only made their relationship official in 2019. Since then, Kristina and Ethan have shared glimpses of their romance online— even throughout the Dolan Twins' almost 2-year hiatus from social media.
Ethan and his twin brother Grayson have amassed nearly 10 million subscribers on their shared Dolan Twins YouTube channel since 2014. As members of the "Sister Squad" with Emma Chamberlain and James Charles, there is no denying that the Dolan Twins are some of YouTube's most iconic creators.
However, in 2021, the twins faced a difficult time when their father passed away. Soon after, they decided to step back from social media and expressed their intention to "move on" from YouTube. While most of their older videos remain on their channel, Ethan and Grayson deleted the content on their Instagram profiles— that is, until last week when they surprised fans by announcing their new short film 'Nothing Left to Give.'
As the Dolan Twins make a slow return to social media, fans are thrilled to be a part of Ethan's journey and witness his engagement to Kristina.