@emmachamberlain
https://www.instagram.com/p/B2Hf1RYp89X/
https://www.instagram.com/p/B6BRnVcAt1u/
Over the last few weeks, Emma Chamberlain has been teasing a new project on her Instagram stories with a countdown to December 22nd — and the day has finally come.
The vlogger, who amassed over 8 million subscribers in just two years, is no stranger to the bizz world, launching both a clothing line and her merch shop shortly after her rise to fame.
But this time, her latest business venture involves the one thing she holds nearest and dearest: coffee.
Emma's obsession with coffee is no secret to her fans, so when one of them discovered an Instagram account called Chamberlain Coffee, it wasn't hard to connect the dots. For weeks the account featured three promo posts saying "COMING SOON December 22, 2019" and was followed by Emma herself.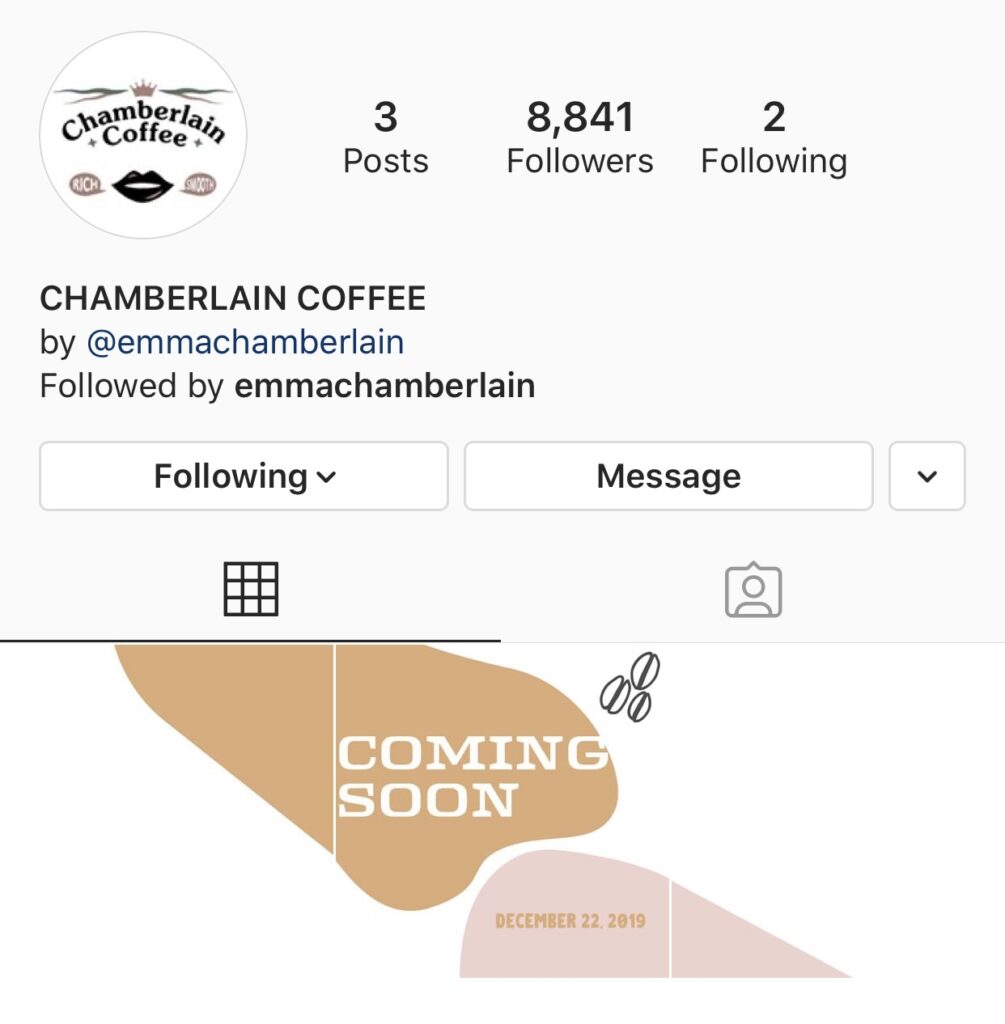 Today, her news has been announced: Chamberlain Coffee is Emma's big announcement and here's everything we know about the brand.
1/ They sell single-use steeped coffee bags
According to the website, Emma was looking to find an eco-friendly solution for brewing her own coffee at home or on-the-go without using plastic pods or buying takeaway coffee that uses plastic cups, straws and lids.
And alas, Chamberlain Coffee Steeped Coffee Bags was born. The single-use bags contain 100% specialty coffee, are nitro-sealed and are made for compostable and renewable materials.
2/ They're affordable-ish
At $2 a brew, Chamberlain Coffee is definitely not the most financially efficient way to drink coffee. But if you buy coffee every day like Emma, then yes, these bags are more affordable.
Plus the eco-friendly aspect (including drinking it from a mug or your own keep-cup) is invaluable since you know, our country is literally on fire and our planet is dying.
3/ They also sell keep-cups and mugs
In addition to her eco-friendly coffee bags, Emma's selling a keep-cup and a mug so you can have the full Chamberlain Coffee experience. As of yet, you can only buy the cups in bundles with her coffee.
The coffee mug + 10 pack coffee bag bundle will set you back $35 USD, while the travel mug + 10 pack coffee bag bundle will set you back $45 USD.
4/ It's powered by Bixby Coffee
We reported earlier this week that the Chamberlain Coffee only followed two people: Emma Chamberlain (duh) and Bixby Roasting Coffee, an LA-based craft-coffee roaster.
This has since changed, but our theory remains the same: Chamberlain Coffee is using Bixby Coffee beans as their source. Chamberlain Coffee's website says "Powered by Bixby Coffee" in the footer and Bixby posted an Instagram story 6 hours ago with a countdown to Chamberlain Coffee's reveal.
This is really good news, as the cult LA coffee brand sells some of the best gourmet beans in the bizz.
5/ They ship internationally
Finally, what we've all been wondering — will we be able to Chamberlain Coffee in Australia?
The answer is yes.
While the prices on site are in USD, the brand seems to ship internationally.
Merry Christmas to us.
This article has been updated from its original 'Emma Chamberlain Is Starting A Coffee Business' published on December 18, 2019.