https://www.instagram.com/p/CbvZIQUOrIa/
Deuxmoi is switching social media for the silver screen.
@Deuxmoi, the go-to gossip celebrity account for many Instagram users, has received a script-to-series order from HBO Max for her debut novel 'Anon Pls.' This means that the drama series will forgo the standard pilot process if the network approves the script.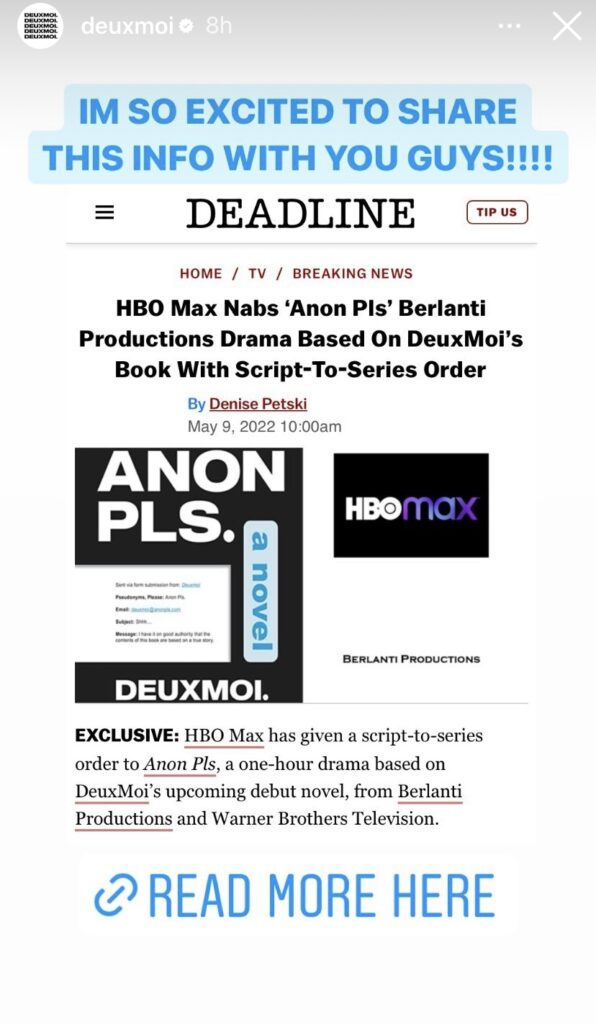 ICYMI, @Deuxmoi skyrocketed to virality at the beginning of the pandemic. Originally a lifestyle blog created by two friends, the account posted style inspiration and pop culture memes. But @Deuxmoi soon became known for sharing the most salacious pieces of gossip coming straight out of Hollywood.
The catch? All the tea shared by @Deuxmoi is unverified and user-submitted. Like a modern-day Gossip Girl, Deuxmoi operates on information from followers sending in tips. And to make it all the more interesting, the administrator's identity is practically anonymous. The most known about the account's owner is that she is a woman. However, many celebrities and insiders claim she was also a stylist for an American fashion house.
The upcoming book, 'Anon Pls,' follows the story of @Deuxmoi's rise to viral fame. Co-written by @Deuxmoi's administrator and New York Times bestselling author Jessica Goodman, the book will be published by William Morrow – an imprint of HarperCollins – and is hitting the shelves on November 8th.
In the spirit of @Deuxmoi's preference for anonymity, the book centres around a fictional character named Cricket Lopez but is "inspired by real life events." According to HarperCollins, the story follows the protagonist as her Instagram account blows up and becomes a romance when she meets a "steamy new love interest."
The prospective HBO series follows the same premise and is set to be executive produced by Greg Berlanti and Sarah Schechter for Berlanti Productions.
Many pop culture enthusiasts have already gone on to criticise the series, claiming the premise is too similar to Gossip Girl.
@Deuxmoi took to her Twitter to defend 'Anon pls,' writing "It's literally nothing like GG…at all."
The final cast list and release date for the series is yet to be confirmed. Check back for updates.