Ah — the world of celebrity gossip, something many of us follow (if we like to admit it or not). From Just Jared to TMZ, Page Six to The Daily Mail, most of us are familiar with the mainstream gossip tabloids. But no one can ignore the new kid on the block.
Enter @deuxmoi – the celebrity gossip account that has become many Instagram users' guilty pleasure.
Deuxmoi skyrocketed to virality at the beginning of the pandemic. Originally a lifestyle blog created by two friends, the account posted style inspiration and pop culture memes. But this soon changed. After asking her (approximately) 45,000 Instagram followers for celebrity gossip during the early days of lockdown, Deuxmoi went viral for reposting the responses on her Instagram story.
Fast forward to the beginning of 2022, @deuxmoi boasts over 1.3 million Instagram followers with subreddits and Facebook groups that exist to discuss all of her updates.
Like a modern-day Gossip Girl, Deuxmoi operates on information from followers sending in tips. She shares anything from banal celebrity updates to the most salacious pieces of gossip out of Hollywood. The most enticing part of it all is that almost everything is anonymous, including the identity of the administrator herself. The most we know about the account's owner is that she is a woman, though many insiders claim she made her famous connections as a stylist for an American fashion house.
Nevertheless, Deuxmoi has broken some of the hottest pop culture news in recent years. Remember when Scarlett Johansson got married? Or when Carl Lentz, Justin Bieber's pastor, was accused of having an affair? Or even the more recent whispers of Anwar Hadid and Dua Lipa's breakup? These stories were all originally sent in as tips by Deuxmoi's loyal followers.
While there is something satisfying about being the first to know, readers should take Deuxmoi's celebrity updates with a grain of salt. The account's bio offers a word of caution: "statements made on this account have not been independently confirmed." The website where followers can submit their tips is even more explicit with "deuxmoi.world publishes rumors & conjecture, not facts" written at the bottom of every page.
So, while Deuxmoi's celebrity updates may be mostly fun and games, the account's popularity raises some broader questions; what does Deuxmoi say about celebrity gossip today? And why are we all obsessed with the account?
The pandemic transformed the online gossip economy.
COVID-19 stifled most of Hollywood's age-old traditions. With award shows cancelled and red carpet attendance restricted, the celebrity gossip mill was effectively shut down. Even as the constraints of the pandemic eased throughout 2021, by no means was the world back to 'normal.'
In a world plagued by (seemingly) never-ending lockdowns, the tea on our favourite celebs quickly dried up. Celebrity gossip enthusiasts had to adapt to a world, where honestly, not much was happening. And with that, what constituted celebrity news became surprisingly un-newsworthy. Instead of exploiting celebrity scoops and feuds, gossip has become about crowdsourced information and voyeurism.
Reposting celebrity sightings sent in by her followers is Deuxmoi's bread and butter. When she isn't breaking the hottest celebrity news, her Instagram highlights reel is an extensive list of tips like: "Hailey and Justin Bieber sitting next to us now" or "Kim K and Pete Davidson are at CVS."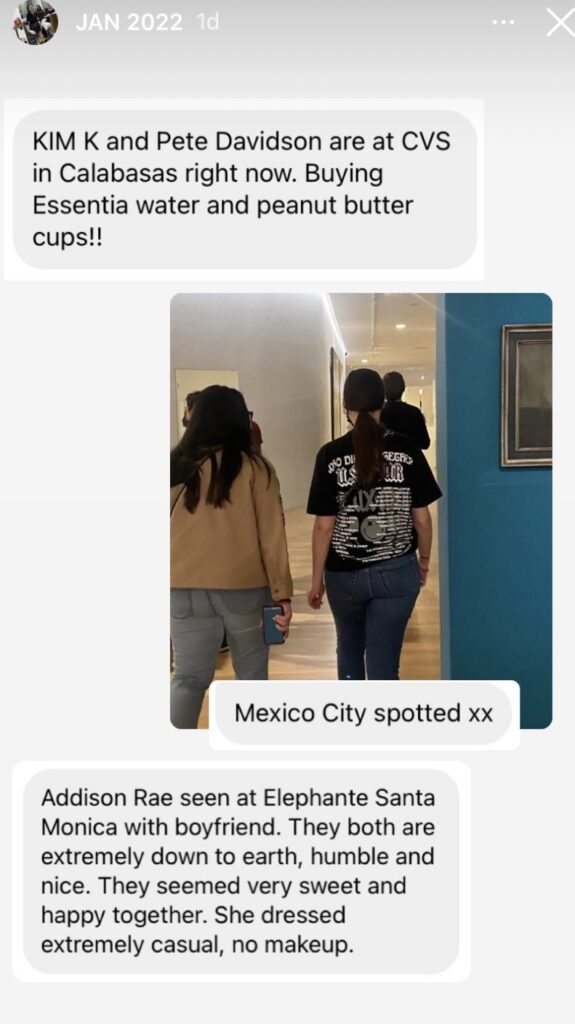 No one can deny the 'populist' bent to this new wave of gossip. Not only does Deuxmoi cover celebrities doing "ordinary things," but by allowing absolutely anyone to submit a tip, she has effectively democratised gossip.
She even empowers internet sleuths to offer their own interpretations of celebrity news by posting 'blind items' — a user-submitted story with names and identifiable features omitted.
Celebrity 'blinds' have long been a part of the celebrity gossip ecosystem, but with internet sleuthing culture more popular than ever (I mean, who could forget about #CouchGuy), 'blinds' have quickly become a favourite among Deuxmoi's followers. Not only do 'blinds' encourage user engagement, but they also act as a "get out of libel free" card for Deuxmoi's administrator.
Once a 'blind' is posted, her followers rush to Twitter, TikTok and Reddit to discuss the "A-list" celebrities in question.
Treating the 'blind' like a puzzle may seem like harmless fun, but it doesn't take long for the discussion to slide into conspiratorial territory. It is here where harmful rumours often begin.
Anonymous accounts keeping the rich and famous accountable aren't necessarily new.
Over the past few years, we have seen the likes of @esteelaundry and @diet_prada shed light on industry missteps and scandals in the beauty and fashion world. And for the most part, the account's administrators have remained anonymous.
From covering bullying in the beauty industry to controversial celebrity collaborations, Estée Laundry and Diet Prada have built their following on a platform of honesty, accuracy, and transparency.
In an age where fact-checking and truthfulness have become important for a brand's success, these watchdog accounts have proven they can make or break campaigns. So much so, that luxury brand Dolce & Gabbana filed to sue Diet Prada for defamation in March 2021. 
With Estée Laundry and Diet Prada paving the way for "call-out culture," Deuxmoi has taken it to the extreme.
The tips published by Deuxmoi are not confirmed by any "journalistic" standard. As the account's administrator told the New York Times, "I've always stayed true to what I said from day one, which is that this information is not proven to be based in fact… I don't do any additional research. I'm not a reporter."
While the owner does not claim to be versed in journalistic integrity, that doesn't mean her followers read her content differently from legitimate and confirmed sources. In fact, Deuxmoi has built a reputation for her accuracy, only having to delete posts a handful of times for their unreliability.
With audiences failing to read her tips with a critical eye, Deuxmoi can further false narratives and let her followers run with them.
As this misinformation continues to run rampant, it is worth asking whether we can really afford an account as popular as Deuxmoi posting 'blind items' and unverified gossip in our already volatile media landscape — even if it is just for fun.