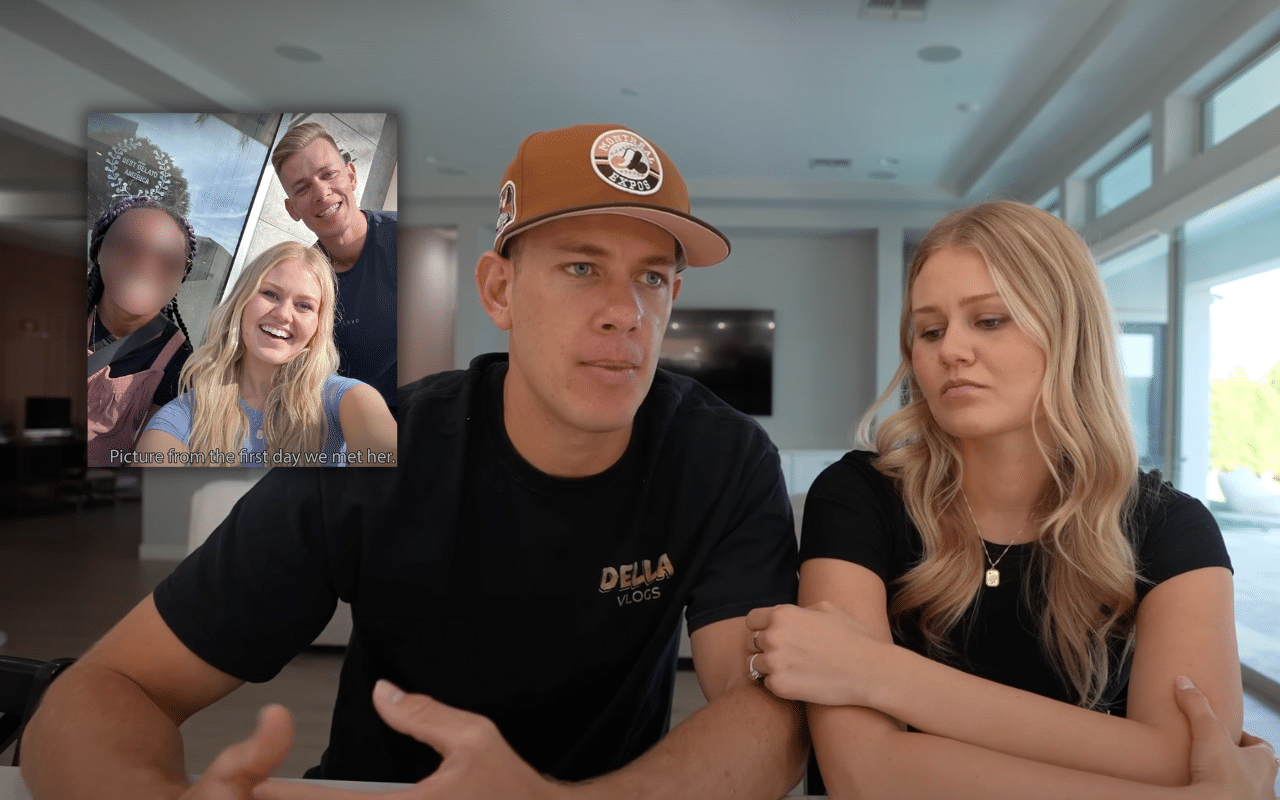 Della Vlogs
YouTubers Dallin and Bella Lambert have opened up about falling victim to an adoption scam through Instagram.
Dallin and Bella host a couple's YouTube channel together called Della Vlogs. They've amassed over 1.4 million followers sharing pranks, challenges, and day-in-the-life content, while occasionally featuring their close friends Arie Luyendyk Jr. and Lauren Burnham from The Bachelor in their videos.
On May 24th, Dallin and Bella uploaded a video explaining that the adoption process they had been documenting was a "scam."
The couple had been trying to have a baby for some time— even traveling to different countries for fertility treatments— and eventually announced they decided to adopt.
Dallin and Bella frequently spoke about their intention to adopt and made it clear they were mostly interested in adopting a newborn baby, rather than a toddler or a child.
In their adoption announcement video, Dallin and Bella told their followers to "reach out" if they knew of anyone looking to put their baby up for adoption.
On March 30th, they appeared on The Unplanned Podcast with Matt & Abby, where they spoke about the possibility of adopting via social media.
"The crazy thing is that now that we've announced, I'm so curious, like, looking back now, what the response is going to be," Bella said. "I'm wondering if maybe we even find our birth mother through social media. If there is someone out there, who is going to put their baby up for adoption and is looking for a loving home, like, that could happen."
Shortly after, it seemed like their wish came true when they were contacted by someone on Instagram who said she was pregnant with twin baby girls that she wanted to put up for adoption.
Dallin and Bella claimed they met with the woman multiple times, saw sonograms of the twins, did birthing classes with her, and began the process of purchasing baby items for their arrival.
Two months later, they discovered that the woman had been scamming them and was never even pregnant. She was also apparently scamming several other families at the same time.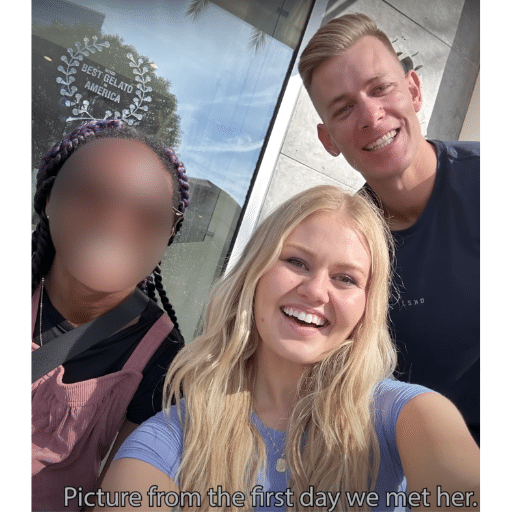 The Lamberts said there were a few red flags along the way— like when the woman requested they do a gender reveal party (despite already knowing the gender) and have the nursery completely ready prior to their birth.
She also apparently continually pushed off appointments with Dallin and Bella's adoption agency, as part of an agency's role is to verify the pregnancy and help the adopting couple avoid being scammed.
One day, Dallin got an email out of the blue from someone saying they had critical information on the "expecting mother". The person said that they were in an adoption group on Facebook and the woman had been telling multiple families in that group that they would be adopting her twin girls.
The Lamberts worked with the other families to confirm her pregnancy was a lie before confronting the woman over the phone.
They claim that none of the families she was scamming had given her money, so they are still unclear on why she did what she did.
While the Lamberts may have pure intentions when it comes to expanding their family, Dallin and Bella have faced backlash from viewers who feel the way they went about the adoption process was similar to "human trafficking" given they attempted to purchase a baby through social media.
Others say this is just another example of YouTubers exploiting children (in this case, that didn't even exist) for clicks and views.
This is not the first time a YouTube family has been embroiled in controversy over adopting a child.
Back in 2018, vlogger Nikki Phillippi and her husband Dan Phillippi revealed that they had started the process of adopting a baby from Thailand. The news was met with excitement from fans, however, two months later the couple uploaded a video titled, 'We're Not Adopting From Thailand Anymore.' In the video, Nikki explained they had stopped the process as they would not legally be allowed to put their baby on social media in its first year with their family as per Thai laws. This is because the adoption takes one year to finalise— a factor both Nikki and Dan said they were "not okay with."
After being denied an exception to this law, the couple decided to adopt from Korea instead, making several videos about the process. Then in September 2018, Nikki and Dan announced they were no longer adopting from Korea anymore either, as their adoption agency allegedly told them they would not be easily approved due to their social media presence.
As a result, they decided to pursue domestic adoption in the United States through foster care, leading Nikki to spread harmful misinformation about the U.S. domestic adoption process in the months following on her channel. Nikki and Dan later admitted to spreading misinformation but did not take the videos down.
In April 2019 their adoption journey ended when they claimed to be dropped by their foster care agency. Many believed it was due to their spreading of misinformation.
At the beginning of this year, fitness-turned-religious influencer Brittany Nelson— professionally known as Brittany Dawn— faced intense scrutiny on TikTok after sharing her experience fostering a baby in Texas.
After marrying her husband in 2021, Brittany began posting about their journey trying to conceive. In October 2022, the influencer posted about having a miscarriage while sharing that they were "expecting a foster child".
She later said that they registered to be foster parents through an agency in January 2022 after an enlightening experience at church.
By November, Brittany was putting together a stroller and installing a car seat in preparation for "the foster child in need that will be on the way soon" and claimed that her mother-in-law had planned a "foster care shower" for her and her husband. Brittany posted that they became "legal foster parents in the state of Texas" on November 30th.
On December 12th, they shared that they were placed with a baby. Brittany posted several videos with the newborn baby and referred to her experience as a foster mother as "parenthood".
At the time, both fans and critics expressed serious concerns about how the couple acquired this child and their intentions behind fostering.
Given how quickly they were able to become registered foster parents and how rare it is to be matched with a newborn baby, some theorised that Brittany may have used money from a GoFundMe she set up in 2021 to purchase the baby from a Christian organisation that coerces mothers into giving up their children.
Despite being scammed, Dallin and Bella say they still hope that adoption will work out for them one day.
They hope this is a cautionary tale to adoptive parents out there to make sure everything is verified throughout the process and to take stock of the red flags.