@realbrittanydawn
Updated: January 9th, 2022
Brittany Dawn has unlocked her mommy vlogging era and fans are concerned.
Fitness-turned-religious influencer Brittany Nelson— professionally known as Brittany Dawn— is facing intense scrutiny on TikTok after sharing her experience fostering a baby in Texas.
Who is Brittany Dawn?
Brittany rose to prominence in the mid-2010s as an Instagram fitness influencer who promoted flexible dieting for women training to compete in bikini competitions. She soon began selling "personalised" exercise and meal plans to her followers looking to get in shape and lead healthier lives.
This pivot ultimately led to Brittany's demise as a fitness influencer after several customers filed public complaints to the Texas Attorney General's Office in 2019 claiming she never delivered on these personalised plans, some of which cost up to $300.
The state of Texas filed a lawsuit against Brittany's company on February 1st, 2022 over deceptive business practices and misleading customers with eating disorders. The attorney general's office is seeking between $250,000 and $1 million in penalties and court fees.
Brittany has a history of controversy
Following the 2019 complaints, Brittany rebranded herself as a Christianity influencer, sharing content about topics like her "testimony" and hosting a $125 religious retreat for followers through her new company, She Lives Freed.
Despite finding Jesus, Brittany was embroiled in scandal once again in October 2021 when her husband shot and killed their dog instead of taking him to the vet after he was injured in a hit-and-run. Her husband is a former police officer that was allegedly dismissed from the Kansas City PD for excessive violence. The YouTube video in which she shared the tragic story was monetised and the couple was accused of exploiting their animal abuse for financial gain.
Brittany raises red flags after acquiring a baby through foster care
After marrying her husband in 2021, Brittany began posting about their journey trying to conceive. In October 2022, the influencer posted about having a miscarriage while sharing that they were "expecting a foster child".
She later said that they registered to be foster parents through an agency in January 2022 after an enlightening experience at church.
By November, Brittany was putting together a stroller and installing a car seat in preparation for "the foster child in need that will be on the way soon" and claimed that her mother-in-law had planned a "foster care shower" for her and her husband. Brittany posted that they became "legal foster parents in the state of Texas" on November 30th.
On December 12th, they shared that they were placed with a baby. Brittany has since posted several videos with the newborn baby and refers to her experience as a foster mother as "parenthood".
Both fans and critics have expressed serious concerns about how the couple acquired this child and their intentions behind fostering.
Given how quickly they were able to become registered foster parents and how rare it is to be matched with a newborn baby, some have theorised that Brittany may have used money from a GoFundMe she set up in 2021 to purchase the baby from a Christian organisation that coerces mothers into giving up their children.
In April 2021, Brittany set up a GoFundMe for a homeless man named James who allegedly walked into her church to tithe $0.15. Brittany and her husband decided to change his life by taking him in and crowdsourcing money for James to help him get into rehab.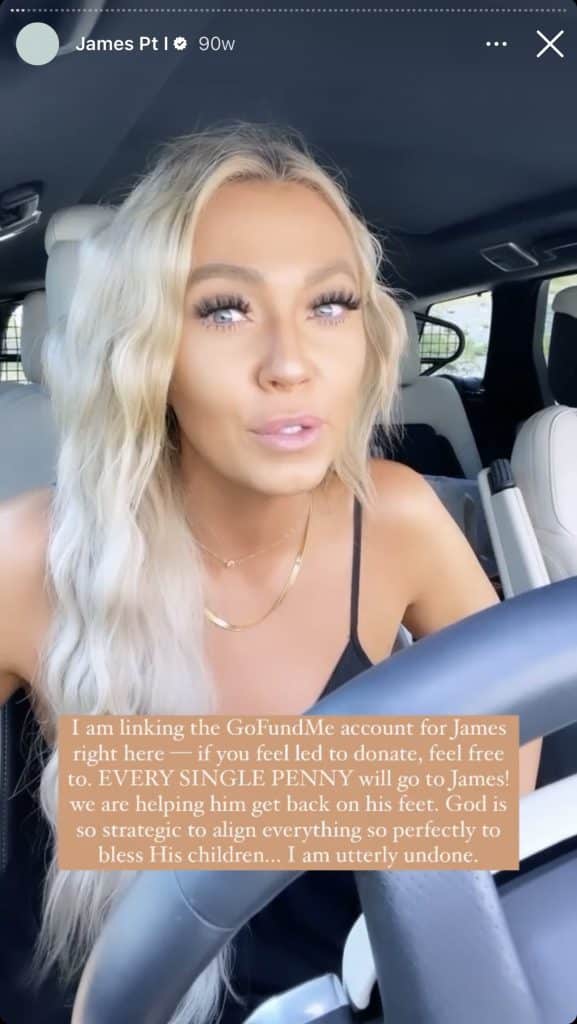 At the time, some felt that Brittany was exploiting this man to satisfy her own saviour complex. Nevertheless, the GoFundMe for James raised over $25,000 and Brittany eventually shared that he was sent to The Alpha House in Ohio— a faith-based addiction treatment center that is "FREE to the resident" provided they can afford counseling fees, according to the facility's website.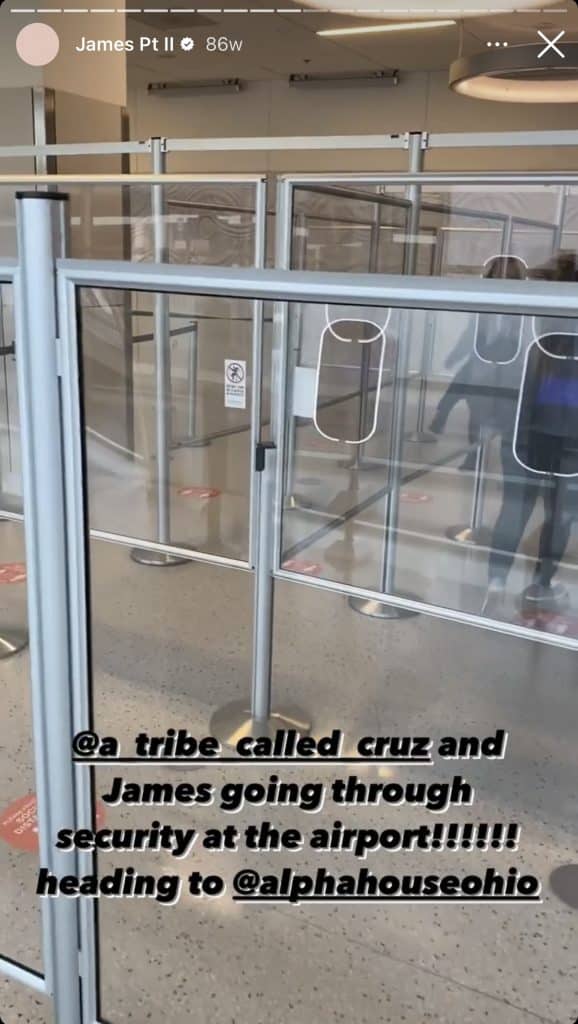 In the wake of Brittany fostering, her social media has been flooded with the comment "justice for James", as her followers question whether the GoFundMe money actually went to acquiring this baby rather than to James' rehabilitation.
Several TikTok users claiming to be nurses and social workers in Texas have also noted that in an ethical system, newborn babies rarely get placed with non-family members, especially first-time foster parents.
Others are skeptical about how Brittany and her husband passed the background check to become foster parents given his history of violence and her history of scamming people.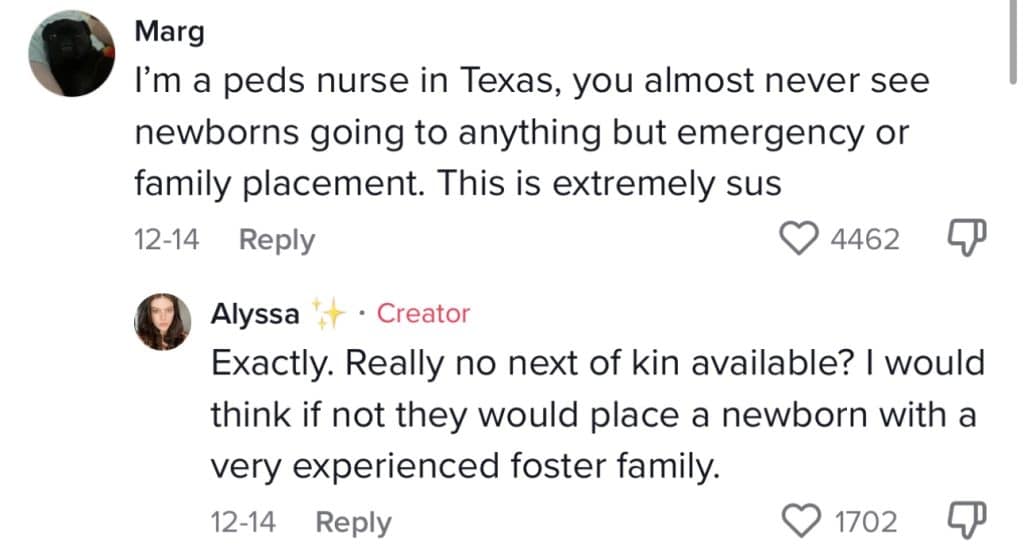 Additional doubt has been raised about why they chose to foster.
While the point of foster care is to look after a child until reunification with the birth parents can hopefully occur, Brittany has already posted about the heartbreak she would feel if they ever get that phone call and have to "say goodbye".


Creator @alyssastephanie suggests that Brittany and her husband have used suspicious language throughout this process, indicating that they see themselves as the child's parents. The "foster care shower" that Brittany's mother-in-law threw, as well as the celebratory posts they shared on social media introducing the baby to their followers, have also raise some red flags about their true motivation for fostering.
According to several TikTok users, Brittany later clarified that the mother was a minor who was receiving treatment for addiction.
On January 8th, Brittany shared that they "said goodbye to our first little one as reunification with family transpired."
"Foster parenting is risking the protection of our own hearts for the protection of a child's heart. This weekend was filled with tears: happy and broken," she wrote on Instagram. "This is the part of foster care that we knew we were signing up for. The heartbreak. We knew a goodbye would come at some point, in some way. Typing this out, we know now that more goodbyes are to come in the future. And yet, to lay our hearts down and bear this cross… is worth every moment of heartbreak if it means we can stand in the gap for a child in need."
Brittany went on to say that "most difficult part" has been walking around their quiet home.
Though there are still many unanswered questions about their foster care process and the ethics surrounding how they acquired this child, Brittany finished by saying they are going to take the week to regroup and will be open to welcoming a new foster child into their home soon.