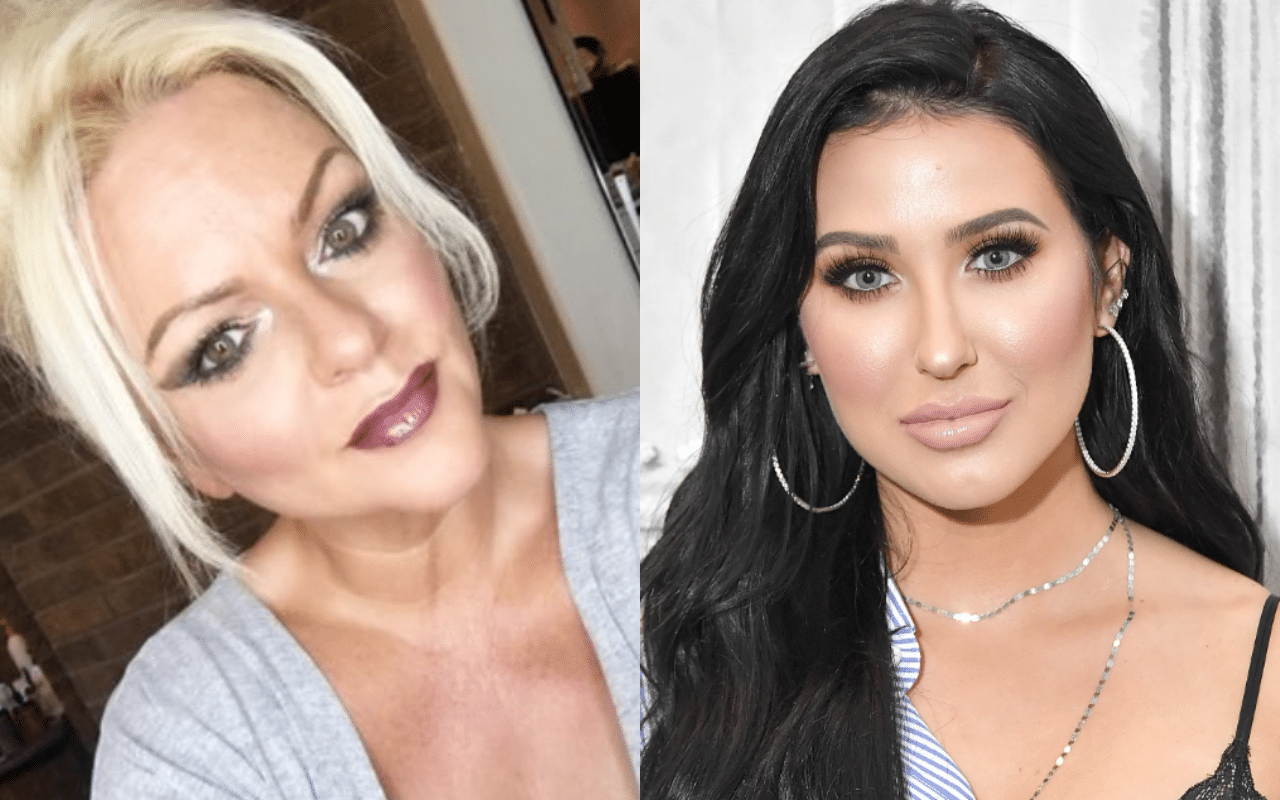 Just three months after Makeup Geek's founder, Marlena Stell, spoke about her experiences with Jaclyn Hill on The Sesh podcast with Kendall Rae and Janelle Fields, Jen Gerard is following suit.
As the CEO of Gerard Cosmetics, one of the most popular makeup brands among OG beauty gurus, Jen recently appeared on The Sesh podcast and spoke about her history with Jaclyn.
Jen and Jaclyn's collaborations
Over the years, Jen has used social media to her advantage, building relationships with prominent YouTubers within the beauty sphere, offering affiliate links to creators and even organising collaborations. Of course, one of Gerard Cosmetics' most notable collaborations was with Jaclyn.
"I actually met Jaclyn in early 2014," Jen begins. "A girl who worked for me, she was my social media manager for a long time, and she had actually found Jaclyn on YouTube… [but] I think the first time I actually met Jaclyn was in 2014 at IMATS [International Makeup Artists Trade Show] in New York.
During the conference, Jaclyn suggested adding a rose-coloured lip gloss to Gerard Cosmetics' product lineup. Jen later offered the influencer an opportunity to collaborate with the brand to create the shade.
Describing their working relationship and collaboration as "organic," Jen explained that the Gerard Cosmetics team sent the creator a few shades for the gloss before she picked her favourite. The product officially launched with the name "Rose Hill."
Jaclyn also collaborated with Gerard Cosmetics on three more products — the "Butter Cream" lip gloss alongside the "1995" and "ButterCup" lipsticks.
A recent post, seemingly by Jen, on the r/jaclynhillsnark subreddit revealed that Jaclyn "made well over $500,000 by working with Gerard Cosmetics."
"She was paid 30% commission plus a royalty for every unit sold from the shades in the collection," she writes. "She did not work on the formulas, packaging, branding, or anything else with her collab other than choosing the colours."
While their relationship was initially positive, Jen tells Kendall and Janelle that she began to notice some "red flags" and "some behaviour [she] didn't approve of" around 2015. This came to a head when Jen went to New York with Jaclyn and her team.
"It was a lot of jealousy towards other YouTubers that were kind of in the same space and the same, you know, [subscriber] count area…," Jen goes on to say. "I just attributed that to, like, high school-type stuff that didn't become that much of a red flag until after then I looked at I was like, oh."
The Karina Kaboom Situation
As Jaclyn's platform grew, she began collaborating with larger beauty brands while also considering starting her own makeup line. While Jen understood that she would eventually "outgrow" Gerard Cosmetics, she believed they would maintain their friendship.
However, Jen notes that things started to go downhill after she was caught up in a scandal with Karina Kaboom, a beauty creator who eventually became a tea channel.
Back in 2014, Karina shared a negative review of Gerard Cosmetics on her YouTube channel. MannyMUA later posted a Snapchat of Jen reacting to the video, where she can be heard describing Karina as the "ugliest person." While Jen later clarified that she was not referencing Karina's appearance but rather her behaviour, she faced backlash for her comments.
Jen also reflected on the Karina Kaboom situation in the recent Reddit post.
"In this video, a girl named Karina Kaboom stated that we forced people to sign a contract saying that they would only give positive reviews of the brand, which was not true whatsoever. Her video felt like a tirade vs. an honest review and had a lot of foul language," the post reads. "In privacy, I said that she was 'the ugliest person', meaning the way she came across and the language she used, not her looks. However, I understand how that could be perceived differently."
The Gerard Cosmetics CEO also notes that she had reached out to Jaclyn to apologise in case she was receiving any hate for being associated with the brand, to which Jaclyn allegedly said that "the situation was being blown out of proportion."
However, months later, Jen claims that Jaclyn sent her a message urging her to create an apology video for her remarks about Karina. Jen didn't believe this was the best step forward, so she chose not to make a video. She soon received an "extremely nasty email" from Jaclyn.
"I received this email from Jaclyn stating that she did not want things to get "dirty" or "messy" in ending our collaborations and demanding $250,000. It felt like extortion to me considering her commission was well above industry standard of 10-15% AND she was getting royalties," Jen shares. "I was very hurt and felt betrayed by someone I thought I had a close relationship with… When I stated that was not part of the agreement and denied the $250k, she proceeded to make a video about me and my brand, which greatly damaged my reputation."
Jen notes that many internet culture pundits believed that the "Karina Kaboom incident was the reason for the [Jaclyn's] split" from Gerard Cosmetics.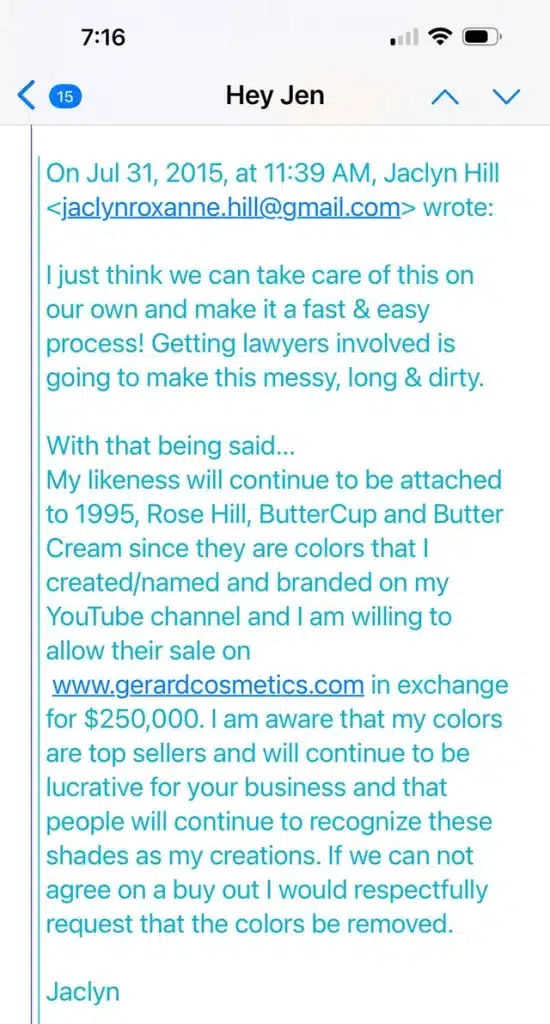 Jen also discussed the email with Kendall and Janelle on the podcast, explaining why she believes Jaclyn sent this email months later — especially since the creator initially appeared to be okay with the situation.
"What I do know that did happen in between was the Becca launch had happened… We paid her a good amount of my money… like as the first small brand… but she made multiples of what she made with us in a year," she begins. "I think it was just to the point where [Jaclyn thought]… I can cut her loose. I got something better."
Of course, this is not the first time Jaclyn has had such claims levelled against her— something that Jen noted in the Reddit post.
"At the end of the day, Jaclyn has left in her wake a long list of women who either got in her way or stood up to her," Jen writes. "I am going to do what I can to keep any more women from being destroyed by Jaclyn.
Marlena, for instance, felt that Jaclyn had used her and her connections in the industry for personal gain. During her appearance on The Sesh, Marlena claimed that Jaclyn screwed her over on a Makeup Geek collaboration years ago, putting the brand $4 million in the hole.
The same can be said for how Jaclyn went about opening her (soon-to-be-closed) lifestyle brand, Koze.
YouTuber Kalyn Nicholson already had a lifestyle brand named Koze, which had been in business for five years when Jaclyn opened her company. Kalyn was forced to close her brand about a month after Jaclyn's company launched, as she had not trademarked the name and was not interested in entering into a lengthy and expensive legal battle with Jaclyn.
Jaclyn has not addressed the Reddit post or Jen's appearance on the podcast at the time of publication.