@briannalapaglia / @zachlanebryan
Influencer Brianna LaPaglia has responded to TikTok rumours that she's dating country singer Zach Bryan.
On a new episode of her podcast, PlanBri Uncut, Brianna— known as Brianna Chickenfry online— said the two are "hanging out."
"I started hanging out with a guy named Zach, what, three weeks ago?" she said. "It's fun, it's casual, and yeah, I just wanted to address it because the whole internet is freaking the fuck out and people are doing shit. And yeah, that's really it. Just hanging out, having some fun."
Internet sleuths have also called the timeline sketchy, as Brianna announced on July 10th that she had split from her boyfriend. Zach also went through a recent breakup with his girlfriend back in May.
"I have the people in my life that I care about. They know what I'm doing. They know the timeline of things. Why should I even care about the people on the internet that just make shit up?" she continued.
Brianna and Zach sparked dating rumours earlier this month when they began liking each other's Instagram photos. While the two first crossed paths in May 2023, Brianna and Zach apparently started spending time together after the BFFs Podcast team was invited up on stage to sing with Zach during one of his live performances in June.
Brianna co-hosts the BFFs Podcast alongside TikTok star Josh Richards and Barstool Sports president Dave Portnoy.
See Also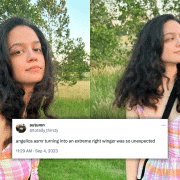 The biggest tip-off, however, came when Brianna was spotted in the background of a video with Zach and his friends. Since this video emerged, TikTok has exploded with further "evidence" of their relationship— like photos of them dining together at restaurants and speculation that she attended a festival in Oregon where he performed.
"It just sucks with the internet how they speculate and shit with timelines and stuff," Brianna said on her podcast. "And yeah, it's just stupid, so I figured I'd just say it before the whole internet gets to say who I am and what I'm doing."
Zach has not addressed the relationship rumours at the time of writing.