@benefitcosmetics
https://www.instagram.com/p/B9AZodPl8a3/
https://www.instagram.com/p/B9AgGkOBh2t/
Here's something we don't see everyday!
Beauty giants Benefit Cosmetics and Morphe announced yesterday that the two brands have collaborated on a brush set as part of a new Benefit release.
To promote the launch of Benefit's new Cheek Stars face palette, which includes the brand's most beloved bronzers, highlights and blushes, Benefit and Morphe have teamed up to create the Benefit Face Brush Trio.
The set comes with three brushes: one R36 Pointed Highlight Brush, one R10 Deluxe Tapered Powder Brush and one R4 Pro Angle Brush. Each brush is affectionately branded with "MORPHE ♥ benefit" and is available through Instagram Shopping or the Morphe website.
The Cheek Stars palette, which you can purchase separately from the brush set, contains five of Benefit's best-selling face products: Hoola Matte Bronzer, Sugarbomb Blush, Georgia Blush/Highlight, Dallas Blush/Highlight and Cookie Highlight. Georgia, Dallas, and Sugarbomb are also available in singles.
The palette has already copped some heat online after popular beauty news page, TrendMood, shared the campaign photos which include swatches on three arms of different skin tones. Users believe the swatches have been photoshopped to appear deeper on the darker skin tone, particularly the shade Dallas.
"How is the Dallas powder so pale in the first two arms yet so deep in the third arm?" wrote @beautybodypearl. "I'm about the same shade as the third arm (MAC NC45,) and I guarantee that Dallas and Hoola will not show up on your skintone."
Others commented that the swatches are a "lie," "mind-blowing" and "upsetting" as they claim to have played around with these shades before and they do not match the promotional photos.
Now, makeup lovers believe that Jaclyn Hill was meant to be involved in this unique collaboration between Benefit and Morphe.
In a video posted yesterday by YouTube commentary channel, Truth Sleuth, viewers were reminded that in the midst of lipstick-gate, Jaclyn Hill was sent 75 individual Benefit Cookie Highlighters with a picture of her face on the packaging. She took to Instagram and Snapchat to share her excitement, saying that Benefit sent the highlighters as a courtesy because Jaclyn loves the Cookie Highlighter so much.
Fans have noted two inconsistencies with Jaclyn's story and how it relates to this new release. First, the photo used on the highlighters sent to Jaclyn is from her Morphe collaboration, meaning the photo would be owned by Morphe. It would be highly unusual for a reputable brand like Benefit to use this photo without approval. Second, the branding on the brush set matches the branding on the Cookie Highlighter sent to Jaclyn— they both feature a "♥" instead of an "x" for the collaboration name.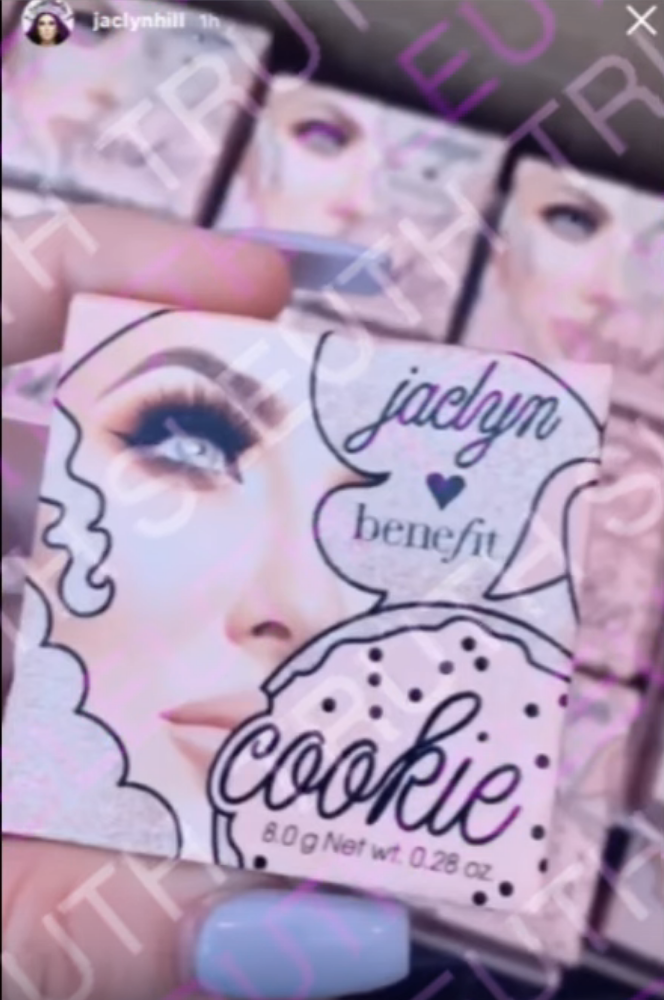 Fans speculate that Jaclyn and Benefit/Morphe may have decided to part ways after the fall out from lipstick-gate.
While Jaclyn's potential involvement in the collaboration has not been confirmed, we will update if more information surfaces.
The Benefit Brush Face Trio brush set and Cheek Stars face palette are now available at @benefitcosmetics.