@arianagrande
https://www.instagram.com/p/CS1yJLHL9N3/?utm_source=ig_web_copy_link
https://www.instagram.com/p/CR5iGP5MhWI/
It seems like Ariana Grande is switching positions from singer-songwriter to makeup guru.
Ari is allegedly launching "r.e.m beauty" — a cosmetics line named after a song from her 2018 album Sweetener.
The rumours come off the back of media outlets like ClevverNews and internet commentator DefNoodles reporting that the newlywed singer has filed several new trademarks. Including names and images, many of the trademarks registered reference Ariana's song lyrics and aesthetics.
Concealer, eyeshadow, lip gloss, and brow pencils are amongst the classified products. However, it seems the line will also include hair extensions and weaves. With the best ponytail in the industry, we couldn't have expected anything less from Ari.
While she has yet to confirm the news, today the website and social media accounts under the handle @rembeauty on TikTok, Instagram, Twitter and Facebook all went live.
Interestingly, the singer's BFF, Doug Middlebrook, also shared a cryptic photo to his Instagram story. Posting a selfie in front of a Billboard in Times Square reading "R.E.M Coming Soon," he tagged Ariana.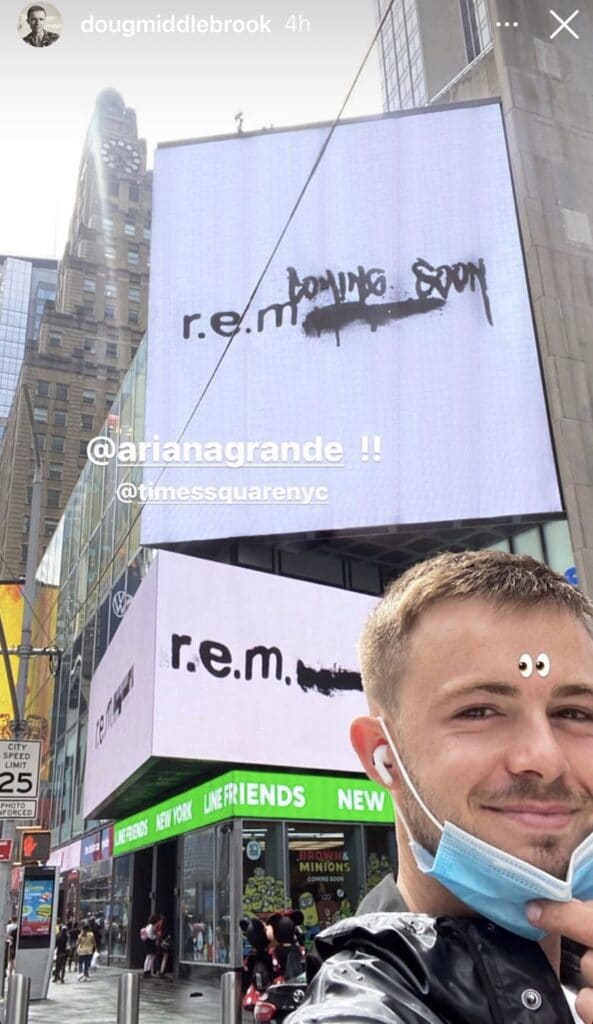 Of course, this isn't the first time Ariana has dipped her toe into the beauty and fashion world. Earlier this year, Trendmood reported that Ariana had filed a skincare, body care and fragrance trademark under "God Is A Woman." So far, only a perfume has been released. 
God is a Woman is the singer's seventh fragrance, but her first "clean" perfume with 91% natural ingredients and a vegan formula.
We can't wait to see what r.e.m beauty has in store. Ariana's got it, and we want it!