Snapchat / David Dobrik
In recent months, internet sleuths have noticed that major creators like David Dobrik, Kouvr Annon, and Alex Warren are posting more than 30 stories per day on Snapchat, leading us to wonder— are creators moving to Snapchat?
Despite solidifying itself as the preferred app for Millennials throughout their late teens and early 20s, Snapchat has struggled to maintain relevancy with the youth of today.
As of the first quarter of 2022, Snapchat has 363 million daily active users worldwide. Although this is an increase from the third quarter of 2021, which had 306 million, compared to Instagram's 1.386 billion daily users and TikTok's 1 billion users, it's surprising creators are so keen to post every moment of their days on Snapchat. Especially as it's the app with the least amount of interaction.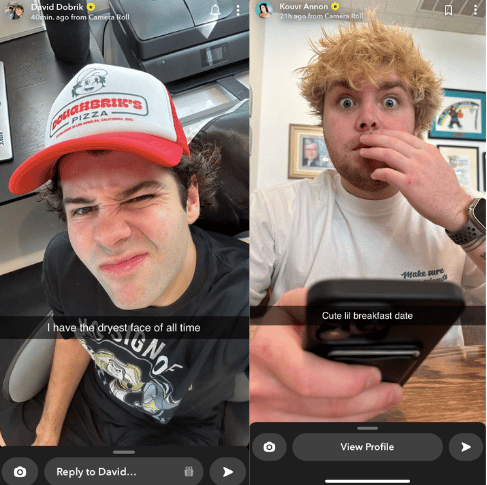 Unlike other platforms, however, Snapchat has recently implemented several ways for creators to earn a profit through the app itself, including the Creator Marketplace, Sound Creator Fund, its accelerator program for Black creators, Spotlight Challenges, and in-app gifting.
Its most lucrative payout program is through Snapchat Spotlight, which was first announced three years ago as an answer to TikTok's rising success. Similar to TikTok and other TikTok-inspired apps and features including Instagram Reels, Spotlight is a stream of endless content.
The same things that are popular on TikTok seem to be popular on Spotlight: dancing videos, prank videos, challenges, and tutorials. What makes Spotlight unique is that it doesn't have public like counts or comments and when videos go viral, the creator makes money— making the app attractive to aspiring content creators with a limited audience.
Upon its rollout, the company announced it would pay out Spotlight creators from a pot of $1 million per day. Snapchat promised it would continue to pay these awards at least through 2020. This high-level pay out helped create a new class of millionaires in a matter of months, including creator Cam Casey who earned $3 million in 30 days. 
The introduction of Spotlight, combined with the function's aggressive creator revenue share, put Snapchat on the map for creators looking to grow their careers and get paid.
Despite its initial success, these payouts couldn't last forever. In 2021, the company changed its payout amount rewarding creators millions per week, down from $1 million a day in 2020. They lowered the payment again in 2022, announcing the company would be paying creators millions per year. 
Though creator payments are decreasing, Spotlight still appears to be a priority for the company. In a leaked internal memo from September last year, CEO Evan Spiegel told staff he wanted 30% of users on Spotlight every day in 2023.
No specific numbers have been released for 2023's Spotlight payout budget and it's unlikely that Snapchat would have increased it, seeing as they are already feeling the heat falling short of Wall Street revenue expectations for the third quarter last year, resulting in lay offs of 20% of their staff last year.
Amid these financial woes, users have noticed that several huge creators are now posting frequently on Snapchat.
Fans suggest this may be because Snapchat is no longer prioritising smaller creators on Spotlight and instead, is focusing on big creators that can bring in large amounts of views, i.e. David Dobrik. This theory also aligns with the company's decision to lower its compensation for Spotlight creators.

While this seems likely as the app has also been testing revenue sharing on ads in Snapchat stories for Snap Stars, others suggest that large-scale creators might be flocking to Snapchat as it's simply a safer environment than TikTok and Instagram given its fewer engagement options.

Regardless of the reason, it seems we'll be able to find our favourite influencers posting on Snapchat for the foreseeable future.