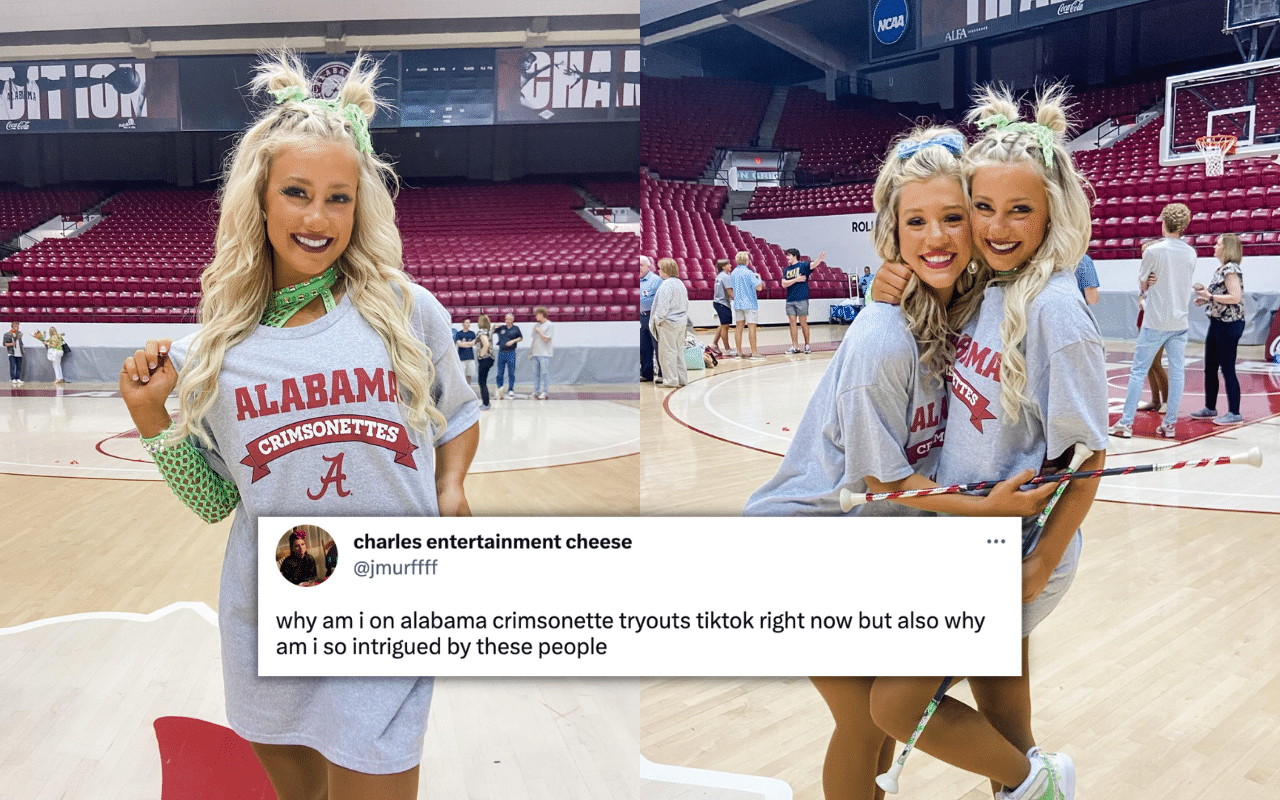 Instagram / @chloe_holladay
Updated: May 3rd, 2023
With each swipe down our FYP, TikTok presents us with glimpses of worlds and lifestyles beyond our own. Whether we're watching Coachella vlogs or street-style interviews, the short-form video app transports us away from our day-to-day lives, introducing us to other perspectives and experiences. And we can't help but relish in the allure of it all – I mean, it is the ultimate escape from reality.
But one trend seems to have TikTok in a chokehold year after year: Alabama Rush Tok. Come August, and our FYPs throw us into the (absurd) world of Greek life at the University of Alabama. We watch as first-year students document the sorority recruitment process, with many sharing their OOTDs and experiences visiting different sorority houses. While TikTok users have tried to shed light on the dark side of Rush and the exclusivity inherent to Greek life, many of us can't seem to look away.
Though Rush is still months away, our obsession with the University of Alabama is still going strong. But now, instead of focusing on sororities, the Crimsonettes – the University's esteemed dance team – have taken over our TikTok feeds. Performing alongside Bama's Million Dollar Band during half-time shows and pep rallies, the Crimsonettes are known for their sparkly costumes and baton-twirling skills.
Much like #RushTok, social media users are following along the Crimsonette tryouts as hopefuls document the process, where some students have gone viral over the past few days. At the time of publication, #Crimsonette has accumulated over 50.4 million views, with GRWM and performance videos flooding the hashtag. However, creators like Chloe Holladay (@chloe_holladay) and Rylie Dewley (@roo.dewley) have become some of the go-to Bama girls to follow for behind-the-scenes insight into the tryouts.
"Being a Crimsonette has been a life goal of mine for the longest time, and for it to be real is so wild to me," Rylie told Centennial World. "In addition to it being a culmination of all of my hard work as a baton twirler [a sport Rylie says she's done since she was 5 years old], I also get to be a part of the Million Dollar Band and carry on a legacy that so many amazing women before me were a part of. Being a Crimsonette means being a role model for young twirlers and being a representative for our campus and community. It means so much to me, I can hardly put it into words."
Training for decades to become a Crimonsette is not uncommon. As outlined on the University of Alabama's official website, this tryout process is nothing short of rigorous. With five components, including an interview and a dance technique test to assess spins and leaps, the process is extensive, aiming to identify the most talented and well-rounded performers. What's more, each candidate must perform a pre-choreographed routine, learn a group performance on the spot, and perform a solo act. To stand out from the pack, each participant chooses a unique theme for their individual performance, giving them a chance to showcase their personality.
As former Crimsonettes, Rylie and Chloe are both veterans of the audition process. Taking to TikTok on the first day of tryouts, Chloe shared a "What's in my bag" video, showing her hair and makeup tools alongside her outfits for the day.
"Today is day one of Alabama Crimsonette tryouts, so I figured I would show you what I'm packing in my bag," she begins. "Today, we have dance technique, dance routine and Yeah Alabama [the University fight song routine], so we will be wearing a black sports bra with black Nike Pro spandex."
Chloe then shared her interview outfit, a structured white blazer with matching pants and a houndstooth belt. 
Many users following along on TikTok have questioned how much money these Crimsonette hopefuls have to spend on tryouts, as well as throughout the season if they are selected for the team. For Rylie, she wasn't prepared to let the financial burden stop her from chasing her dream.
"I came across the University of Alabama and immediately fell in love, but I was worried— it was out of state, the tuition was extremely high, and the only way I could attend would be through a scholarship," she told us. "It was my dream to attend [the University] and become a Crimsonette, so I worked incredibly hard to earn every scholarship possible to be able to attend. In 2021, I was crowned Miss Michigan's Teen, a title through the Miss American Organization. Through having this title, I was awarded the Presidential Scholarship for Alabama and my dream became a reality."
While we all love a good-old OOTD, it seems that TikTok users are most excited about the theme of each competitor's solo routine. Before Chloe and Rylie announced the inspiration behind their performances, both creators attempted to drum up some excitement by asking their followers to guess.
"Guys, we have been keeping it a secret long enough. It is time to reveal my year two Crimsonette tryout theme," Rylie shared. "We have the last two themes: Country and Hunger Games. Y'all have been guessing now for fourteen weeks, and we're finally going to reveal it… We're doing Hunger Games!"
Meanwhile, Chloe shared the inspiration behind her performance after revealing her costume, saying, "[my] theme is Fergie. I did five different songs; I'm going to post the video, of course." TikTok users quickly flooded her comment section with supportive messages, expressing their love for her outfit and theme.
"A creative theme, and your costume and shoes are amazing! Your hard work and eating healthy are going to pay off!" one user wrote.
"Fabulous job!!!!🤩" another shared.
The buzz around Rylie and Chloe's solo performances has exploded over the past day, with TikTok users hoping the algorithm would bring them back once they posted their routines.
Rylie's solo performance video has already gained an impressive 235K views since its upload. Chloe's TikTok has taken the platform by storm, amassing 433K views and counting. With that being said, many social media users keeping up with the Crimsonette auditions were happy to find out that Chloe was named captain of the team for 2023.
Despite this love and support on TikTok, Chloe says for her, that the experience of being a Crimsonette is all about the connection with her teammates.
"Being a Crimsonette has truly changed my life and brought me so many friendships, opportunities, and memories that will last me a lifetime," Chloe told Centennial World. "Coming in as a freshman during [COVID-19] was very hard, but being a member of the team, I automatically was given 25 built-in best friends. My years at UA Crimsonette have given me so many experiences like National Championship games, playoff games, twirling night games in BDS, and so many volunteer opportunities to reach many people. I am so honored to be on this team and to be named a Captain. Having the opportunity to lead this team is something I will never take for granted."
Rylie mimics this sentiment, saying being a Crimsonette has also changed her life for the better.
"Here on campus, it has allowed me to be more active in our community, but it also has introduced me to the most amazing friends I will ever have. I had a hard time making friends growing up due to my busy schedule," she said. "This past year, I made 25 of the most amazing friends. Friends who cheered me on in my challenging times, friends who invited me over for dinner, friends who would come over to my dorm just to visit with me, friends who I feel so comfortable with. I cannot imagine this school year without them and I'm so thrilled to make even more friendships this year with our 10 outstanding freshman!"
Although the onslaught of Crimsonette content serves as a reminder that life at Bama is truly another world, it's inspiring to watch these young women work to fulfil their dreams and showcase their impressive twirling skills while they are at it. Though their journey may seem far removed from our daily lives, cheering from the sidelines can provide us with a much-needed dose of positivity. And in a world where negativity often dominates TikTok, it's heartening to see users unite in support of the Crimsonette hopefuls.