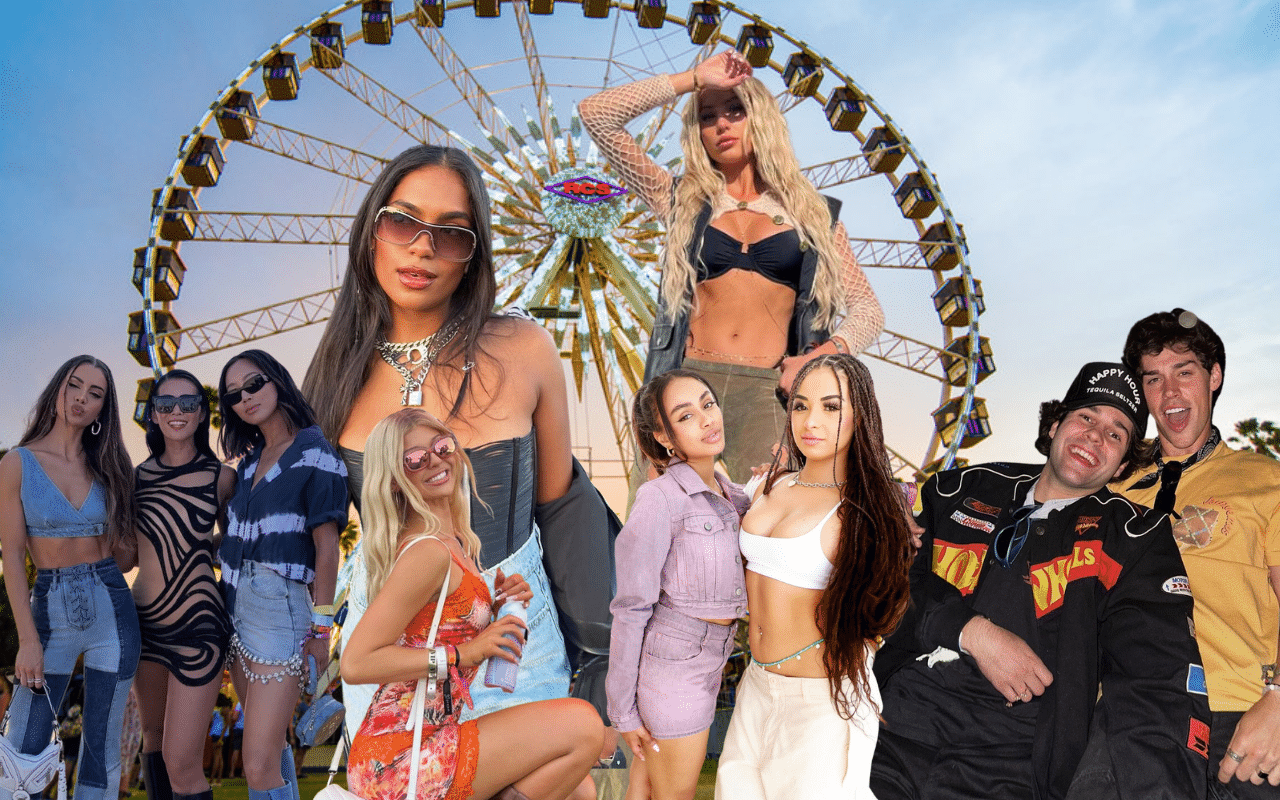 It's that time of year again: Coachella.
The two weekends when almost every influencer makes the pilgrimage to Indio, California, ready to pump out content for their followers. Where Coachella used to be an opportunity to enjoy some of the biggest names in music, it has now become a battle for a spot on the TikTok FYP and a race to get the perfect shot in front of the festival's iconic ferris wheel.
Judging by the sheer number of OOTD pictures on Instagram and GRWM TikTok videos for the festival, it's pretty obvious that Coachella has turned into a content farm for influencers. And while creators of years past have tried to pass off their Coachella posts as organic, influencers today are lifting the veil on what really goes on behind the scenes.
Yesterday, TikToker-turned-singer Loren Gray took to the platform to share that some influencers pretend to go to the festival for content. Her video has amassed almost three million views, with over 540K likes and 1000 comments.
"Coachella is like the influencer Olympics. It's like the place to be", Loren begins. "But most influencers or a lot of influencers don't even go to Coachella… they'll go out to the desert get like an Airbnb, stay with someone, get their outfits, get their hair, get their makeup, post up 'Coachella day one'… and they don't go to the festival."
TikTok users immediately praised the influencer for speaking out, with many taking to the comment section to speculate which influencers are pretending to attend the festival or have faked it in the past.
"i lowkey feel like alix earle isn't at coachella because we got like no content from her yesterday about the actual festival……," one user wrote.
"Unless they post stories actually standing within the crowds listening to musicians, I assume they faked it," another shared.
Although Loren is the first creator to speak on the topic, internet users aren't exactly surprised. But what may come as a shock is that many are still willing to live the fantasy and follow along with their favourite influencer's Coachella journey – whether it is real or not. 
So, does it really change anything if creators aren't actually attending the music festival?
Some pop culture enthusiasts say no, given that influencing is inherently performative. From posting a perfectly-curated photo dump to sharing an aesthetic vlog on TikTok, there's no denying that performing is part of being a content creator. By now, we all know that for an influencer to make it big, they must present a curated version of themselves.
As the creator economy becomes increasingly saturated, staying relevant and achieving virality is becoming more complicated by the day. So, when influencers find something that works, they will likely stick with it. And even though many pop culture enthusiasts claim that Coachella has dropped off in recent years, this type of content has long been a fan favourite. After all, who can resist the allure of fun festival outfits and chaotic storytimes?
With Coachella content guaranteeing at least some audience engagement, it's no surprise that influencers treat the festival as an opportunity to grow their following and strengthen their online presence. Twitter user @twtchase highlighted this fact, noting that influencers have long capitalised on trendy content (we all remember Bama Rush), with Coachella being just one example.
"understandable though," they write in response to a post sharing Loren's video. "influencers have to be on top of every trend for the likes as they are paid to do it and then they move onto the next thing. strange times we live in for sure."

This is especially true for microinfluencers who have yet to solidify themselves in the industry. In fact, internet users have pointed out that faking attendance at the festival might be the only way for these smaller creators to have a legitimate chance of attending in future years – with this content serving as a stepping stone to success.
"Influencer culture is fake it till you make it. I saw an influencer discuss something similar like this. She explained that when they fake the content, it brings engagement, brands see the engagement and maybe next year they'll actually get a REAL sponsored trip," Twitter user @presentlyAfe_ writes.
Meanwhile, the influencers fortunate enough to secure a spot on one of the all-expenses-paid Coachella trips tend to focus on producing content for the brand-sponsored events. Some internet users have used this to defend creators who create Coachella-style content during the weekend but don't seem to visit the festival grounds.
"theres also brands that throw mini festivals and events at the airbnbs like they're still there to party," one Twitter user shared.
Should we continue to support influencers faking content for clout, even though it has become the norm?
Based on the events of last year's Coachella, it's clear that viewers appreciate when influencers are honest and real with their followers. I mean, just think back to Revolve Fest last year.
ICYMI, TikTok creators dealt a significant blow to Revolve Fest's reputation as the most sought-after party during Coachella weekend. Attendees went viral with horror stories from the event, shattering the illusion of Coachella as the pinnacle of experiences we should aspire to.
With Revolve Fest seemingly tightening the guest list this past weekend, it's clear that the company is trying to avoid any backlash after the chaos last year.
All that to say, as social media becomes more transparent, audiences are demanding a higher level of authenticity. Although this has been a long-time coming, Coachella serves as a clear indication that there is still a long way to go in terms of the integrity of influencers and their content.
As much as we may love indulging in Coachella content as an escape from reality, creators who fake attendance add to the classism and exclusivity surrounding the festival. And while this was once a strength for influencer events, it now contributes to Coachella's waning cultural relevance.
With many social media users likening Coachella to an "influencer work convention", the festival has become the ultimate symbol of privilege. And as influencers continue to feign attendance, they only add to Coachella's elitist mythology, reinforcing feelings of inferiority for those who can't attend.