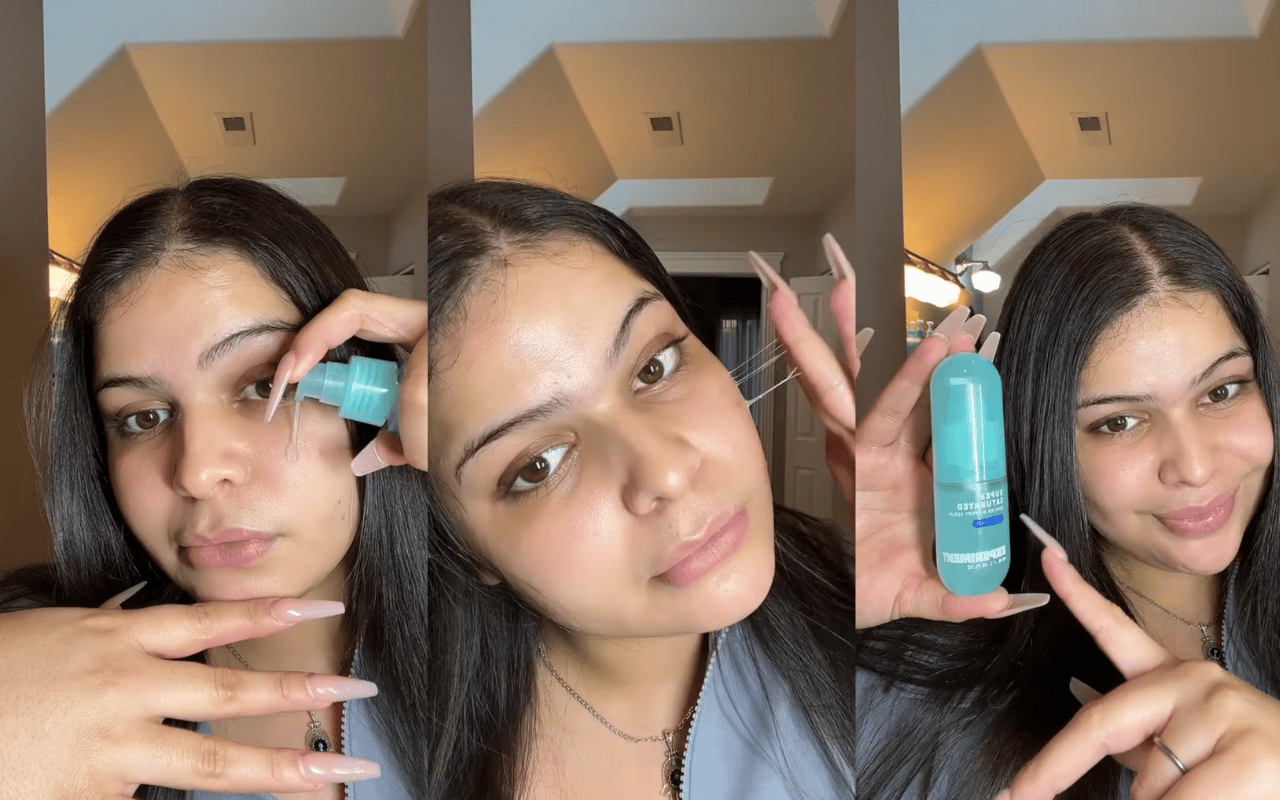 TikTok / @sorayaskincares
Whether it be UNIQLO's viral bag or the Dyson Airwrap, we have all fallen victim to the "TikTok made me buy it" phenomenon at one point or another. And with SkinTok obsessing over a new serum, it may be time to add another product to our collection.
Earlier this month, Gen Z-driven skincare brand Experiment dropped the Super Saturated barrier repair serum, and rave reviews have been flooding TikTok ever since.
According to Experiment's website, the product is a "one-of-a-kind saturating blue goo" that is "clinically proven to increase skin's resilience and natural hydration over time."
Many skinfluencers have praised the product for its high concentration of glycerin, citing the ingredient as a necessity for deep hydration and repair. The Super Saturated serum, formulated with 30% glycerin, breaks away from other popular moisturising products, given that the ingredient is typically used in concentrations of 5% or less.
Experiment claims that "in concentrations above 25%, glycerin gains a few superpowers beyond hydration, like replenishing the skin barrier and protecting skin from irritation."
Of course, Experiment has gained traction on SkinTok before. Earlier this year, the brand went viral for its Avant Guard silicone sheet mask, catering to Gen Z's enthusiasm for sustainable skincare. 
Describing the Super Saturated serum as the "stickiest serum I have ever used," TikTok creator @sorayaskincares took to the platform to review the product.
"It is a barrier support serum that leaves your skin feeling so hydrated", she shares. "I'll be using this all winter long!"
As Soraya gives us the rundown, she includes close-up shots of the product's unique and gooey texture, where her video has left many viewers intrigued.
One user commented, "omg the texture 😍"
Another shared, "I need to try it, it is in my wish list ❤️❤️"
In @ericanic0le's video on the product, she walks her audience through how to apply the serum – emphasising that it must be used on damp skin.
"Humectants [like glycerin] are what draws water into your skin… to keep your skin nice and hydrated, but if there is no water for the humectant to bind to, then you are kinda defeating the process", she explains.
The success of the Super Saturated serum has reignited discussion over the benefits of glycerin and Hyaluronic Acid, with many users debating which ingredient is most effective.
In a video from last year, @beauty.by.cait broke down the differences between the two ingredients.
"Generally speaking, the main difference between glycerin and hyaluronic acid is their molecular sizes. Glycerin has a smaller molecular size, which means it can penetrate deeper into your skin than hyaluronic acid," she begins. "The only downside to glycerin-based products is that they can be a bit more tacky."
Check out Experiment's Super Saturated Serum here.