@siennamaegomez
Updated: June 4th, 2021
TikTok star Sienna Mae Gomez is facing allegations of sexual assault and verbal abuse against her rumoured ex-boyfriend Jack Wright.
On May 30th, Twitter user Mason Rizzo posted a lengthy note filled with serious claims about a "girl" involved with one of his "best friends since kindergarten" Jack and James.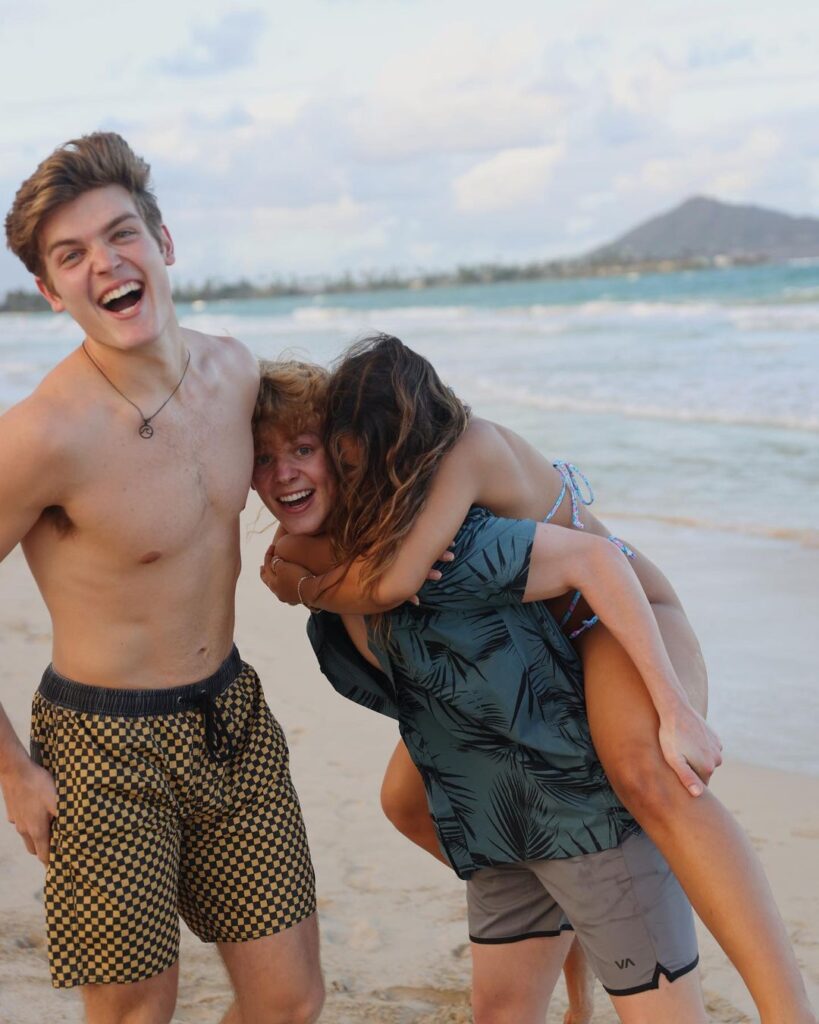 "I struggle with seeing a girl getting praised after telling my best friend to kill himself and sexually assaulting him numerous times after he set boundaries and then repeatedly wonder why 'he doesn't like you back'," he writes. "She also has a history of verbally abusing people in high school and in LA. She prioritizes the growth of her platform rather than the positive message she represents herself as followers should not be an excuse to get away with abusive behavior. You guys all deserve to know the truth about her."
Though he refrained from naming Sienna in the post and didn't use the twins' last name, James Wright retweeted his post, leading fans to believe Mason is referring to Sienna and Jack.
"This is why I 'couldn't just let it go and stay out of it,'" James wrote.
The allegations come after Sienna and Jack unfollowed each other on social media this weekend and allegedly called it quits. According to James, the two were never formally boyfriend and girlfriend, however, that didn't stop fans from flooding Jack's social media with assumptions that the 18-year-old TikTok dancer had done something "shady" towards Sienna, causing their split.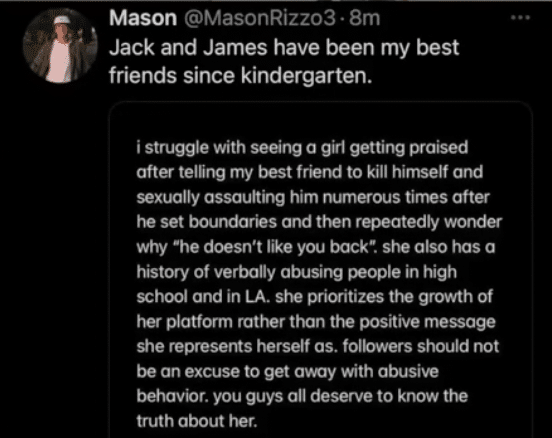 James has since come to his brother's defense on social media, claiming he can't sit back and watch Jack get painted as the "bad guy." The Wright brothers also posted cryptic TikTok videos alluding to Sienna's problematic behaviour.
"It takes a few too many times to see my twin hurting until I need to get involved to stop it," James wrote on his video.
"People who don't lie and respect boundaries," Jack captioned his.
Following Mason's explosive post, several people have come forward with stories about their negative experiences with Sienna, alleging that she fat-shamed former classmates despite preaching body positivity.
"Aw remember when she called me fat at school last year," one user wrote.
"Aw remember the time she told my best friend she couldn't wear her bikini bottoms cause she'd stretch them out, or the time she cheated on her bf or the time she would bully the shit out of my friends at lunch and call them fat but BODY POSITIVITY," tweeted another.
This is not the first time Sienna has found herself at the center of controversy this year. Back in February, the 16-year-old faced backlash when she released a merch line with the phrase "did you eat today?" plastered across the clothing.
Despite intentions to promote body positivity, fans noted that the line could be extremely triggering for people suffering from an eating disorder. The influencer released an apology and the line was eventually pulled.
On May 31st, Sienna responded to allegations brought against her by Mason, James, and Jack.
"Friends fight and relationships sometimes change, but allegations of a criminal act are not to be thrown around loosely," she wrote on Instagram. "Making an untrue sexual assault claim is never okay. I'm beyond saddened by this situation. In order for us all to move forward, I will be taking this offline with Jack. Thank you to all who have reached out with love and concern."
The influencer then uploaded a video to her YouTube channel titled, 'addressing false allegations,' where the teen denies that she sexually assaulted Jack. Sienna goes on to say she was "strung along and misled by Jack" for a full nine months and implies he only cared about being around her for content.
Sienna then alleges that Jack was sexually assaulted by someone else, something many fans have taken issue with as Jack's experience is not her trauma to expose.
Mason and James have since deleted their comments about Sienna, with Mason releasing a statement on Twitter, "The Wright family, Sienna's family, and I have decided to delete all information about the situation and handle it off of social media."
Shortly after Sienna's video was posted, Jack took to Instagram stories, claiming that "Mason and James' only intention was to protect me with the truth," before encouraging Sienna to "get the support and help that she needs."
On June 3rd, TikTok star Lachlan Hannemann posted a video to his nearly 850K followers showing alleged evidence of Sienna's actions against Jack. In the since-deleted video, Jack can be seen passed out on a couch while Sienna mounts him. "This video is from November 30th, 2020. As you can clearly see, that is Sienna and that is Jack passed out on the couch unconscious," Lachlan says. "This is the first time I met Sienna and did not know they had a 'fake relationship'."
Lachlan goes on to say he was taking care of Jack while he was unconscious. "Sienna then hops on top of him and I didn't think nothing of it. I started hearing kissing noises and I peaked over my shoulder and it was exactly that," he continues before alleging that Sienna's right hand was "inappropriately touching [Jack's] crotch".
Sienna has reportedly lost sponsorship and collaboration opportunities as a result of the allegations this week.