@amandaensing
https://www.instagram.com/p/CPbG8S3pqzz/?utm_source=ig_web_copy_link
Updated May 29, 2021
Controversial YouTuber Amanda Ensing is firing back after Sephora publicly condemned her for dangerous political views.
On January 30th 2021, the 29-year-old conservative beauty guru posted a YouTube video to her 1.4 million subscribers in which she shared her top ten favourite skincare products from Sephora, stating at the bottom of the description box that the video is sponsored by the brand.
Customers immediately took to Sephora's Instagram page in outrage over the partnership, questioning why the company would support such a problematic influencer.
Users on the subreddit, BeautyGuruChatter, also urged customers to use the hashtag #BoycottSephora "until they terminate their contractual relationship with open Trump supporter & racist Amanda Ensing".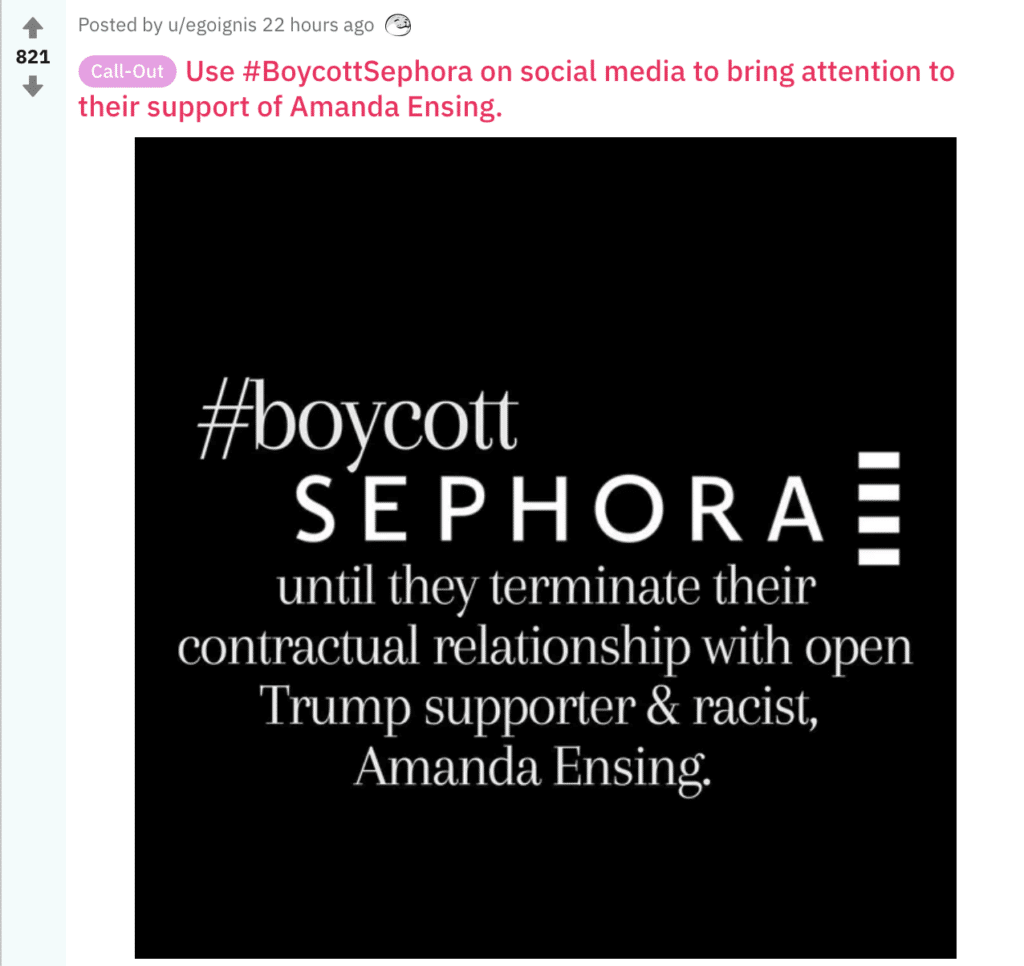 Amanda Ensing and boyfriend Rafael Maio are no strangers to controversy. Off the back of her vocalising support for Trump in November 2020— and spreading misinformation about QAnon in the process— she also publicly supported storming the Capitol earlier this month.
The influencer has since opened Twitter attacks on several members of the beauty community who have tried to educate her, including Jackie Aina, Shayla Mitchell and Alissa Ashley.
Shortly after the sponsored video went live, Sephora responded to the backlash via Instagram comments to concerned customers, saying that Amanda was "contracted through one of our external vendors' campaigns" and what she's recently shared online is "not aligned with Sephora's values around inclusivity". The brand claims to have cut ties with Amanda and will not be working with her in the future.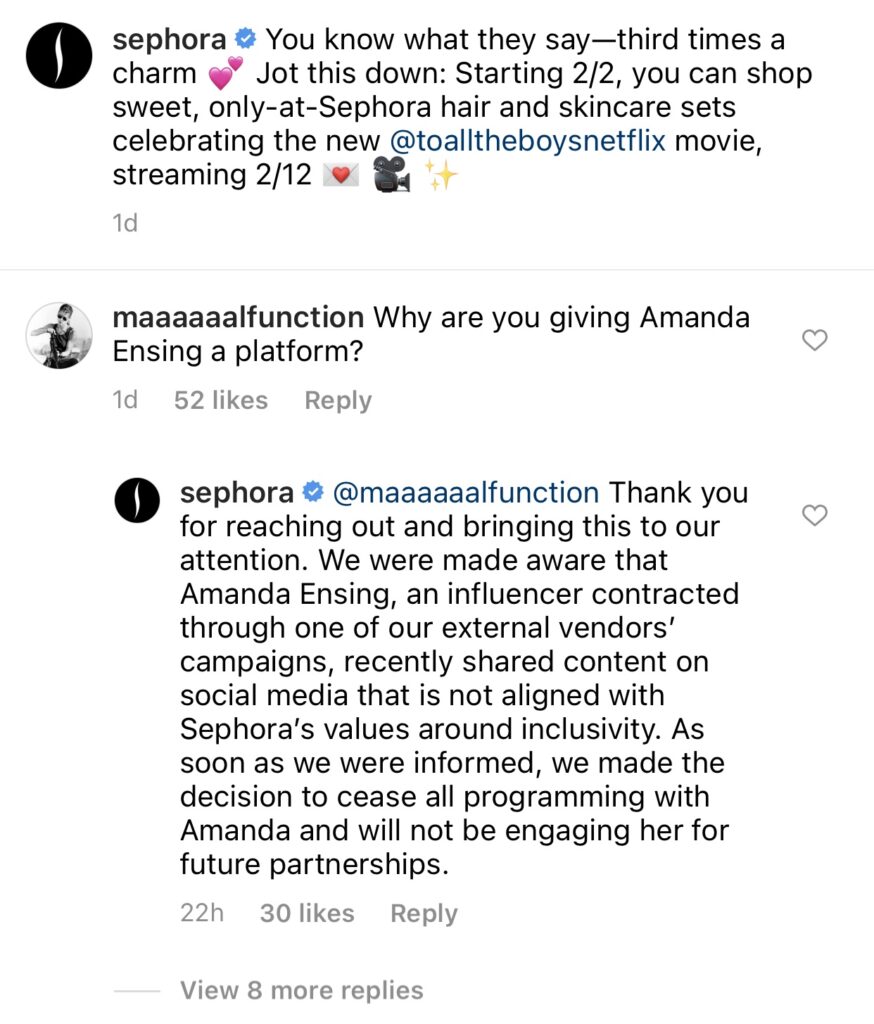 Amanda and her fans have not taken to Sephora's response kindly, with many attacking the brand for claiming to be inclusive yet "excluding conservative voices."
The influencer tweeted that her legal team is getting involved and has proceeded to go after Sephora on social media for disaffiliating with her.
Despite Amanda's claims that Sephora has severed their relationship over her conservative views, fellow beauty guru Shae Shukla took to Twitter to share examples of hate speech, racism, and misinformation Amanda has been spreading on her social media.
She notes that "there are plenty of conservative influencers who are doing just fine" but the "difference is Amanda supported and celebrated the terrorist attack on our Capital, attacked black women, liked homophobic/racist comments on her socials, is spreading DANGEROUS debunked QAnon conspiracy theories."
Others believe Amanda is weaponising being oppressed by claiming her voice is being "silenced" by Sephora.
Days later, Amanda announced in an interview with NewsMax that she will be launching her own beauty brand— something she teased on Twitter the same day Sephora ceased their partnership with her.
Fast-forward to May, and Amanda now appears to be suing Sephora for defamation. In her latest Instagram post, Amanda shared a snap of the paperwork, writing, "See you in Court, @sephora This is for every conservative who's been discriminated against for their views".
She also teased a video about the legal battle coming soon.
According to Insider, Amanda's attorneys argue that Sephora "made false and defamatory statements" about the beauty guru online which resulted in "public hatred, ridicule, and contempt." They also allege that chief marketing officer Deborah Yeh "made false and defamatory statements" about Amanda in an all-staff email. She is allegedly seeking $75,000 in damages.
For more on Amanda Ensing's controversial beheaviour, listen here: