@paigeniemann
TikTok star Paige Niemann has upset Ariana Grande fans once again.
The 18-year-old, who rose to viral fame as Ari's doppelganger, is facing backlash after she recently launched an OnlyFans using the singer's likeness.
Though she opened the account under her own name, fans think Paige's profile picture and banner image are misleading to those who are not familiar with the social media star— as she can be seen sporting Ari's signature high ponytails, brow shape, and winged liner, and posing like the artist.
Some think her bio is also intentionally ambiguous, reading, "exclusive content that you wouldn't normally see from me !"
Fans have taken to Twitter to call out Paige for opening an OnlyFans account with the intention of "cosplaying" as Ariana Grande, saying it's "creepy," "disgusting" and "weird."
Others think this decision indicates that Paige has "learned nothing" from the previous backlash she's received over the years for attempting to profit off Ariana's likeness.
Last year, Paige was called out by Arianators after she recreated the artist's wedding photos and bridal look, with fans saying that Paige was "crossing the line" by using such a personal event in her quest for social media fame.
Ariana herself also condemned Paige around the same time, sharing a video by Jordan Firstman where he joked about doing an impression of a meme.
Taking to Instagram stories, Ari called her impersonators "degrading."
"Omg can [this meme video] please also double as your impression of the ponytail TikTok girls who think doing that Cat Valentine voice and that wearing winged eyeliner and a sweatshirt is doing a good impersonation of me…'cause this really how it feels…'Degrading its entire value' I screamed," she wrote on her story.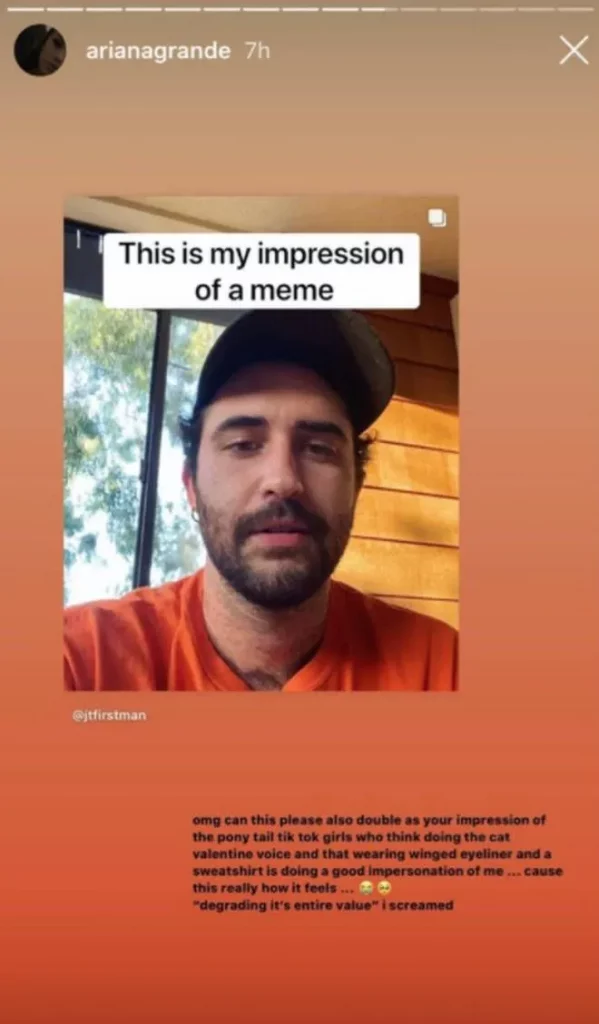 In response to Ariana's Instagram story, Paige said she is "used to Ariana" shading her and claimed that she does not impersonate Ariana "in real life."
"I'm used to Ariana shading me, so it's whatever," she said during a live. "I'm just here to entertain people. It's not how I am in real life. It's kind of why I'm not a fan of her anymore, honestly."
While it is unclear whether Paige plans to impersonate the r.e.m. beauty founder in her OnlyFans content, some social media users have defended Paige amid the backlash, claiming it's not her fault that she looks like Ari.
Paige has not addressed the controversy at the time of writing.