@nikitadragun
https://www.instagram.com/p/CXW71uuPJdf/
Updated: May 13th, 2022
Trans YouTube star Nikita Dragun claims she has been involuntarily detained in a psychiatric hospital following an incident on Thanksgiving day.
The influencer took to Instagram stories on December 11th to share the news, writing, "I have been detained for the last 8 days. Under a Temporary Detaining Order and Magistrate. I was kicked out on Thanksgiving. I walked the streets in the cold."
Nikita explains that she was "picked up" by police and was subsequently hospitalised. "I was administered into a psychiatric hospital involuntarily," she writes. "I am okay."
Asking for privacy at this time, Nikita says when she is ready to talk about what happened, she will. "The stigma around mental health is tragic," she continues. "What they do not understand they shame. History is not kind to women who think like a man. They just call us… 'CRAZY'."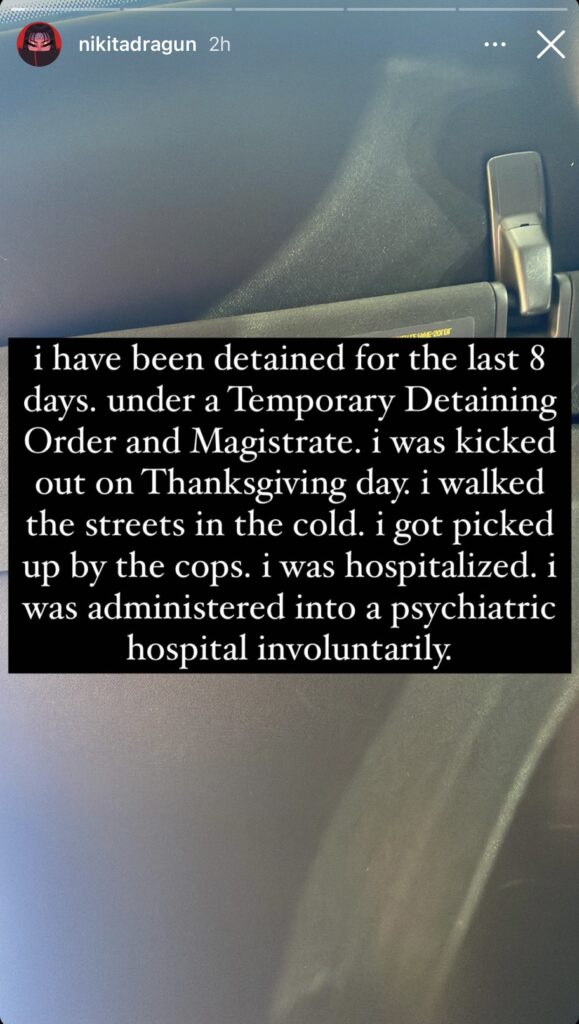 Hours later the creator uploaded an Instagram post with further details, claiming she was "handcuffed and drugged" while walking through the streets of Virginia— the state she grew up in.
"I was drugged so intensely I couldn't even keep my eyes open for days," she says. "The only people who seemed to [understand] me were the patients. Bipolar, schizophrenic, etc. I finally found people who just saw me for me."
Nikita went on to say that God works in mysterious ways and she is ready for this battle.
This is not the first time the 25-year-old influencer has opened up about her mental health struggles. In October, Nikita uploaded a now-deleted vlog titled 'RIP Nikita Dragun' throughout which she shared several intimate clips crying about her controversial public image and apologising to her audience over the years.
"I just felt like I kept being painted out as like, the bad guy, you know," Nikita says in footage from 2019. "When everyone is just saying so much about you that's like not true on top of like all the stress [of] what's happening in your life, it's just like, am I really that awful of a person?" Nikita also revealed in the same clip that she was attempting to get sober from "everything" after hitting "rock bottom".
While the vlog drew criticism for its clickbait title given the high rates of violence against trans women— particularly Black trans women— and high mortality rates of trans people in America, many fans applauded Nikita for her vulnerability.
On May 12th, 2022, the creator shared on her YouTube channel that she had been diagnosed with bipolar disorder.
We wish Nikita a safe and healthy road to recovery.