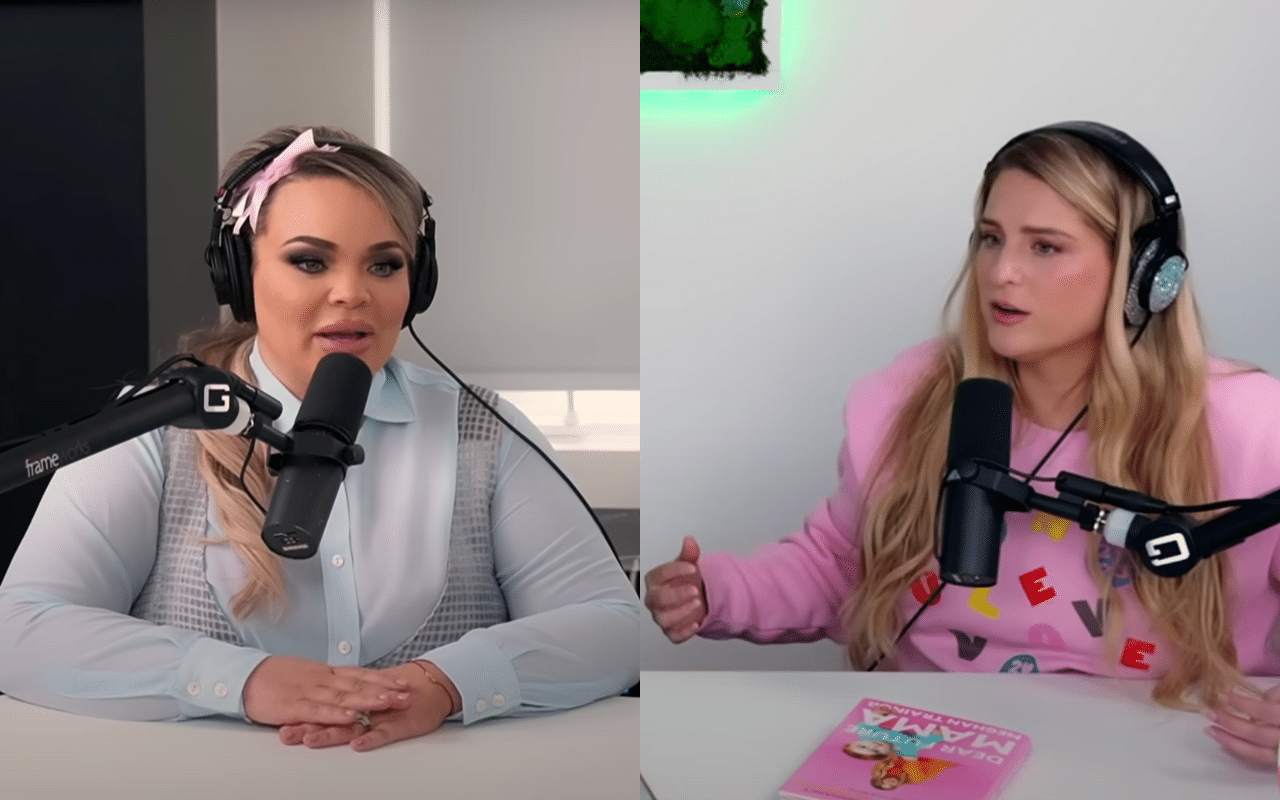 Workin' On It Podcast
Meghan Trainor might regret having this mother on her podcast.
The singer-songwriter has taken to TikTok to apologise for comments she made against teachers in a recent episode of her podcast Workin' On It, featuring controversial YouTube star Trisha Paytas.
In the episode, Meghan and Trisha discuss motherhood alongside the artist's brother and co-host Ryan Trainor. The trio gets on to the topic of homeschooling— which both women have chosen for their children— before Trisha notes that part of her hesitation about sending her daughter, Malibu Barbie Hacmon, to school stems from her own trauma around teachers.
"We're homeschooling our kids," Meghan says. "Same. I think everyone should," Trisha replies.
"Fuck that. Everyone on TikTok is. They're like, 'This is what it's like to have a kid in school in America. I have a bulletproof backpack'. I was like, fuck all that," Meghan says.
Trisha agrees, saying, "Like that, but also kids can be mean. Teachers— that was my trauma."
"Fuck teachers dude!" Meghan says.
In a TikTok video from December 2020, Trisha alleged that her former teacher sexually assaulted her and was eventually arrested for having child pornography on his computer.
This story is considered controversial among internet culture fans, as Trisha went on to tell it several more times with discrepancies while co-hosting the Frenemies podcast.
These discrepancies prompted Fremenies co-host Ethan Klein and the h3h3 production team to look into the claims Trisha made, leading them to find little evidence that corroborated Trisha's story about her teacher being arrested for child pornography.
As a result, that episode of Frenemies was removed from the series and Ethan issued a statement on Twitter.
Following the release of this episode of Workin' On It, fans were outraged by Meghan's derogatory comment against teachers. Many have also expressed their disappointment in her decision to give airtime to Trisha, who has a long history of posting deeply problematic content.
Teacher @galsgotmoxie made a TikTok video addressing Meghan's comment, explaining the mental, physical, emotional, and financial challenges that teachers have faced since the pandemic, and now with the rise in school shootings.
She went on to say that Meghan's comments clearly indicate that she understands the severity of the situation that teachers are faced with every day, but that she still carelessly chose to say that comment.
Popular creator @soogia1 also shared her thoughts on both Meghan's comment and her decision to bring Trisha on as a guest.
"First of all, you even sharing space with Trisha Paytas is a huge red flag to me," Soogia says before inserting several clips of the YouTuber being racist over the years in her videos. "I don't really think you [Meghan] are of the opinion 'fuck teachers' because I don't see how anybody could hold that opinion. And it is not lost on people that in the same 10 days you released a book, you said 'fuck teachers'— those very same people who teach people how to read so they could buy your book and read it."
Soogia suggests that Meghan got "swept up in the moment" when that comment came out, however, the creator notes that Meghan's perspective comes from a position of immense privilege.
"You're never going to have to know what it feels like to send your kids to school because you have the privilege to keep them at home. And you have the privilege to teach them at home. And most likely, hire somebody to do that for you if you wanted to. Most of us do not have that privilege," she says. "You being so flippant about the whole thing was really, really gross to me, Meghan."
She finishes by saying it's the teachers that parents rely on to keep their kids safe at school.
Amid the backlash, the artist apologised to teachers in a TikTok video, saying she was "fired up" over the discussion about the reality of sending children to school in America.
"I had Trisha Paytas on the podcast and I knew her history with teachers and I knew my husband's history with his teachers and I was bullied by some teachers," she says. "So in that moment, I got angry and said F teachers. F those specific human beings back in the day, but I did not mean that to all teachers."
She goes on to say that teachers are underpaid and under-appreciated. "I will remind myself that my words definitely could have a consequence and I'll be more careful," she finishes.
Meghan also tagged @galsgotmoxie in her caption, thanking the teacher for making her video and calling her out.
The singer has resumed posting her usual content on social media and has not removed her podcast episode with Trisha at the time of writing.