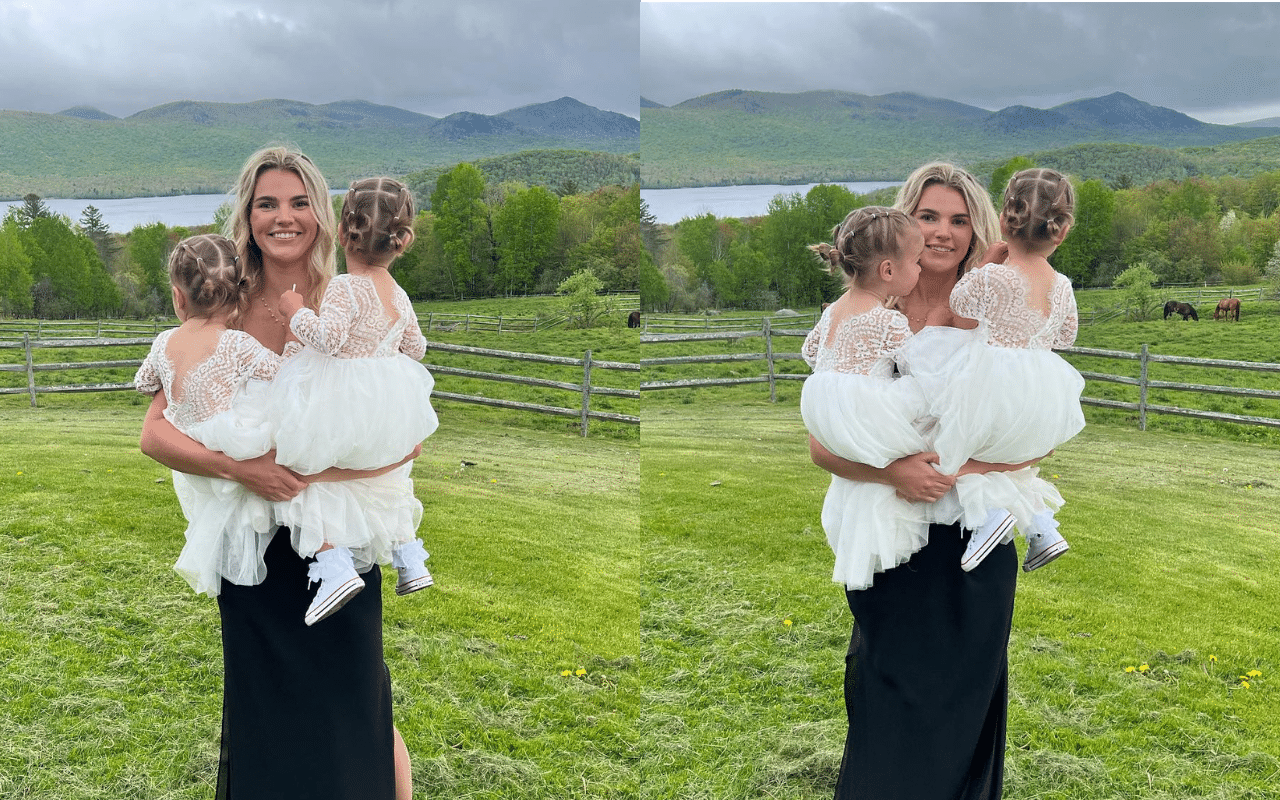 Maia Knight / Instagram
TikTok creator Maia Knight is facing backlash for allegedly lying about her single parenting journey.
For those unfamiliar with Maia, she rose to viral fame after documenting her life as a single mother to twin girls, Scout and Violet. Having built her brand around single parenting, many internet users resonate with her content— especially the story behind the birth of her daughters.
Maia revealed that the girls' father left her after discovering she was pregnant. In the now-deleted video, she said, "After telling [the father], he told me to get an abortion and to stop contacting him when I was seven weeks pregnant…I moved in with my mum and kept my pregnancy a secret from the world."
With this in mind, many users were surprised when Scout and Violet's father became more involved in their lives when Maia posted a TikTok sharing that "the babies are with their dad" last year.
"I get to stop at Dunkin [Donuts] for breakfast, go grocery shopping without wrangling them, stop at the library to get some new books to read, and then hang out for the rest of the day," she writes.
While many TikTok users were confused, Maia had been soft-launching the father of Scout and Violet on her second account before posting on her main TikTok page.
Soon after, Reddit users on the r/tiktokgossip subreddit began to raise doubts about the authenticity of her story. With the twins' father actively choosing to be present in their lives, many users speculated whether he actually had no intention of being involved from the beginning.
Many viewers questioned whether the father was even aware of Maia's pregnancy, suggesting that Maia might have told the wrong man. These claims intensified when rumours about a custody battle between Maia and the twin's dad started circulating.
"I read a comment from someone who is related to the dad, and supposedly the guy that didn't want to be involved wasn't the dad. The guy who is the dad wants to be involved, and they were all surprised that he was the father," Reddit user That-Sea-8553 writes.
"People are saying there's custody court docs from a few months ago, so that's what leads me to believe he's known for a while. And especially since he's staying private, it makes me think that he probably doesn't have some ulterior motive (money, fame etc.)? But IDK, i might just be giving him the benefit of the doubt," another Reddit user shared.
Some TikTok users believe that the alleged legal battle led Maia to stop posting her daughter's faces online at the end of last year— a very divisive move among her followers.
Maia faced constant backlash for sharing Scout and Violet's lives online, with internet users accusing her of exploiting her children for viral fame. However, when she announced her decision to move away from such content, many of her followers expressed their strong attachment to the twins and urged her to keep sharing their lives.
The content creator soon took to the platform explaining her decision, hoping to put any rumours to rest.
"I have been talking about and taking actions towards taking the babies off of social media for a year now," she admits. "They're toddlers now, and I have decided not to show them anymore… I am not being forced to do anything… I am making a choice for my daughters to protect them."
But internet users have become increasingly skeptical of her claims in the past two weeks. It all kicked off on Reddit when a user shared a post allegedly written by Scout and Violet's father, Eric.
In what appears to be a Facebook post, Eric announces that he is a father to his friends and family.
"I had no knowledge of their mother being pregnant, I didn't find out I was their father till February of 2022," he writes. "I just want the truth to be known and share that I am in fact a father. That being said, I couldn't be happier and I'm a very proud father to these two girls."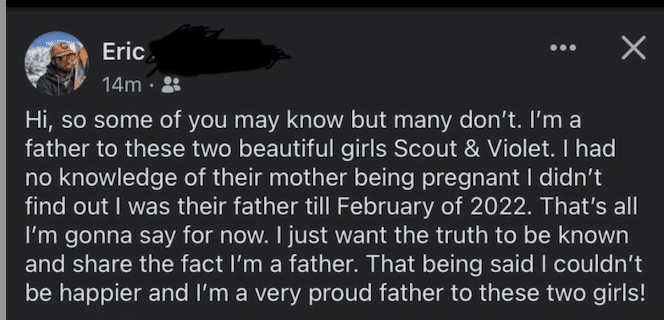 Eric's caption left fans confused, with many urging Maia to address the rumours. Instagram users like @spook.yg have taken to her comment section asking, "What's going on with the baby daddy? Lots of things have surfaced, Maia, and things aren't adding up…"
Some users believe that Maia lied about the girls' father not wanting to be involved to gain a following on TikTok and create a false sense of relatability. While others have come forward to defend Maia, claiming that the father only wants to capitalise on their TikTok fame.
While the internet remains divided on the truth of the matter, one thing is evident: Maia's followers should be happy to see Scout and Violet forming a strong bond with a father who seemingly cares for them.